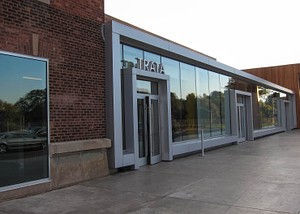 Trata Entrance at the Side of the Armory Building, 10-2012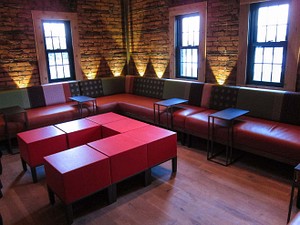 Second Floor Lounge Area, 10-2012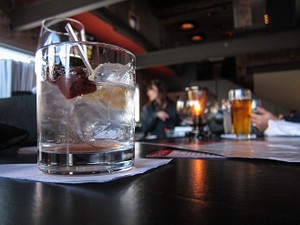 121st Cavalry Cocktail, 10-2012
Location
145 Culver Road, Rochester, NY 14620
Hours (as of December 2015)
Lunch:
Monday - Friday: 11:00AM to 3:00PM
Brunch:
Sunday: 10:30AM to 2:00PM
Dinner:
Monday - Thursday: 4:30PM to 10:00PM (late night menu 10:00PM to 11:00PM)
Friday/Saturday: 4:00PM to 11:00PM (late night menu 11:00PM to Midnight)
Sunday: 4:00PM to 9:00PM
Bar:
Monday - Thursday: 4:00PM to Midnight
Friday/Saturday: 4:00PM to 12:30AM
Sunday: Noon to 10:00PM
Phone
585 270 5460
Wheelchair Accessible
Yes
Alcohol
Yes
Website
http://www.TRATARochester.com
Facebook
TRATA is a 3-story upscale restaurant in the Culver Road Armory. The name stands for, quite simply, The Restaurant At The Armory. During warmer months they offer rooftop seating.
TRATA opened on August 23, 2012. They were voted "Best New Restaurant" in City Newspaper's Best of Rochester 2013.1
Comments:
Note: You must be logged in to add comments
---
2012-09-04 09:47:38 Went here this past Sunday and was really impressed. The draft beer list is unbelievable— more than 30 to choose from. If you're not sure which one you want, they offer 4oz. tastings of each for about $1.50-$2.50. The food is mostly small plates with some entrees and gourmet burgers thrown in. Everything we had was fresh and well presented. If you are a pork belly fan, you have got to try their pork belly buns—they are even better than Han Noodle Bar's. —katyhanson
---
2012-09-12 19:27:43 Went the first time a couple weeks ago, about a week after they had open. The inside of the restaurant is amazing. Very trendy. Upscale but not overly so. You can wear nice jeans and be fine. Bar has a great selection. Very attentive front desk and bartenders. Seated early (with a reservation). Food took a LONG time to come (figured they're still working out the kinks) but they were attentive and apologized & bought us a free round of drinks at the table as we waited. Nice variety of food choices; reasonably priced. Highly recommend. —CMurtaugh
---
2012-09-30 22:14:31 Went here for happy hour on Friday, great beers selection, very trendy look to the place, food was excellent, bartenders were friendly. I'll definitely be back. It seems like exactly the type of place Rochester needs. —markrizz
---
2012-10-16 13:07:36 Went here for lunch 10/12/12. The decor was pleasant; the ground level bar has a nice picture window facing Cobbs Hill.
The beer selection was very good. Our waitress was attentive.
The food. I had the Swiss Mushroom burger, and a house salad. The greens were good, but they put on too much salad dressing. I could have had a better burger at 5 Guys. One. I asked that my burger be cooked medium, it came back medium rare. Two. They put way to much mayo on the burger. It made for a sloppy mess. It became so ridiculous, that I just put it down and used my knife and fork to eat it. Gourmet is fine, but at least get the fundamentals right (See Big Mac.) —MrPhil

---
2012-10-24 18:48:56 My fiance and I recently visited on a Wednesday night. As others have stated, the visual experience alone is wonderful. TRATA is a very impressive use of the old Armory. We decided to go big tonight and ordered quite a few options. The meal came with a focaccia style bread, but did not include oil or butter or any sort of "partner" which it really seemed to need. We started with the Steamed Buns and the Loaded Fries. The steamed buns were warm, soft, light and puffy. The pork belly was wonderfully glazed with a sweet/savory "asian" glaze, and dressed with chopped green onions and cashews. They were amazing and we will definitely order them again. We found the loaded fries lacking in the "cheese sauce" that was listed on the menu, and sadly lacking in much flavor/seasoning. Additionally, the pulled braised short rib was also lacking in any real seasoned flavor. As a result of this, we avoided the short rib entree for fear that the same lack of flavor issue would present itself again. This was a disappointment as short ribs can really shine when prepared well.
As a result, we chose to instead try the Pork Cutlet and the Buttermilk Fried Chicken. The pork cutlets TASTED amazing, but sadly, was very much overcooked and dry. The salad accompanying the cutlets was incredibly salty, which really ruined the flavor of the baby arugula. The blueberry vinaigrette glaze drizzled over the dish was a beautiful accompaniment to the dish as a whole and really shone through. The fried chicken was very good as well. The chicken was well seasoned and fried to a wonderful golden cornmeal-based crust. It was nice and moist all the way through, and went well with the whipped mashed potatoes, biscuit and gravy. Lots of butter went in those incredibly creamy whipped mashed potatoes and made them some of the best I've had in a restaurant setting. The biscuit was slightly dry, and the gravy was a real necessity where it was concerned. Sadly, we did not have room for desert.
It was a good experience in a beautiful restaurant, and I would recommend it. We are certainly looking forward to heading back soon for another tasty experience. —mercdotes

---
2013-03-07 10:00:50 Overall, this place is awesome and a great, needed addition to Rochester's restaurant scene. My boyfriend and I have been here twice so far. We go out fairly regularly and are particular when it comes to the quality of food and service. Both times, our servers were very attentive. The atmosphere is great, as is the decor. The drinks are unique and tasty. It is a great place to hang out.
The only issue that we've seen both times is SALT! There is an overabundance of salt on some of the menu items. Both times, my boyfriend got a burger, and both times it was extremely salty. He thought maybe the first time was a fluke, but apparently not. I got the scallops the first time, which were really good. No complaints. Last night I got the grilled chicken pasta dish. The sauce on the pasta was great, but as soon as I took my first bite of chicken, I almost wanted to spit it out. The chicken was so incredibly salty. It's unfortunate, because everything else was really good.
Maybe we're just having bad luck, but if Trata can get whoever their heavy-handed salter is in the back in check, this will become one of our favorite places to go. —AN

---
2013-04-29 11:45:25 Went here on Friday around 7. Seems like a cougar bar. They have a nice selection of items and prices. The American Burger was good not special tastewise. Their beer menu has something for everyone. Service was good though they didn't get the orders right for 3 out of 4 of us. —Damiankumor
---
2013-05-27 05:53:59 We went last night for the first time, a perfect evening for sitting outside on the upstairs deck. Very interesting use of space and design throughout this restaurant, which is in what I remember to be a gigantic cavernous space that used to be the location for the Dog Obedience Training Club of Rochester, NY (DOTCORNY) years ago. Very glad this whole building was repurposed so successfully. Anyway, the food we ordered was very good: my grouper cheeks came with sauteed peppers and dirty rice, and my dining companion ordered the applewood bacon-wrapped sirloin with the parm fries and sauteed kale, also very good (notable because she likes her meat well done, and the steak was not leathery). The cocktails were tasty, but not especially alcoholic. Had a fantastic pinot noir from Lodi. Our server, Shelby, was very attentive and encouraging in her recommendations. Will be returning to enjoy the ambience and other parts of the menu. —KatieSchmitz
---
2016-12-06 09:58:02 Awesome space but the menu is stale and the food is mediocre. —Cretinx