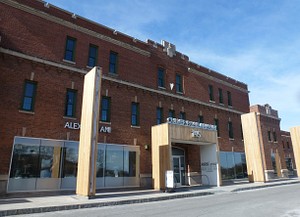 The Culver Road Armory is located across from Cobbs Hill Park in Upper Monroe. It was constructed in 1916 under the ownership of the Army National Guard. It was maintained as home to the 121st Calvary Division stables and training ground. It also contained the Troop H barracks, offices, recreation rooms, a cafeteria, saddle rooms, supply rooms, ammunition storage, parade grounds, an indoor firing range, and a huge indoor drill hall complete with spectator stands.
The Culver Road Armory was expanded mid-century to include a third story to accommodate the consolidation of Upstate cavalries.
Its post-cavalry function evolved into the Army Vehicle Maintenance Garages, where gasoline & diesel vehicle fuel was stored. The site included a vehicle repairs and maintenance garage, along with facilities for battery neutralization, disposal, vehicle paint, and body maintenance. As home to four National Guard units, Rochester city records show approved occupancy levels up to 2,500 persons for activities related to the drill hall, athletic events, and dinners during that time period. Other Federal operations included induction ceremonies held in the main building.
In 1947 the 209th Anti-Aircraft Artillery Group obtained Federal status as the 898th automatic weapons Battalion led by Lt. Col. Hartley White of Rochester. Hundreds of military and nonmilitary persons would attend Troop F anniversary celebrations, including their Silver Anniversary, in the main Armory building with jazz bands and dinner.
A New Life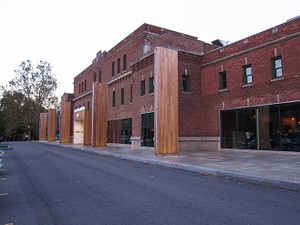 The Armory in the early stages of its renovation, 10-2012
In 2012 the building, now decommissioned, began its transformation into a mixed-use development containing offices, retail space, and restaurants. The 100,000 square-foot space features such cutting-edge design elements as:
Phase II commenced in November 2013. This entailed the construction of Armory Building 2, a retail/Class A office building that connects to another structure already on the Armory's property. This was completed in June 2014.1
In October 2015 it was announced that the proposed condos were being replaced with a new retail/office building, which would feature a dramatic overhang across part of the highway.
Establishments
Links
Comments:
Note: You must be logged in to add comments
---
2015-10-08 19:09:34 Really great space and solid addition to Rochester - but the parking is ridiculous.
---
2015-10-08 19:18:35 Looks like there's more than enough to me. —EileenF