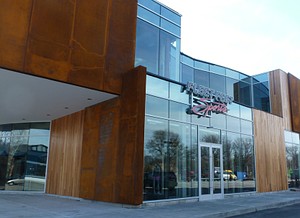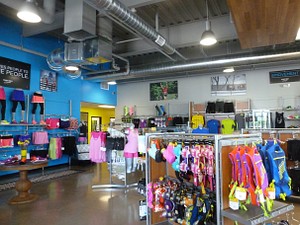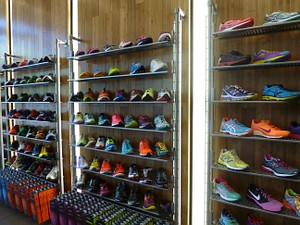 Pics from the Armory location.
Location
145 Culver Road, Rochester NY, 14620
2522 Ridgeway Avenue, Greece, NY 14626
Hours - Both Locations (as of February 2014)
Monday - Friday: 10:00AM to 7:00PM
Saturday: 9:00AM to 5:00PM
Sunday: Noon to 5:00PM
Phone
Rochester: 585 697 3338
Greece: 585 270 4334
Wheelchair Accessible
Rochester - Yes
Greece - Yes
Email
<ellen AT fleetfeetrochester DOT com>
Website
http://www.FleetFeetRochester.com
Facebook
Fleet Feet is a franchise runners' shoe, clothing, and accessories store owned and operated by Rochester natives Ellen and Dave "Boots" Boutillier. Boots was a nine-time member of the US National Team and won a Gold Medal at Duathlon World Championship in 1996 in Italy. The bike he rode to the championship was built by local framebuilder Rob Stowe and is on display at Fleet Feet.
They are also the owners of
Yellow Jacket Racing, a sports event management company that promotes races in the Rochester area.
Originally at 2210 Monroe Avenue in Brighton, they moved to the Culver Road Armory in February 2014. They have a second location in Greece.
Links
Comments:
Note: You must be logged in to add comments
---
2011-04-22 11:29:36 Love, love, love Fleet Feet! Staff are super friendly and they know their stuff! Bought a ton of running stuff from here and will continue to support their business. Also participated in their weekly group runs as well as their training programs—would highly recommend both! —dmarie
---
2014-02-17 20:36:34 there is 2522 Ridgeway Avenue location as well too. —bonnev659