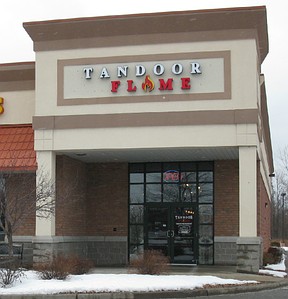 Feb 2010, BradMandell
Former Location
1855 Empire Blvd, Penfield, NY 14580
Status
Closed
Closed in 2015
Media
D&C- Blog Article - Another Opening in Penfield of October 10, 2009 by L. Singer:


"spoke with one of the owners - Baljit Singh - who told me that he and his family have lived in Rochester for more than 14 years. ... Baljit and his sister used to own an Indian spice store in Webster by the name of "Rice and Spice." "Our customers kept telling us," he said, "that there were no Indian restaurants nearby and that we should open one. "


... Baljit told me that he was born at Chandigarh in the Indian state of Punjab. ... Punjabi cuisine (which is the "Tandoor Flame's" specialty) is popular througout the world with dishes like tandoori chicken, lamb and beef kebabs, freshwater fish, Dal (lentil soup) red kidney beans (Rajma) and excellent breads like naan, puri and tava.

"
Comments:
Note: You must be logged in to add comments
---
2009-11-04 17:25:41 Went for Sunday buffet. It was pretty good considering the buffet selection mimicked every other indian restaurant. It looks semi-modern, and the ppl who work there seem to smile a lot. —TippingPoint
---
2009-11-12 13:08:11 I just went there with some coworkers for the lunch buffet. The food was good, but what are they going to do in the winter with the entrance? There is only one set of door that open to the outside, so when they open the cold air comes in and blast the dinners. —DamianKumor
---
2009-11-15 17:29:30 I was here for the lunch buffet on a Sunday. The selections were essentially identical to all the other Indian restaurants in Rochester. The food was good but I was slightly disappointed in its genericness. The service was attentive and quick. Overall, it is a great addition to the east side. I still prefer Shinwari Kabab for a more unique Indian lunch buffet. —OneLove
---
2009-11-28 15:48:47 Gone for dinner twice. This place has the best Indian food in Rochester. Its fantastic. You get your option of mild, medium, or spicy for every dish which is nice. Definitely going back. —GeorgeBluth
---
2010-02-22 19:28:35 sometimes i like their food and sometimes i dont.buffet has a lot of varieties but sometimes it's doesn't taste fresh and they are always same.i think they might be using their leftover food on the next buffet.the sweet dishes like Wheat Halwa and Carrot Halwa in the buffet are served cold.they need to be served warm.i dont understand why they keep it cold.i recently went there on Valentines Day,2010 with my husband for lunch buffet.the nan bread were not at all fresh.they were very hard.Halwas as usual were served cold.tea was not that hot enough.someone there asked if they can box a small amount of Halwa as they didnt eat it there,the restaurant Lady refused.Sometimes you have to make special efforts to keep your customers happy.that really threw me off.those restuarant people specially the Lady needs to learn some restaurant etiquettes.she's sometimes rude like you are still talking to her and she would walk away,weird but the guy in beard is nice to customers. —sunshine
---
2010-03-09 17:10:35 One of the better, if not best, Indian restaurants in Rochester. The sauces aren't overly sweet and, if you ask for your food to be spicy, it actually comes out that way. The naan is good. However, I miss the jalapeno cheddar cheese naan served at Indian restaurants in Albany. —ChristineH
---
2010-07-17 19:13:31 IMHO, the best Indian food in Rochester, and the only one that I know of that sells chaat! (one of my favorites) Their palak paneer is the right combination of smooth and savory, delicately spiced, and their korma sauces are absolutely to die for. I love, love, love this restaurant — and its wallet-friendly prices too! (chaat is a bargain at $2.75) —CheriCrist
---
2010-08-06 17:12:32 I read all the good reviews on this page and decided to go for the lunch buffet. It was very disappointing, selection of food was average for Rochester Indian buffets, but most of the trays with the exception of the chicken in sauce did not have any meat left, only the sauce. The tray with the roasted chicken only had 4 pieces that looked like rejects. We asked the gentleman with the beard and turban and he said. "No more, Chef went home" Another thing that is lacking is the deserts, only a bit of funny tasting rice pudding and some chocolate pudding. Guess that was a one time trip to this place.
Ricardo —Ricardo

---
2010-08-10 09:09:59 I like the flavor of the food; it seems a little richer than other restaurants. The staff appear to be family, rather than professional servers. Therefore: good food and a staff that will recognize you. The more I visit, the more I like it. —JustinSherrill
---
2011-04-02 16:49:16 I went here with my wife on Saturday. We were greeted quickly, seated... and then sat around for several minutes before discovering that they were only offering a buffet at lunch. It would have been nice if the woman who seated us had mentioned that. There were certainly no signs indicating it.
Anyhow, we got up and sampled several of the offerings. There was a decent variety of foods, but none were especially memorable. They were uniformly bland in fact, which is not something that you generally associate with an Indian restaurant.
Overall, the staff was certainly cheerful and pleasant, certainly a mark in their favor. But our experience with the buffet was utterly uninspiring. I presume they have table service at dinner, so perhaps we'll try that some day when we're in the area, but we wouldn't go out of our way for it. —RichMulvey

---
2012-04-26 11:09:56 I have gotten take out from here twice. The first time I ordered the palak paneer with paneer naan. Now, I usually frequent another Indian food restaurant but I was so impressed with this take out that I was willing to cheat on my old tried and true place. The palak paneer had great flavor and a ton of cheese in it. The naan was chewy and moist making me want more. Top it off with reasonable prices, and I was a happy camper! The second time I ordered, I got the malai kofta, my boyfriend got the chicken xacuti and we split some naan and bhajias. This experience was quite different. We both thought the entrees were very skimpy on the chicken and the dumplings, respectively. The malai kofta only came with 3 dumplings which is less than what I have received at my tried and true place. The bhajias were good, but not great. It was a lot of breading and not a lot of veggies inside. We both agreed that the naan was very dry this time. Not sure what caused such a downward slide in quality. The visits weren't spaced that far apart which makes me think it may have been a different chef. However, given the last disappointing visit, I will probably stick with my tried and true place. —dmarie
---
2012-08-19 11:14:54 Summary: Decent food, poor atmosphere. My wife and I had dinner with a friend at Tandoor Flame last night. My first impression was that the owners made very little attempt at creating a pleasant environment in which to eat. The restaurant has a very sparse, generic feel. The dining area is long and narrow, with almost a cafeteria vibe. There were only a few other customers (seemed a bit odd for a Saturday night), and the place was strangely quiet. There was no background music and few decorations.
The complimentary papadam was accompanied by two sides of chutney. The tamarind chutney was bland and not very good, but the mint chutney was truly outstanding — it was by far the most delicious part of the whole meal. It had a spicy, complex flavor to it, and it was better than any mint chutney I've had in recent memory.
The appetizers were good but not great. My alloo tikki was nicely spiced (but perhaps just a bit too mushy and salty). The bhajia and samosas were good, as well.
Our main courses were average. My eggplant bhartha was slightly too bland for my taste. And, just like the appetizers, it was just a little over-salted. The other two entrees were comparable in quality to my eggplant.
I don't think I will return to Tandoor Flame. The food was acceptable, but the atmosphere was disappointing. There are better Indian restaurants in Rochester.
One more note: The unisex bathroom has a light in it that is triggered by a motion-activated switch. That's fine, but the light turns off so quickly that you have to constantly wave your arms around to turn it back on again. Again, this problem shows a lack of attention to detail. —Rochester-Native

---
2013-01-12 22:33:58 Went for dinner today as wanted to have some spice and hot Indian Dinner. We ordered Non-Veggie starter, and everything seemed old.. too dry. Looked like afternoon's or yesterday's food is refried and served. The pakoras and tikki was mushy from inside, and not cooked thoroughly. When it came to main course, the rice was not cooked, and the Tandoori rotis seemed half cooked. The xacutti chiken gravy was good, but it had few chicken pieces that were dry and seemed old. When we told the waitress about the rice, she took it back and just said if you want a replacement it will take time. All in all my impression of the restaurant is bad and will not recommend it to anybody. —SatishU
---
2014-05-08 15:13:01 Looks like they recently changed management. At least according to the website. —abraxas
---
2015-07-26 12:43:01 Per the website, and the locked doors, this place has closed. :( —UncleScam