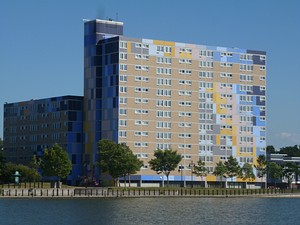 View from across the river.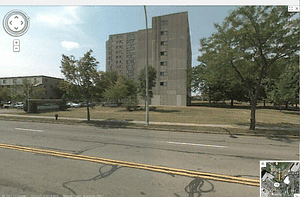 Before, c. 2007 (via Google Street View)
Location
185 Mount Hope Avenue, Rochester NY, 14620
Occupant(s)
Residential
Wheelchair Accessible?
Yes
Pets
No
Property Manager
Conifer LLC
Property Manager's Phone
585 546 7119
Property Manager's Website
Homepage
Hamilton
Construction
2010
Third-Party Websites
ApartmentSmart.com
The Hamilton Apartments is a waterfront high-rise located on Mount Hope Avenue in the South Wedge neighborhood. It has 131 units of affordable housing. Amenities include self-controlled heat thermostats, a computer lab, and an exercise room. Apartments range from studios to two-bedrooms, with disabled access units also available. In 2010 the Hamilton received the Innovator of the Year Award from the
New York State Association for Affordable Housing.
Previously located on the site was a subsidized housing complex called River Park Commons built in 1975. By the early 2000s, however, it was rundown and considered a neighborhood eyesore. It was demolished in 2009 to make room for both the Hamilton and Erie Harbor next door.
The Genesee Gateway Park is right next door.
See also
Comments:
Note: You must be logged in to add comments
---
2012-08-07 07:44:43 This has to be the ugliest building in Rochester. How ugly were the River Park Commons that they were considered a "neighborhood eyesore" and these aren't? Maybe if there was some rhyme or reason to the color scheme it wouldn't be so bad, but it looks like someone just closed their eyes and randomly assigned colors to squares, then decided that "eh, I don't feel like coloring the rest of the building, leave it brown" —PDub
---
2012-08-07 08:15:25 I love this building! I think the designs of both the Hamilton and Erie Harbor are playful and unique. —EileenF
---
2012-08-07 09:29:55 If by playful you mean a small child started painting it, then decided to stop halfway through. Why is one half of the building only brown? The Erie Harbor one looks more like what they were going for with the Hamilton Apartments, as in they actually completed the paint job. —PDub
---
2012-08-07 10:17:18 By "playful" I mean quirky and whimsical. —EileenF
---
2012-10-25 08:05:11 The building is unique and adds beauty to the South Wedge neigborhood. The interior of the building is as beautiful and does not have the feel of affordable housing, River Park Commons brought the neigborhood down. —LaurieTimmons
---
2012-10-25 08:59:29 Please stop defending this eyesore, everytime I look at the picture it looks worse. They clearly had no plan and ran out of paint halfway through and decided that leaving one half of the building unpainted was ok. It's uniquely awful and adds beauty to nothing. —PDub
---
2012-10-25 09:20:25 You post a comment complaining about something and now you don't want to hear other points of view? Your opinion is the only one allowed? —EileenF
---
2012-10-25 09:58:56 These buildings are Rochester's newest eyesore. —Damiankumor
---
2012-10-25 13:24:09 I think they look great. From the webpage though, I think this building is only rented to low-income tenants, not an 80-20 mix. Then, Erie Harbor next door is pricey asking $940 for a 1BDRM. —Rufus
---
2012-10-25 14:14:52 Erie Harbor is supposed to be 80/20. I'm guessing the market-rate units are bigger and nicer, with better views, etc. —EileenF
---
2013-01-21 14:46:21 I don't know anything about these apartments, but I do like the look of the building. —DE