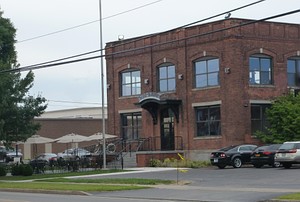 Exterior on University
The Bacon Old Fashioned has BACON in it !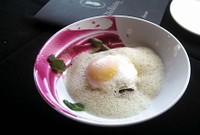 Sunny Side Up Duck Egg Salad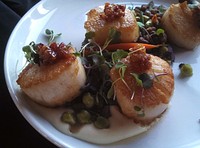 Seared Day Boat Scallops
The Revelry is an upscale restaurant in an old industrial building in front of Pomodoro (they have the same street address). The Revelry specializes in southern cuisine, specifically cuisine inspired by the "South Carolina backcountry". They also serve a wide variety of historical cocktails.
It opened on June 18th, 2013. Josh and Jenna Miles also own Branca and contractually operate dining services for the Strathallan Hotel. Located in the Culver/University/East neighborhood.
They were voted "Best Bar for Craft Cocktails" by City Newspaper's 'Best of Rochester' Awards in 2015.1
Links
Comments:
Note: You must be logged in to add comments
---
2013-08-10 08:16:56 Dinner here last night was excellent. Nice variety of great cocktail choices, all the food was excellent, reasonable portions, service and pacing very good. Not cheap for sure but they are doing a great job. Highly recommended. —DottieHoffmann
---
2013-08-24 07:16:55 Fantastic. Have been there multiple times for work, for fun, and for brunch, and don't think there is a restaurant in Rochester serving better food. Their recipes seem incredibly polished — the pork-belly sliders are the best I've ever had (although at $5/slider they probably should be. . . ). —LePetitChien
---
2013-08-24 18:13:38 I was only here for drinks and not impressed. 4 drinks came to a total of $28 (!), one of which was a bottle of Corona Light. My draft beer was only 10 ounces and the busser swiped it as it sat in front of my friends while I visited the rest room. I think this place takes itself too seriously but if you like fancy drinks with made up fancy names and even fancier prices, have at it. —badfish
---
2013-11-08 10:02:10 Badfish, that comes out to an average of $7 a drink. Are you serious? This is one of the nicest restaurants in the city and you think $28 for four drinks is too much? Have you been to an upscale restaurant before? That's actually really cheap. This isn't a dive bar at happy hour. —alexd1234
---
2016-05-10 16:57:50 Been a here a few times over the years for some drinks. Finally ate at Revelry for the first time a couple weeks back. We were sat upstairs. Love the decor and the food and drinks were great! —DE
---
2016-08-26 18:14:59 The closest thing to real southern food I've found in Rochester. The biscuits made me tear up with nostalgia. —Cretinx
---
2019-11-04 22:42:38 Good Luck prices without the Good Luck charms and quality. Seems popular but I'd rather spend my dough elsewhere. —batguano