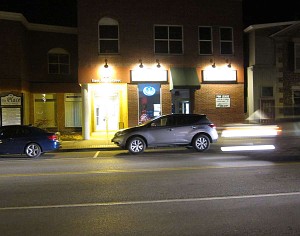 Entrance to Victor location.
Victor interior, 12-2012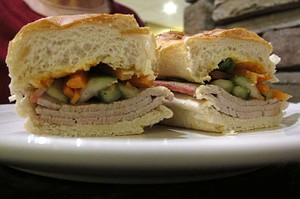 The Num Pang Classic sandwich, 12-2012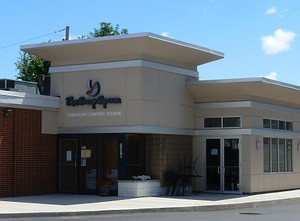 City location (Mt. Hope Ave.)
Former Locations
Phone
10 East Main Street, Victor, NY 14564
585 869 5080
1378 Mt. Hope Avenue, Rochester, NY 14620
585 244 7166
Status (as of March 2014) for Victor
Closed
The Soup Spoon was a restaurant specializing in Cambodian and fusion cuisine. Their staples were Num Pang Sandwiches, Pho Cambodian Noodles, and various teas and coffees.

The Soup Spoon opened its original Victor location on April 20, 2012. A second location in the city's Upper Mount Hope neighborhood opened March 24, 2014. Both closed on January 8, 2018
Comments:
Note: You must be logged in to add comments
---
2012-08-21 19:12:37 Incredibly friendly staff (really). Nice food on small menu. Pho, good. Spring rolls, fresh and tasty. Try it (I love Asian food and this is good Asian food). —sieats
---
2012-12-11 21:18:29 First, this place is hard to find. It's in with a bunch of offices and other businesses, the building is just off the four corners of Victor. You need to go in and then go down to the basement level. Second, this is a casual place, there are tables, but you order at the counter and they bring it out. The menu is simple but covers the bases. We really enjoyed our dinner, had the spring rolls, a sandwich, and the Pho. The Num Pang sandwich is a variation on the Vietnamese Bahn Mi, and is delicious. Wonderful flavors, reasonable prices, and the staff was very nice. Hope they do ok in this slightly out of the way location. —DottieHoffmann
---
2013-03-09 19:22:53 This place is great. My wife and I had intended to try it much sooner - and we are glad we finally made the trip. The place would be harder to find if not for the delicious aroma of Pho pouring from the building - hint: if you can't find it use your nose!
The Pho is great, but the real star was the Num Pang Classic. We will definitely be going back (and soon). The prices are reasonable, the food is fantastic, and the staff/owner are very friendly. —Bucksmack

---
2014-03-21 22:02:09 2nd cafe is planned in college town area next to new Yotality and Bunga Burger Bar. —scotthendler
---
2014-06-20 12:02:44 I have visited the Mt. Hope location twice now, and I have had such a great experience! Delicious food, friendly staff, and very reasonable prices. Big fan! Highly recommend the edamame, veggie spring rolls, and any of their soups! —JBuitrago