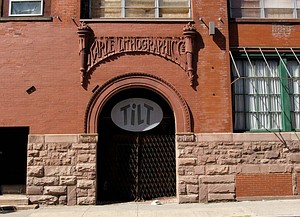 You usually don't see it during the day, check out the old relief carving above the door! 8-2008
Former Location
444 Central Avenue, Rochester, NY 14605
Status (as of August 8, 2018)
Closed
TiLT was a large night club located in the St. Joseph's Park Neighborhood, with an intriguing, modern, aesthetic multi-room layout. Set in an old brick warehouse, there was a central outdoor courtyard, a lounge, and a dance club. Eye candy abounded, with the mod furniture, sheets of effervescent water, trippy videos playing in TVs throughout, and blue-lit DJ stands and bar displays. It was originally opened in 2005 as a primarily LGBTQ+ dance club featuring many of Rochester's notable drag kings and queens. As of August 2018 the club is closed after fierce backlash against new management's decision to end its long running drag shows, special events, and focus on LGBT+ inclusivity.
Awards
Voted "Best Dance Club" by City Newspaper's 'Best of Rochester' Awards in 2015.1


Voted "Best Place To Dance" in City Newspaper's Best Of Awards in 2007.2.

Comments:
Note: You must be logged in to add comments
---
2007-04-10 16:30:17 This is probably the nicest looking club or bar in Rochester and they have a small stage for occasional shows. I've seen a couple of the burlesque shows here. Considering the location and how the outside of the building looks, I was surprised to find such a trendy looking place inside. —TravisOwens

---
2008-09-13 18:48:06 Someone needs to update the website portion above. Here is the new one:
http://www.myspace.com/tiltniteclub —Ryan
---
2008-09-28 22:49:19 A very nice club to go to! Good drinks, good atmosphere if you're straight and want to dance this is a good, friendly club. If you're gay and want to meet people, you might look elsewhere. —MadJackal
---
2008-12-21 16:47:18 Besides the good music and dance floor...
Tilt is becoming a clown bar. I hate all of the new updates they have done. I hate the orange walls. I hate the black and white wavy patterns on the walls. HORRIBLE. It was a nice and high-end before and now it is like someone epileptic updated the bar. The Ultra-lounge is only room that remains nice except of that ugly star painted floors. Drinks are overpriced, watered down and served in PLASTIC cups. I am very insulted. STOP THIS MADNESS!! —RocCritic

---
2009-01-29 12:51:48 @RocCritic - Your comments are extremely harsh and unfair. Yes, the new color scheme is a bit clownish and tacky. But if you're spending your time at Tilt looking at the floors or staring at the walls, you're doing something wrong. Tilt is a dance club - not a local bar with drink specials. You're again doing something wrong if you're going to Tilt in order to get drunk. If you need to be drunk to be in a social setting, then get drunk before hand, then when you get there, the watered down drinks will keep you from getting dehydrated. As for drinks being server in plastic cups... Wow. You're a moron. It's a dance club. With that many people moving around at various levels of drunkenness, and if drinks were in glasses, there would be a glass broken every 10 minutes. Drinks are in plastic cups for a REASON. Get over yourself and your hatred for the gay/mixed club scene in Rochester. —MichaelDelaney
---
2009-01-29 14:03:44 "the watered down drinks will keep you from getting dehydrated"
This is my favorite quote ever. —EastSideStephen

---
2009-08-21 04:12:01 The under crowd is a bit much with nowhere for the over that's had enough to get away from it. And yet such a nice place inside, but to me not worth driving there to see if they have a crowd. A shame when the Tilt of old had so much to offer on all ends. —Murphy76
---
2009-11-15 00:04:36 @ MichaelDelaney Oh bug off. I've given plenty of places a good and bad reviews. I'm sorry my bad review was too harsh and offends you. Who said that I was wasting my time staring at the floor or the walls? You are kidding me. The tacky wall colors are screaming in our face. The new color scheme isn't jiving it very well with regulars, too. I have asked them for opinions.
Who says that I need to get drunk? I want to come to Tilt with bartenders that knows how to mix stiff drinks that is not watered down in a glass cups. Why? It tastes better in glass and I paid for it. It is laughable that you claim that watered down drinks will keep me from being dehydrated. I'll order a friggin' water bottle if I am thirsty. By the way, you are actually insulting me and other customers to be cheap. Broken glasses every 10 minutes? You are really kidding me because that is a dead giveaway that you are either the owner or a regular Tilt barfly defending the reputation.
I can't believe that you are accusing me of a hatred for gay/mixed club scene in Rochester. For the record, I am gay, you judgmental moron. I'll level with you and agree that there's a chance that Tilt could have been better with few adjustments, few managers and staff with better attitudes. Either way, that doesn't change my opinion of the place.

---
2010-05-07 11:17:39 I've always been a fan of Tilt, despite what others have said. I'm a straight female who enjoys dancing there with friends, since they play a good mix of house and top 40.
On Saturday, May 1, four of my friends and I decided to go out to Tilt. We got there and three of us had no problem getting in. Of the three of us, one had an out-of-state driver's license from Wisconsin. My fourth friend, J, also has an out-of-state license from California. She also brought her University of Rochester undergraduate student ID card.
The bouncers questioned the validity of J's ID, thinking it was fake. She only brought her University ID and her driver's license out that night. Instead of asking for alternative forms of identification, they asked her to write her signature. The bouncers did not feel that the signature matched her driver's license, particularly noting the lack of an "n" in her first name. (Though this is a valid claim, I would say that most people's signatures vary a fair amount between ages 16 and 21, or over the course of any number of years. Moreover, double letters tend to merge into one.) The one bouncer then commented, "so you pay $50,000 a year to go to the University of Rochester, but you can't spell your own name?" This statement was uncalled for, and a ridiculous form of verbal harassment. The bouncers refused to give her back her driver's license, and she called the Rochester Police Department.
Two officers in separate vehicles came, one male and one female. The male officer asked my friend to wait outside while he checked her license and spoke to the bouncers inside. The female officer arrived approximately two minutes after the male officer had entered the building, and asked if the male officer was inside. She also went in. Within five minutes they exited, saying that her license appeared to have a flaw in it, and that they were holding onto it. My friend J responded saying that she has flown over 20 times throughout the United States with her driver's license and never once was stopped by TSA officers at airport security. She asked if they could run her license through the police records system (such as the one used in case of being pulled over), but the male officer said he would not be able to do so. She then asked if she could go home to retrieve alternative forms of identification in order to verify her identity and recover her driver's license. The two officers acquiesced. J asked if the officers would ask the bouncers to keep—not throw away—her driver's license. We drove back to her dormitory where she picked up her passport, her Social Security card, and multiple forms of identification and paperwork from school and bills.
We returned to Tilt roughly 30 minutes later. J called the Rochester Police Department again, and they said they would have an officer sent out. In the mean time, we waited outside. One of the bouncers came outside and informed us that regardless of what happened to the driver's license, we would not be allowed into the nightclub that night. We waited approximately 12 minutes before another male officer showed up. He took some time to find out what was going on from J before entering to look at the driver's license. Because she brought her passport to back up her identity and age, the police officer gave her back her license, but said that there was probably a flaw. When she responded with the same statement she gave earlier—that she flies often in the U.S. and has never been stopped—he said that in Rochester they don't see many out-of-state licenses. We left feeling quite frustrated and offended at such an issue.
Though this description seems straightforward and civil, my friends and I felt wronged at this situation. Tilt is notoriously known on local college campuses and amongst the 18+ crowd that it is an easy place in Rochester to get into with a fake. However, J had a valid out-of-state driver's license, and her signature issue can be attributed to age difference, nerves, and perspective. The bouncer was so bent, so convinced, that she had a fake that he refused to take a civil approach to the manner. Instead, he proceeded to comment on her financial situation, her education, and her identity. This is extremely wrong and a severe infringement on her personal rights, in my opinion. The injustice of such a statement and such treatment is absurd.
I will not be returning to Tilt ever again. I warn out-of-state college students to bring their licenses, their student ID cards, as well as some other form of identification if going out to bars or clubs on the weekends, but particularly Tilt. —czechbox

---
2011-05-25 04:34:36 The only thing gay about this club is the drag shows. The security staff and door people could use some customer service training. You often find many straight girls dragging there "boyfriends" to watch the show and they outnumber the gays in this place most times. A place for twenty somethings. If you are older...you will notice the contrast. —RobertStar
---
2011-09-25 13:43:52 Impressive Show at your Moulin Rouge last night...who was that masked man? —ArtMoore
---
2011-11-14 13:00:36 The bouncer is worth the price of admission. —ArtMoore
---
2011-11-23 11:51:46 That space music was off the hook Last Saturday Night! Way to not discriminate ,bouncer dude, 4 real ... —ArtMoore