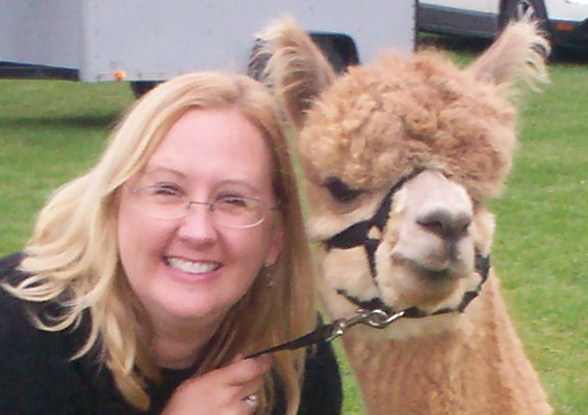 Dawn Nicole is the store manager of the Alpaca Country Clothing and Gifts, located at the four corners of the Village of Pittsford, which she started in November 2007 with Mark Gilbride, owner of Lazy Acre Alpacas in Bloomfield. Before then, she held positions with Insero & Co., Phillips Lytle, LLP, and the Rochester Yacht Club. She is most notably known as the President of The City Walk.
Technically born in Rochester (Highland Hospital), she was a resident of Fairport for one full year. After that, her parents tired of the snow and moved to Atlanta, GA., where Dawn Nicole lived until gradutating from Lakeside High School. While born "up north", she definately considers herself a "southerner" - and save the occasional word said with a Rochester-accent, in talking with her there's no doubt her real "home" is below the Mason-Dixon line. She attended the University of Alabama and lived in Indianapolis, IN; Palm Beach Gardens and Jupiter, FL; Chattanooga and Nashville, TN; Jamestown, NY; Burnsville and Asheville, NC; and Monterey, CA before returning to Rochester in 2002.
Though she almost left two days after moving here (coming from central California to Lake Ontario and a huge ice storm was not what she felt she signed up for), she stuck it out - and is glad she did. "I stayed in the house for two weeks, but after the snow melted and I got out and met people, I was pleasantly surprised." She loves Rochester and all it has to offer and feels grateful to be in such a diverse city. Even though she still "hyperventilates at the initial thoughts of snow", she definately feels she is a bit of an ambassador for the city: "I'm always telling people what a great place Rochester is to live. No one can ever say to me that there is nothing to do. Anything you're interested in doing, it's going on here somewhere!"
Comments:
Note: You must be logged in to add comments
---
2008-02-11 21:41:32 Hi Dawn. Thank you for spending time showing me around the store, helping me pick out something for my wife and talking about the City Walk. I was wondering if you could add the business template to the Alpaca store page. It might be helpful if people knew the address and hours of the store. Thanks again. —ScottHendler
---
2008-02-13 16:28:52 Hi Dawn - I chaged the page for the Alpaca store to fit the business template, without taking away any information. Could you fill in the hours? I'm sure it would really help people out! —SaraChristine
---
2008-08-27 18:52:34 Thanks so much Scott and Sara! I've updated the store entry and will remember to keep it updated with any changes (including our switch to fall/winter hours soon). —DawnNicoleJohnson
---
2008-09-07 12:56:32 I updated the The City Walk page to fix the link you mentioned in an earlier comment and updated the text. —BradMandell
---
2008-09-26 16:34:28 Thanks Brad! =) —DawnNicoleJohnson
---
2008-10-11 08:58:27 Hi again, Nicole. I took the liberty of creating the entry for Lazy Acre Alpacas, moved the picture from the Fall Guide to the farm page and did a bit of reorganization of your store page. Hope it meets with your approval. The two listings are now interlinked. If you don't mind, I will remove the Alpaca picture from the fall guide, as it is more transient and does not usually represent folks ideas about Fall (;>} I enjoyed doing the task, because Grammy & Grampi (my wife and I) took two of our grandchildren on an outing at an Alpaca farm outside Fredericksburg, Va - fond memories. —BradMandell
---
2008-10-22 13:18:02 Hi Dawn! It was nice to meet you several weeks ago at Mt. Hope and Reservoir before one of Ralph's ghost walks, glad to see you'll be working with the Seabreeze Spirit Nights, sounds like it'll be a lot of fun for a pub crawl! Good Luck! —StephanieTodd
---
---
2012-01-10 16:18:46 Dawn on Burning Bush Gardens please leave the www in the web addresses. Some people's browsers need them there to browse correctly. Thanks —PeteB