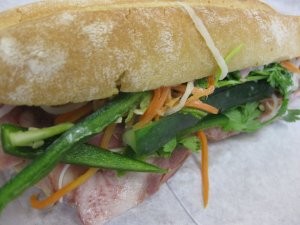 Location
985A S Clinton Ave, Rochester, NY 14620
Hours
Tuesday-Sunday: 10:00AM to 6:00PM
Closed on Mondays
Phone
585 271 7250
Wheelchair Accessible
Info Needed
Reviews
Yahoo! Local
The Vinh-Hao Music & Video and Banh Mi Cafe is a Vietnamese cafe and CD/DVD store in Swillburg/Highland Park. Its banh mi have garnered a passionate following as shown below.
Comments:
Note: You must be logged in to add comments
---
2008-08-03 03:43:20 In a town like Rochester, some of the best ethnic food is found off the beaten track in hidden stores that exist, ostensibly, for some other purpose.
THE Sandwich place at 980 South Clinton Avenue is one of those places. Its street-front screams Vietnamese video store, yet in the back of a small store there is a little counter that immediately reminded me of my time in Southeast Asia. Could this be the real deal?
Vietnamese sandwiches are an elegant construction built upon French colonial baking skills that are without par. It's all in the bread, baby, and this is damn fine bread. Crusty rolls with a delicate baguette crumb make a perfect foil for the interior complex layers of flavor that build from butter, through an authentic Vietnamese pate spread to the deli-meats, pickled vegetables, and garnishes.
If you don't like mystery meat you are not worthy. Go home. We're talking pate here and that means innards whose provenance you just don't know. There are gelatinous slices of meat to be tasted. Textures you might not know well. Shut your eyes and chew. Don't waste perfectly good thoughts on silly cultural preferences - they are beneath you. Just moan softly as the butter hits the savory pate on the tongue. Groan as the meat yields it's textural component and the pickled carrot cuts through the richness that threatens to overwhelm you. Look for the herbaceous notes from the cilantro and the sharp bite and burn of green chili finishing the mouthful. This is the best sandwich you're going to eat all year so take your time and try not to scare your partner with your moans as they drive you away.
$3 per sandwich. Buy two. Get there early - they do sell out. Don't eat mine or I will hunt you down. — ColinRhodes

---
2009-06-05 12:42:27 I love this review and if this does become a business page it deserves to be prominent. —ErikReinert
---
2009-06-06 15:24:06 Yes, these are delicious, as long as the mystery meat slices arent too thick, then it gets a little questionable but overall delicious. Very spicy too, raw jalapenos on the sandwich. —WindyPig
---
2009-06-07 20:21:24 The info for this place is - Vinh-Hao, 985A S. Clinton Ave (part of the old Imperial Chinese Restaurant). The phone # is 271-7250. They're closed Mondays. Their banh mi are similar to, and better than, some I've had in Toronto. George's Hispanic bakery on Clinton just the other side of Goodman makes the rolls for them. They did run out of bread one day when I called to place an order. It's the closest I ever came to suicide... —JackLoCastro
---
2009-06-08 12:23:27 Do they make the Vegetarian version like the ones in Toronto? —RxScabin
---
2009-07-13 08:53:33 Vinh Hao's banh mi is the best sandwich in Rochester. I'm there a minimum of twice a week now. —MarkTichenor
---
2009-08-23 16:20:48 They keep random hours, but it's well worth it! 3.50 a sandwich or 3 for $10, a great deal for a phenomenal sandwich! I might have to say that this is my favorite sandwich in Rochester. I'm a diehard fan of DiBella's, but it's refreshing to have this uncommon selection of fillings in a sandwich, particularly the veggies. The above review is right on the mark, the harmony of different textures is truly exceptional! The bread really is terrific, everything you expect from a baguette, plus more. A crispy crust and moist flavorful interior. Yet another great hidden ethnic eatery on the strip of South Clinton between Goodman and Highland. —AlexD1234
---
2009-10-23 10:52:52 The above review goes to Colin Rhodes, who is to modest to take the credit himself. under cover food writer & fabulous cook. —GretaKat

---
2009-11-07 11:16:31 This sandwich is without equal in Rochester. While I hesitate to dub the sandwich "the best I've ever had," it is definitely one of the most unique and delicious. It's crunchy, spicy, "herby", and cool with an interesting mix of meats and meat product. The bread, as advertised, is perfect when the sandwich is fresh. I refrigerated the 2nd (I took the reviewers advice and bought two) and the bread, of course, became tougher to chew but didn't detract from the flavor. In short, it's a complex sandwich whose sum is far greater than it's parts. All from the back of a Vietnamese video store... Only in Rochester! A big thanks needs to be delivered to the initial reviewer (Colin Rhodes, apparently) for sparking my interest in finding Vinh Hao. I may have gone my entire life without having the pleasure of eating such a great sandwich if not for his descriptive yet cryptic review. The sandwich absolutely lives up to his billing. —BatGuano
---
2009-12-09 08:16:30 I finally made the time to stop by and purchase a couple yesterday. A cornucopia of mystery meat. For the price you can't beat these sandwiches. An excellent combination of flavors. Better than the banh mi served at the pho place on Otis street. —ErikReinert
---
2010-04-17 14:11:18 Just amazing Banh Mi and Avocado Milkshakes and a lovely lady serving it to you. —lovenotwar
---
2011-01-01 21:48:25 The sandwiches here are extremely tasty and cheaper than anything you'll get at other shops in the area. One time the bread was a little stale, but there have been dozens of other times where every ingredient is fresh. Cautious eaters might take offense to the mystery meat combo, but its pork, ham and pate! Nothing wrong with that! Cash only though :( —jberna
---
2012-05-15 23:13:45 i really enjoy their banh mi- the flavors are really well-balanced, every bite has a little bit of everything, and the pickles really shine through more than in other banh mi i've had. sure, they've only got one variety but they're mostly an import video shop that sells sandwiches on the side, so i can't judge them for that. i love going there grabbing a banh mi and eating it as a picnic lunch in highland park. wonderful. —portia356
---
2013-01-30 22:42:54 I want some bánh mì —sub619