The Highland Park Neighborhood is a predominantly residential neighborhood containing the park of the same name. It shares a busy commercial border with Swillburg along South Clinton Avenue and a small part of South Goodman Street. Both neighborhoods are sometimes lumped in with the South Wedge.
Containing over 2000 homes, most of which were built between 1900 and 1935, the Highland Park Neighborhood is characterized as stable, family-friendly, and culturally and economically diverse. The Ellwanger & Barry Park is a point of pride for the community. A Greek Fest is held every August by the
Greek Orthodox Church of the Holy Spirit.
The Highland Park Neighborhood Association is very active and supported by residents to protect the area's character as an attractive urban village. Ruth Danis, 2009 co-chair, describes one of the associations goals as subscribing to and promoting the concept of a "healthy middle-class neighborhood." 1
The association has a
Virtual Scrapbook which grew out of a series of exhibits displayed in Highland Park and
City Hall that documented the Ellwanger and Barry connection. It also serves as a snapshot of the day-to-day lives of residents that would otherwise remain unrecorded. In addition, the association publishes a quarterly newsletter,
The Buzz, and maintains a semi-monthly e-mail Blast.
History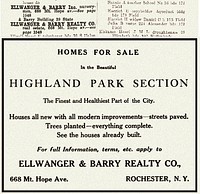 Ads from 1914
In 2007 the neighborhood formally changed its name from the Ellwanger Barry Neighborhood to be more indicative of its location. Both the former and present names are reflective of neighborhood history; the Ellwanger Barry Realty Company originally developed much of the area and referred to it in advertisements as "The Highland Park Section." 2 Between 1872 and 1913 Ellwanger and Barry developed the oldest portion of their nursery into what is today known as the Linden-South Historic District, shared by both the Highland Park Neighborhood and the South Wedge.
The Landmark Society, one of the oldest and most respected preservation groups in the nation, held its 28th annual House and Garden Tour in the Highland Park neighborhood in June 2008. Twelve houses circa 1920s were chosen for the tour including two condos in the historic Spanish tile-roofed Ellwanger Barry School3 at Linden and Meigs Street.
In 2015 local developer Buckingham Properties converted an old warehouse on South Clinton into the mixed-use Edge of the Wedge.
Establishments
Barbershops and Salons
Bars
Food and Drink
Retail
Services
Others
Links
Comments:
Note: You must be logged in to add comments