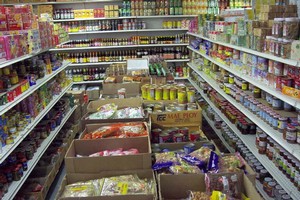 by John Lam
Location
971 South Clinton Avenue, Rochester NY 14620
Accessible
Yes - but aisles are very tight
Hours (as of November 2008)
Daily: 9:30AM to 6:30PM
Phone
585 271 3705
Ocean Garden is an Asian market located on the busy commercial border between Swillburg and the Highland Park Neighborhood. It stocks mostly Cantonese and South East Asian groceries. They also stock plenty of fresh vegetables and meats at very reasonable prices. Comparable to Lee's Oriental Food.
This little place is booming. It's located right behind The Cinema, with parking adjacent, off-street, and also immediately on South Clinton Avenue along its stretch of boutique shopping and dining. A few Vietnamese shops have set up nearby; perhaps this could be Rochester's Little Vietnam.
Credit card minimum is $20.
Comments:
Note: You must be logged in to add comments
---
2009-08-27 17:35:04 This is my favorite asian market. They have a really nice fresh veggie section and the best Noodle selection I have ever seen. Forget Maruchan and Nissin Ramen. They also have fresh whole fish and sharks on ice. It's a badass little shop. —WindyPig
---
2009-10-08 13:58:58 I stopped by Ocean Garden yesterday and they were closed. I saw two huge dumpsters in front of the store along with several trucks that looked as though they had to do with fire damage repair. —SteveBuck
---
2009-10-08 20:15:04 We saw on the news that there was a fire on the second floor, expect they will be closed for a while —DottieHoffmann
---
2009-11-18 10:21:55 Great news, I stopped by a week ago or so and they are open again! —SteveBuck
---
2011-02-14 00:53:04 Tiny, tiny aisles and no one there ever seems to know English. Items seem well priced and I have seen some relatively fresh produce here. I recommend going here only if you know exactly what you want (and exactly where it lives on the tightly packed shelves). Please note that the last time I went, they only accepted cash. —OneLove
---
2012-01-01 13:18:56 I had promised I'd bring a dish for a party and realized I was out of galanga root! Major emergency. I knew I could count on Ocean Garden. Although they didn't have fresh that day they did have frozen galanga. The young man there who speaks English showed me where to find it. He's great. —JonGreenbaum
---
2012-10-20 13:25:34 They have a lot of really hard-to-find stuff here. Definitely recommended if you're into Southeast Asian cooking. —EileenF
---
2013-02-09 18:06:28 This place has a funk to it and looks pretty grimy inside. On the plus side, there is a decent small selection of hard to find Asian vegetables. On the downside, many of them are a little rotten. The staff there is extremely rude and not helpful, not much english spoken here. When the guy at the counter put something extra off the counter into my groceries when I was checking out, and I calmly remarked that that wasn't part of what I bought, he snapped at me. Very rude and I will definitely never be giving this place my business again. —alexd1234
---
2013-10-28 12:57:12 This is my go-to place for oriental specialty grocery shopping. I went there this saturday and people were both polite and spoke English (not that I think that's a relevent critique, anyway, except that commentors here seem to need to harp on that point). I really like the produce section, which consistently has things like fairly priced ginger, long beans, beautiful-looking mung bean sprouts, and plump, cheap lemongrass. They pack a lot of inventory into this little space, and I've found almost everything I've needed here over the years. They are limited in Japanese brands and ingredients. —ErikReinert