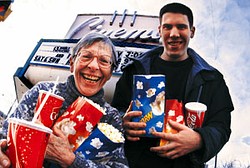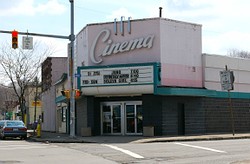 Cinema Exterior, 4-2008
The Cinema at Night
The Cinema Theatre was one of the oldest, continuously run, single-screen movie theaters in the United States. Since 1984, this landmark Art Deco building has been owned and operated by superstar, Jo Ann Morreale. In her loving hands it has very much remained a neighborhood theater where you are likely to run into several people you know. In addition, an evening at the Cinema often includes a meal at one of the countless ethnic restaurants surrounding it in the walkable Swillburg or South Wedge neighborhoods.

Monday through Thursday, the Highland Park Diner offered a free ticket to that night's show at the Cinema with the purchase of dinner ($8.50 minimum).

The Cinema showed a combination of Hollywood and Independent Films. They had the best theater popcorn in the city and have recently added Java Joe's fair-traded coffee to their list of concessions. Admission was $5 for adults and $3 for seniors, students, and children. Concessions ranged from 50 cents to $3.00. Regular admission prices included the nightly double-feature and $3 matinees are available on the weekends.

Some say that part of the charm of this theatre was the resident cat who may pay you a visit during the movie. For many years Princess Baby provided this service, but sadly she passed away in 2013. In November 2013, there was a new resident kitty: One-Eyed Sue. She had her own Facebook page One-Eyed Sue with movie reviews and other thoughts. She passed away in June 2017. As of January 2018, two new theater kitties were added: Bo and Genny Bock.

Once or twice a year the Cinema hosted a midnight showing of The Rocky Horror Picture Show with props and live performers.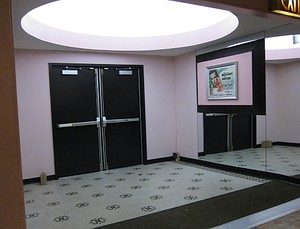 Cinema exit lobby, Jan 2011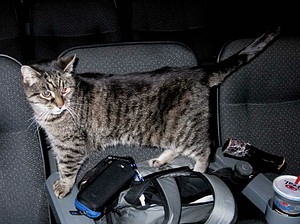 Kitty in Residence, Jan 2011
Comments:
Note: You must be logged in to add comments
---
2007-01-17 03:05:45 This place is a great bargain. Good times for family and friends. —RyGun
---
2007-01-17 19:29:25 I really like this place. The prices are great and the atmosphere is very friendly. I went there a couple weeks ago and there was an adorable cat roaming around the theatre, and it even sat on my lap during part of the movie. Is it the owner's cat or something? —RachelBlumenthal
---
2007-01-18 01:56:09 Haha, that cat is awesome! It scarred me walking in the dark once though :-p The Cinema is definitely my favorite movie theater now, even more so than Tinseltown. There's just something about it.... —RyGun
---
2007-03-21 11:33:31 The Cinema is a Rochester institution. It's by far the friendliest, most comfortable movie theater in the area — not to mention the most affordable. In my mind Jo Ann and the Friends of the Cinema represent some of the best of what Rochester has to offer — a community of people who care about each other and where they live. In a time when almost all single-screen movie theaters have closed down and killed off by megaplexes, it's refreshing to know that people still care enough about their community to keep something important alive. Okay, I'll shutup. But everyone: Go to the Cinema often and buy their delicious popcorn! —RochesterGuy
---
2007-07-19 22:39:40 You can't beat this place for a date night movie(s)! For under $10, two students can get in, watch two movies and share a soft drink and popcorn. Plus the popcorn is delicious and they have a great mix of blockbuster films and lesser-known titles. —SaraChristine
---
2008-03-29 14:14:19 I absolutly love Cinema it is cheap $6 for my boyfriend and I to view not one but two flicks. Not to mention that they are very nice and warm people. I always wait for the big blockbusters to come here becouse they only bring the good ones. Food is cheap as well and the pop corn tasty!!! Great idea for a date. Lucky for me it's only a block away!!! —EnishaCray
---
2009-08-25 17:29:33 Wanted to update the page: The Cinema is currently undergoing some cosmetic renovations: it got a brand new coat of paint and the adjoining space is being expertly renovated in art deco style. I'm not sure what Jo Ann has planned, but it looks great. As always, a fantastic place to see a movie and share a popcorn. —RochesterGuy
---
2010-03-17 12:57:56 This place is an excellent alternative to Movies 10. They don't necessarily compete in the same market, but you can have an affordable, enjoyable experience here w/o risking life and limb. —ScottLaRock
---
2011-01-09 12:09:33 A wonderful place, with a cat in residence. Locally owned and operated. If you don't have to see movies the day they come out, wait a couple weeks and see them here. Great retro choices at the snack bar too! Spend your money locally, spend it at the Cinema. —DottieHoffmann
---
2011-10-21 21:13:57 Great place, friendly, affordable, another great local in the south wedge. —dwheelerau
---
2013-08-05 01:45:59 Did the cat (Princess Baby) die? She looked frail the last time I saw her (which wasn't the last time I was there), and I saw that they were raising money for her medical expenses in the lobby... —mrsmunson
---
2013-08-05 06:53:23 Yes, kitty is gone :-(, hoping they get another mascot soon ! —DottieHoffmann