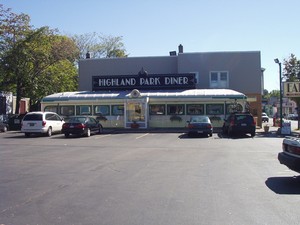 Location
960 Clinton Avenue South, Rochester NY, 14620
Hours (as of October 2012 per phone call)
Monday - Thursday: 7:00AM to 9:00PM
Friday: 7:00AM to 10:00PM
Saturday: 7:00AM to 9:00PM
Sunday: 7:00AM to 8:00PM
Phone
585 461 5040
Accessible
No
Website
https://highlandparkdinerny.com/
Facebook
Reviews
Yelp.com
Highland Park Diner is a famous diner on the corner of Clinton and Goodman in Swillburg, across Clinton from The Cinema.
The American Diner Cookbook and other books feature the Highland Park Diner. The diner is also immortalized in a
collectible sculpture by the
Danbury Mint.
This diner was manufactured by the Orleans Diner company of Albion, NY in the late 1940's. It would have been pre-built in their factory and moved to the site via rail car and truck, which is why diners of this type are always long and narrow. This diner may be the only surviving diner from this manufacturer (they only made 2 or 3 units total).
It has always been at this site, although the original name was Dauphin's Superior Diner. The diner closed in 1974, then re-opened in 1976 as an OTB parlor. At this time, most of the diner interior was dismantled and removed. After the OTB closed in 1986, the building was purchased and restored by Bob Malley, who owned it for many years. Several years ago, Bob retired and sold the diner to a new owner.
Awards
Voted "Best Diner" in City Newspaper's 'Best of Rochester' Awards in 2006, 2007, 2008, and 2015.1 2 34
Photos
Comments:
Note: You must be logged in to add comments
See Archive Page for comments prior to 2009.
---
2009-04-03 13:54:17 I agree with the above comment, The breakfast options are way way better than the lunch and dinner offerings. I went here for dinner with a friend yesterday, and I figured I'd order one of the "house favorites" on the menu, spaghetti. I was skeptical of course, for all the obvious reasons, but I figured that if they listed it as a house favorite, it must be decent, so I gave it a shot.
It was beyond a shadow of a doubt, the worst spaghetti I've ever had. The sauce was runny and thin, without any hint of spices or seasoning. I literally would have enjoyed Chef Boyardee from the can more. Add to that the fact that I watched the cook make it by tossing it in the microwave, right in front of me. I paid $11 for this terrible meal, when I could have eaten better from a can for $1.
My friend got one of the specials, calves liver. I'm not sure I can say much about this as I hate liver and he had never tried it before(and later decided he hated it).
So, while I will probably give lunch/dinner here another shot, it's gonna take a bit to win back my confidence. And I'm sticking to familiar diner fare instead of venturing for something unfamiliar. —AlexD1234

---
2009-05-18 12:20:21 I will stick to the Country Club diner on East Avenue for my traditional Sunday morning breakfast. The Highland Diner is overpriced and overrated. —SMAKCruiser
---
2009-08-05 15:31:49 i love the atmosphere of ths diner. they have a very creative menu but i usualyl stick to my usual pepper, onion and mushroom omelette. it comes out great each time :) —limeylimer
---
2010-01-30 16:22:08 This used to be a great place for all meals, especially breakfast. My girlfriend and I were in there a few weeks ago and saw the new manager berating his waitresses. Turns out a few months latter we saw her working at the much better Southwedge Dinner on S. Clinton. As a matter of fact, a few of the people who made Highland park Dinner good now work at Southwedge. Southwedge has a much better Eggs Benedict. —RichFlaherty
---
2010-04-04 10:59:05 Since my wife and I don't see the need for a $20 dollar brunch, we have made this our Easter breakfast place. I will say that I did notice a big turnover in the staff and the service seemed better than usual . The food remained of the same quality that we have come to expect. We both had omelettes (Tuscan and New Orleans) which arrived quickly and very hot. Like Charlie's Frog Pond, this place always has a very interesting list of specials. And their coffee is much better. —almorinelli
---
2010-08-28 13:18:25 Corned beef hash was fantastic and served with eggs over medium that were actually cooked over medium. My wife and kid split a Greek omelet and pancakes with blueberries and nuts, both excellent. I see that prices are mentioned in other comments. By standards of where we live, Boston, the prices are lowish, not cheap but certainly not expensive. Great diner ambience with the old diner matched well with new light fixtures and counter tile work. —jomiku
---
2010-09-16 23:24:24 Things are changing for the good around here! I have been coming here for years, although not so much in the last few years because it seemed as if the diner was really going downhill. Went tonight and had an amazing homemade chicken pot pie. The service was just perfect, our waitress was informative and helpful without hovering. I haven't seen the place looking this good in years, everything was clean and polished. Whatever has changed I hope they keep it up, I will definitely be back again soon. —PMazur
---
2010-11-14 12:01:47 A friend of mine was hired to manage the restaurant staff and kitchen on most (all?) evenings. She committed herself to not letting the diner fail and has added "gourmet milkshakes" (some with very unusual, fine-dining flavor combinations), and the chef makes a burger special which I've come to understand is based on daring creativity rather than a special price. She also demands that her staff do their jobs well.
I visited on Thursday, November 11 just before close. I was very impressed by the "Aztec" milkshake which included chili spices paired with chocolate (if I recall the ingredients correctly.) The burger had excellent flavor and texture (obviously high-grade beef) and the guacamole and chorizo sausages worked well. I won't comment on the service as I was sort of a "special guest", but the crew on hand seemed to genuinely enjoy their jobs and it felt like they were working as a team.
I expect the diner to continue to improve: the uniqueness of menu choices, the quality of the food, and the level of service should continue to increase. My impression is that prices will likely stay higher-than-average for diners as Highland Park Diner distinguishes itself as more than just another place to get cheap eats. —JasonOlshefsky

---
2011-02-19 14:11:34 I love this place for Sunday brunch. It's better, cheaper, and less crowded than Jines, and I dig the atmosphere. That said, though I come here almost once a week, I just have brunch/breakfast basics—an egg sandwich, pancakes, waffles, salmon platter, biscuits and gravy—and so I can't comment on the other offerings. The service is mixed, but whaddaya want? It's a diner. I take all my out-of-town friends and family here, too. —BAC
---
2011-08-25 18:44:49 The staff are friendly and go out of their way to help you! They treated me as if I was a special guest, although I'm just a usual customer. They have a good variety of menu items and Highland Park always comes through with something for which I'm in the mood. I don't know if this place has new owners, but whomever they are, they are doing a great job!! Great food. I love this diner! —orangedawg
---
2011-09-16 06:52:10 Noisy, crowded, slow, inattentive. Food is good, but not worth the trouble. —JackPorcello