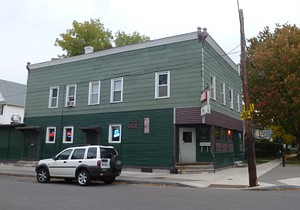 Oct. 2012
Location
791 Meigs Street, Rochester, NY 14620
Hours (as of August 2017)
Monday - Thursday: 3:00PM to 11:00PM
Friday & Saturday: 3:00PM to 2:00AM
Sunday: 12:00PM to 2:00AM
Phone
info Needed
Wheelchair Accessible
No
Alcohol
Yes
Website
Facebook
Dicky's Corner Pub is a bar and grill located in the Highland Park Neighborhood, on the corner of Meigs Street and Caroline Street. It claims to be the oldest bar in the city (opened in 1880).
It was a mainstay in Rochester for nearly 80 years, and was replaced in 2006 by The Black Pearl Cafe briefly, only to have Dicky's re-open on January 12, 2010. In 2017 the bar was purchased by the family who owned it from the 1920's - 2006 and added extensive renovations, changed the name to Dicky's Corner pub and has a planned September opening.
Comments:
Note: You must be logged in to add comments
---
2010-03-01 18:28:25 Great bar, awesome food(which they even serve late night), and excellent service. Glad this place has reopened. Worth checking out especailly if you live in the wedge. —MetalFrost
---
2010-06-12 21:46:15 The Friday Fish Fry is AWESOME!!!! Waitress was really nice too. —ErnestSoulsteen
---
2010-08-10 15:59:31 First started going in Winter 2010 when it re-opened, and I liked it a lot. The staff was friendly, drinks cheap, and the food decent too.
Went there on a Friday night in July and was extremely disappointed. I'm a pretty normal looking young drink-seeker who felt like putting on a nice POLO for the night, big mistake. The Black-Leather clad, sport-bike-punk crowd didn't take a liking to two "unfamiliars" wearing nicer clothing coming into their place. Rude comments began before we even got in the doors from the smokers outside.
Once inside, there was nearly a fight between two guys right next to me, they were shoving each other and yelling. The bartender/owner seemed to enjoy watching them rather than stop them. The draft beers were terrible and skunky, and they wouldn't even serve us last-call even though we asked at 1:50am.
Bottom line? I don't need their sh**ty drinks and attitudes, they clearly don't need my business. Staying away in the future. Good luck with your business plan guys. —Casey

---
2010-09-13 15:02:38 Casey, I am sorry to here that you had a bad experience at Dicky's. I am one of the owners. Not sure what Friday it was you are talking about, as I work most Fridays. We have a very diverse crowd, I would say we have more "polo shirts" than "biker jackets" by far. Many people say rude things all time to people that are different than themselves... we can't control that. We clean our tap lines almost every week, so if you have a bad beer tell the bartender I bet you'll find it is taken care of instantly. As far as last call, some times it takes a while to get people out, its a residential neighborhood and we try to get people on there way at the end of the night to prevent problems. That is all. I hope you don't let one bad experience keep you away forever. —s.napier
---
2010-09-16 23:53:52 So very glad this bar has reopened. The food is great, the crowd is diverse, the staff is friendly, and the music is different every time I go in. I only wish they would expand their menu a bit. —PMazur
---
2012-01-16 17:18:52 I've been to Dicky's to drink a bunch of times. I live nearby, and I've always had a great time. But I went to Dicky's for Sunday Brunch and the owner, who waited on my table, would not let me have a glass of tap water with my food. He said that Dicky's will not be giving free tap water out anymore, because it takes up too many of his pint glasses. They will sell you bottled water though.
While this behavior is not illegal, it runs counter to the what customers expect at a restaurant. A club and a lot of bars—sure—but when a place is trying to sell itself as both a bar AND a sit-down eatery, customers expect certain things because EVERY sit-down eatery provides them.
Dicky's may style itself as more than a bar, but apparently you cannot expect the basic treatment you would get at even the cruddiest restaurant. Give free tap water to people buying your food — come on. —ChristopherD

---
2012-01-17 14:31:40 Christopher, I took care of you on Sunday. I am sorry that you are upset about not getting free water. I agree I didn't handle it well. You aggressively reacted to me, quoting NY state law and I was instantly annoyed and for that I apologize. Being a small business is not easy, everyone thinks water should be free, unfortunately its not. Our annual water cost last year was over $2000.00 , it does consume many pint glasses that could be used for drinks that cost money (i.e. keeping us in business), also it is time consuming to stand there and pour water. I was the only person in the front of the house that day and your table alone wanted 5 waters, there was at least 18-20 besides the 7 at your table. If they all wanted water, not only costs money but is very time consuming. This is our solution. Your tables order was messed up as it was (sorry again), the easier it is for us to operate the less mistakes get made. So please come back in I will buy you a drink (water or whatever), but please understand this is not a personal attack on you, we are just trying to save time and money. Your understanding would be greatly appreciated. Scott —s.napier

---
2012-01-17 15:00:43 If you're a bar that's going to charge for water, I'm just going to tell everyone to avoid this place. Water is a cost of doing business and should be factored in as such. —DamianKumor
---
2012-01-17 15:32:39 WOW! I had know idea free water was so important. Don't worry about the great beer and food at great prices, go out for the free water! —s.napier
---
2012-01-17 18:52:04 You're in the restaurant business, and you had no idea that water was important??? I would consider it part of 'customer service'. Thanks for your candor-now I know that I should stay far away from your business! What a cheapskate! —Alex-C
---
2012-01-19 12:38:46 I said "free water" smart guy and I am not the one asking for something for nothing... so who is the cheapskate? I bet you drink free water all night and never tip your servers either. We could just raise the prices of everything, but we don't. We charge people for why they order, simple. I realize you are smarter I/We, so thanks for your opinions. I am happy you all have the internet to vent, have a great day and enjoy your free water. —s.napier
---
Admin Note: Additional discussion regarding the water issue has been moved to the Talk page.
---
2012-01-28 12:02:35 Gave it a shot, didn't stay. I miss the pre-Black Pearl Dickies. —BadFish
---
2012-02-28 10:42:44 Call me a dirty person, but if you're drunk and need water, I just take my empty glass into the bathroom and fill it up at the sink myself. If we start having to pay to take a piss, I'll know why. —ChrisOlin
---
2012-04-20 11:03:24 I went into Dicky's one night with my girlfriend a few weeks ago. I had just gotten out of work late and arrived at the bar at about 1:05. I was REFUSED SERVICE because it was "too late" my order was "too strong of a drink for 1am." I explained that I hadn't yet had a drink and the owner? bartender? didn't care. He said it was a case of how I'm getting home. I explained I lived one street over and walked to the bar. Still did not receive the drinks or service we requested. Not only that, but we sat for 15 minutes waiting to pay for drinks we didn't want. Terrible hospitality, terrible attitude NEVER going here again. I understand the need for a business owner to cover his ass, but that was ridiculous. I am a bartender and would NEVER conduct myself in that manner. Save yourself a headache and don't bother with this place. —cuttothechase
---
2012-06-12 01:25:55 my boyfriend and i have lived in the wedge for about 2 years and just discovered dicky's. awesome little place. sesame wings and french bread pizzas like my mom used to make- seriously, foodie-level awesome food. obviously took the time to think about interesting things that would set their food apart from the usual bar fare. friendly bartender, fooseball table, darts. a mixture of a bunch of different kinds of people all out to have a good time. and probably the funniest set of comments i've ever seen about a place what with the whole "water controversy." i've been to a place in buffalo that charged a dollar for water- it went in the guy's tip jar, and as a bartender myself, i didn't blame him! hell, i wish i had thought of that. if you want so-called "service," you need to return on it. seriously, come have a shot and a beer and try some of their awesome food. wish we had wandered down meigs/caroline sooner. —sarb
---
2014-07-08 18:39:14 This place is the best bar outside of my native Canada. Good beer, nice people, and an interesting crowd. This is America. God bless it! —ZarleyZalapski