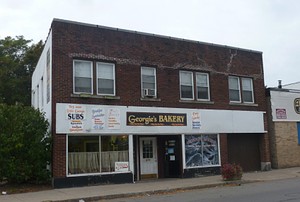 Oct. 2012
Georgie's Bakery is a family owned and operated bakery located between Goodman Street and Meigs Street in the Highland Park Neighborhood. It is owned by Liz and Georgie Ruiz since they began in the spring of 2005.
The bakery provides breakfast sandwiches and a substantial lunch menu. They feature Puerto Rican home cooking on Wednesday and Saturday when Grandma Ruiz cooks her Spanish specialties. 1
They also offer Catering.
Comments:
Note: You must be logged in to add comments
---
2007-11-20 18:55:47 This is a great little bakery. I didn't realize it was right across from the South Wedge Diner until I went searching for it. They make a mean breakfast sandwich and great spanish pastries. I paid 2 bucks for my breakfast. —WiksiRaile
---
2009-08-14 17:17:46 The people in the bakery are very kind and are willing to cater to your needs. The prices are good and the breads are well made.
PS: The Spanish pastries are amazing. —PatrickAdams

---
2010-04-01 19:48:24 I'm here at least once a week they are wonderful people who make great bread and pastries. They also do great job with there soups —mabrown75
---
2011-02-07 12:57:40 Had their Cuban Sandwich, it's not the most traditional I've had, but it is really tasty, loved it! My friends loved their other sandwiches too.
---
2011-12-07 13:10:25 After hearing about the Cuban sandwich from my father for months, I finally went today to get one with him. Totally worth the hype. Delicious, and the staff was very friendly. —MikeC
---
2012-08-21 12:40:22 Believe the hype! This Cuban is the truth! Also love that in the summer, the 8? (10?) year-old daughter mans the phone and cashes you out even though she can barely reach the register —PDub