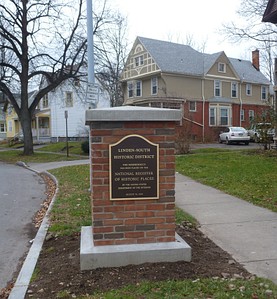 The Linden-South Historic District is located on the border between the South Wedge and the Highland Park Neighborhood. The district was originally the oldest part of the Ellwanger and Barry nursery, which George Ellwanger and Patrick Barry subdivided and developed between 1872 and 1913. They hired local architects, including
Andrew_Jackson_Warner and Claude Bragdon, to construct over 136 buildings (commercial, residential, and one church) between 1872 and 1913.
Architectural styles include Gothic Revival, Italianate, Queen Anne, and Colonial Revival.
The church is the former South Avenue Baptist Church, now
Holy Spirit Greek Orthodox Church. It was built in 1909-1910 in a Late Gothic Revival style. Also in the district is a three-story Queen Anne-style mixed-use building at 785 South Avenue, built c. 1890.
The process of getting the Linden-South Historic District listed in the National Register of Historic Places began in 2007, when residents began researching the area's rich history. The listing was finally achieved August 2009. New stone and concrete piers, designed by A. Morreale Masonry, were installed on the corners of Linden Street, South Ave, and Mount Hope in June 2012. They contain bronze plaques identifying the district and the date of its listing as an historic place.
Comments:
Note: You must be logged in to add comments