Have an idea for a logo? Share it here!
Current Logo and Background
The current logo is RocWiki set in News Gothic Standard.
The background image is a Rochester skyline photo taken from the Ford Street Bridge by RIT Professor Frank Cost. Frank has graciously given us permission to use his image here.
Old Logos

The big W logo (to celebrate the leadership of our supreme commander).
Logo Concepts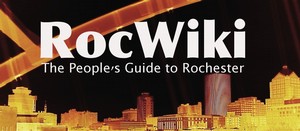 - I took this photo back in February on my way to work. This is just a quickie design, to get an idea of how people like the photo for use as a logo/background. I couldn't find the same text as in the current logo, so I used this one called 'Optima Bold'. Now that I look at it, I think I should move the text over to the right a bit more, to make it easier to read.-Bob DeYager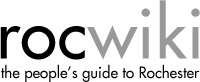 Just an idea I had. I used a clean, modern font (Futura), and used all lowercase (except the capital 'R' in Rochester). Again, the lowercasing is sort of a trend in a lot of modern logos. We could add color if we wanted (perhaps a blue similar to the one used on the site?)
I also added a little bit of contrast by putting the word "wiki" in gray. — AlexanderGartley
Why Not utilize one with the Rochester Flower Logo...which still needs its own page I might add.
-JAK3CAL