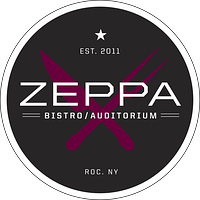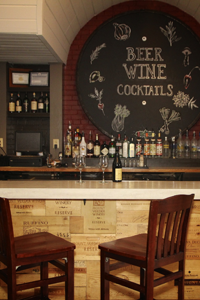 The Bar at Zeppa Bistro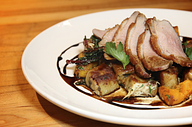 Menu Item
Dining Room at Zeppa Bistro
Former Location
315 Gregory St, Rochester, NY 14620
Status
Closed (as of November 2014)
Zeppa Bistro was an upscale restaurant in the historic German House. They served naturally aged steaks, fresh seafood, pasta dishes and locally grown produce. The name "Zeppa" means "wedge" in Italian. This is a reference the South Wedge, the neighborhood wherein the bistro was located.

The bistro featured happy hour specials during the week (not Saturday) as well as special promotions, including a no corkage fee on Tuesday evenings. Located upstairs from Zeppa Bistro was Zeppa Auditorium, a large event venue that frequently hosts private events and concerts.

Zeppa Bistro opened on January 20, 2012.
They came under new management and closed in November 2014, replaced by ButaPub.
Comments:
Note: You must be logged in to add comments
---
2012-02-08 22:57:19 Disappointed. The the food is not worth the price. I love Mise En Place good food fun dinning. To be honest I wish I had went to mise en place instead. Zeppa needs to work on the menu and fine tune things. I ordered a salad the dressing burned my mouth and lips. Way to much vinegar to be palatable. The main dish was ok and just that. For an "upscale place" they need to bring in a better chef. Dessert was absolutely disgusting! I paid $7 for what tasted like instant chocolate pudding with whip cream from a can...Not my opinion of upscale The pumpkin cheesecake tasted like Jello instant cheese cake. It was fluffy/foamy and runny and didn't taste very good at all. Overall Zeppa left me unfulfilled. It had good beer, very friendly staff, and maybe in a few months I will try again. —mrsdoran
---
2012-02-10 10:40:31 What a fabulous addition to the neighborhood. My fiance and I went to Zeppa for an early Valentine's dinner and everything we ordered was delicious. For starters, we had the mushroom arancini and the sausage sliders. The arancini were classic "comfort food," filled with melted cheese. The marinara on the arancini was tasty. And the sliders...WOW. The sausage patties were homemade and unbelievably flavorful. Each slider (order comes with 2) had sauteed onions, peppers and basil on top. Out of this world. As for the main entrees, I ordered the veal osso bucco special, which was decadent. Veal was falling apart, mashed potatoes were creamy...so good. The side of rapini was a perfect accompaniment. My fiance got the striped bass entree, which was cooked perfectly. The fish was served on a bed of roasted veggies, including Brussel sprouts, carrots & potatoes, with microgreens sprinkled on top. The sauce on the fish really made it. We skipped dessert, since (clearly) we ate a lot for dinner. Service was very friendly & attentive. The waitress even told us that we were welcome to take our time with coffee, even though we were the last people in the restaurant. We will most certainly be back! As Wedge residents, we are thrilled to have a nice, upscale place around the corner from us. —StephanieV
---
2012-03-08 10:38:58 This was an okay experince. We sat at the bar and ate and the bartender was friendly. The atmosphere was ok, could have been cozier if they did have so much white. The Sliders were amazing! . They were cooked perfectly and placed on a nice soft bread. the arancini were ok, cooked a little too long and needed salt. didnt have much flavor. The stuffed and baked oysters were good and fresh.The ginger cake was good but a bit dry even with sauce that was on the bottom of the plate. They had a nice wine/bar selection.
---
2012-04-18 12:20:53 My husband and I really wanted to like this place. We live in the area, and a friend gave us a gift card, so we went to try it out. It was a Friday night, and when we walked in we were quickly seated even though we didn't have a reservation. The ceiling above our head was vibrating (literally) from all the dancing and noise going on upstairs, where a really loud, bad cover band was playing. We ordered a bottle of moderately priced red wine as we perused the menu. Everything sounded delicious. We decided on two appetizers (the quail and the calamari special), a house salad to split, and for entrees a burger (medium rare) and a pasta with artichokes and capers in a lemon garlic sauce. When the appetizers were served, we were immediately disappointed. The quail was basically a very large salad with too much goat cheese and one tiny piece of over-cooked quail. The calamari, too, was basically a very large salad with too little calamari. We called over our server and cancelled our salad, since we already had plenty. Nothing in the appetizers tasted bad, per say, but they were not what we were expecting for the price. If a restaurant offers a quail appetizer, I expect the quail to be the featured item, not something shriveled and hidden behind greens. Then, the entrees came. My husband's burger was well, well done, not the medium rare he asked for. My pasta was laughably underwhelming. For 15 dollars, I was expecting the pasta to at least taste good. It didn't. Bland, no seasoning, about three capers (that were in no way "crispy" as the menu declared), no cheese at all (no pecorino, as the menu stated)about four small overcooked pieces of the "local" mushroom. Even the portion was small. I make better pasta dishes at home. We were so unsatisfied with the food that we spoke with a manager (something I rarely do!) . . . She brought us some coffee and a chocolate mousse (which tasted like instant chocolate pudding and they probably charge 8 dollars for it) on the house and listened to our complaints. Nothing was comped. Our bill came to over 100 dollars before tip. We did not want to use the gift card after complaining, so we paid with a credit card. Now we are stuck with a 50 dollar gift card to a place we never want to go to again. We love Mise En Place and since Zeppa has the same owner, we thought the food would be cooked with care and artistry, but whoever they have in the kitchen seems sloppy, unskilled and careless. They don't seem proud of their food at all. I felt, when we left, as if they are trying to deceive their patrons into thinking Zeppa is something it is not. It is not fine dining, it is not upscale bistro food, and the prices do not reflect that. Hopefully, a real bistro with quality food will come to our neighborhood (something like Good Luck near Village Gate or Red Dove Tavern in Geneva), but for now, we will have to continue to leave the Southwedge in order to find it. —Swedger22
---
2012-04-28 14:15:33 We went last evening to take advantage of the Crave Local Restaurants promotion and thoroughly enjoyed our dinner. My bibb lettuce salad was bold, topped with smoky bacon lardons and high-quality blue cheese dressing. My wife's roasted beet salad was a bit more delicate with the goat cheese giving it just the right tang. My braised short ribs were tender and flavorful with garlicy sauteed spinich and crispy fried polenta sticks on the side. The polenta was very light and must have had whipped egg whites folded in. My wife's pork shoulder was succulent but the sweet potato gratin stole the show with its butter and cheese. Portions were generous and plating was simple. We had the apple/strawberry/pear crisp for dessert, and the fig gelato on top was divine. Regular prices are definately upscale, but the promotion was a great deal. We found the room noisy, with little to absorb the sound from several large parties nearby. If we were being picky we might say the sauce on my beef was overly salty and the crisp could have been a bit more crisp, but overall the meal was excellent. Service was prompt and personable. We will definately be back! —JGerek
---
2012-05-03 22:01:19 I had a completely different experience than Swedger22. My pasta with clams was incredibly delicious- loaded with flavor of clams, pancetta, rapini and tomato priced at $18, I could not finish it. My salad was perfect. The service was more than attentive and every detail attended to. My friend ordered the short ribs with spinach and polenta- again sublime. I lived in NYC and this rivals any restaurant there. We are lucky to have a chef like Seth in Rochester. —cmm764
---
2012-06-30 11:21:53 Very good place, I really enjoyed the crab cake appetizer - probably some of the best I've had in town. I like that they incorporate fresh/seasonal/local produce and other ingredients into their dishes. I will be back. —mercdotes
---
2012-10-24 18:31:38 Stopped in again for a Friday night dinner. We started with the polenta fries which were fantastic. They were crispy on the outside and creamy on the inside with the perfect hint of truffle. I had the pan roasted chicken with the best maple roasted butternut squash I have ever had. The greens and apple chutney complemented the moist, well seasoned, perfectly cooked (and artfully prepared airline style) chicken breast. The dish was very good. My better half chose the herb crusted pork chop which was simply wonderful. We believe the pork was brined, which allowed for the well balanced seasoning/flavor throughout the chop. The potato salad and braised cabbage were well suited companions and made this dish excellent. We also had a side of glazed root vegetables which were heavy on the butter, but to us, that wasn't a bad thing; others may feel differently. I wholeheartedly recommend and will return. —mercdotes
---
2012-12-08 00:01:20 Wonderful place, beautifully done bar with a wide variety of liquor, wine and beer. We went for my sisters' and my birthday after having drooled over the menu online. Unfortunately, they have just recently changed the menu and the items we were looking for were no longer. We started with the polenta fries and brushetta which were moderately sized for such a small price. The beet salad and spinach salad were delicious. The prix fix menu provided the same nicely sized portions for $33 including wine. The server, Jordan, did a fantastic job answering our questions and leading us through the menu, she even inquired with the kitchen if they had any of the steak left or would make the surf and turf for us. We never asked her to request this, she went above and beyond to do such. The steaks were perfectly seasoned and prepared as were the scallops. Our party had a late reservation and consisted of 5 of us so we ordered several different items which everyone enjoyed. I hope that they are typically busier than when we were there. I hope to be back as it is a great date place for prices and portions that won't break the bank as some other restaurants which I frequent. This will definitely be added to my list of "go to" places. They even had a decently priced chateauneuf du pape which was delicious! I'm salivating just thinking of last night's experience. —nightlifecher
---
2014-03-10 12:40:13 So Good. I was shocked to find Zeppa Bistro. How do people not know about this place? The food is UNREAL. So good. It's tucked away in the South Wedge. Very unassuming from the outside but once you're inside, it's like stepping inside a speakeasy in 1930. We had a rather large party dining for dinner last night and everyone had rave reviews about the food. The chef even came out to say hi and see how everything was. We will definitely be back. —CMurtaugh