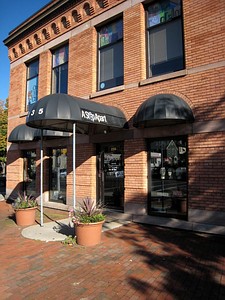 A Step Apart, 10-2008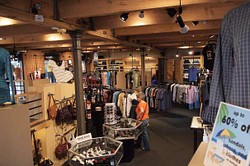 Store interior, June 2012
Former Location
235 Park Ave, Rochester NY, 14607
Status
Closed (as of August 2014)
A Step Apart was a longtime shoe and clothing store on Park Avenue. They also had an online store where you could purchase all the same shoes available in their physical store.

A Step Apart was voted "Best Shoe Store" in City Newspaper's 'Best Of' Awards in 2008 and 2009.12
A Step Apart closed in August 2014 with the owner's retirement.
Comments:
Note: You must be logged in to add comments
---
2008-09-29 13:00:50 A Step Apart is a great store with upscale and trendy brands such as Kenneth Cole, Diesel, Penguin, 7 for mankind, and FCUK. That said, the style of most of the clothing at this store is not for me. I am more classic style, and this tends to lean towards trendy to ostentatious/flamboyant. So the store owners buying sense of clothing may not be for all. —MrRochester
---
2008-10-16 09:30:52 Boutique prices, but without boutique level service.
They carry trendy-type stuff. If this sort of clothing is your thing, I'd recommend Men-tality or L'avant Garbe (for men and women respectively) instead. —EastSideStephen

---
2009-02-04 15:19:49 I bought a Christmas present here and I'm very disappointed. The gift (shoes) needed to be returned after the not so generous 30 day policy because the recipient injured herself. The store clerk and the owner Cindy were not at all understanding. The website says "At A Step Apart we offer a risk-free, 100% Satisfaction Guarantee!" I think NOT! I'm really sad that there are so few choices to shop independently in Rochester and now one of the few shops is on my DO NOT SHOP list. Too bad when bad customer services gets in the way of good business.
My experience is best summed up with a DIRECT quote from Cindy- the owner- "Go find someone who wears size 6.5."
Seriously? Who says that?
I guess I should have expected it considering its a store where they can- with a straight face- sell $22 pair of socks.
Good luck surviving this economic downturn with that attitude.
"Best Shoe Store," according to City Newspaper? Definitely not true! —RachelN

---
2009-06-07 19:42:58 I went a couple weeks ago and had a very pleasant shopping experience. The staff were friendly, attentive (without hovering), and very helpful. They helped me pick out the perfect pair of jeans. They even gave me a gift card to use on my next purchase. I'll definitely be going back soon. —BobbyJones