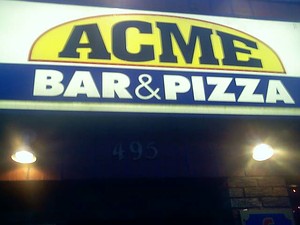 Acme Pizza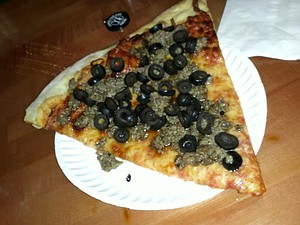 Sausage with Black Olives
Acme Bar & Pizza is a Bar and restaurant in the Monroe Village neighborhood, near the corner of Monroe & Goodman. Acme features constantly rotating microbrew, import and domestic drafts, a large selection of bottles, and a large selection of liquor. Acme also features NY style thin crust pizza and a full bar menu. For entertainment Acme has pool, electronic darts, pinball, internet jukebox, Big Buck Hunter Safari, and satellite sports.
They have free Wifi.
Comments:
Note: You must be logged in to add comments
---
See Archive Page for comments prior to 2008.
---
2008-03-24 20:32:31 They have cajun tater tots. And beer. 'Nuff said. —MelyssaLembke
---
2008-03-26 15:34:38 Usually I shy away from places that have beer specials... but Acme is a pretty neat place with a decent selection of beer. MelyssaLembke is right - taters rock & not many places serve 'em up. —TriciaSeymour
---
2008-05-05 11:45:37 This is one of my favorite bars in town. However, I often wonder why they do not serve Rohrbach beer... —KimBee
---
2008-06-24 05:49:12 Acme is a great place for affordable, good beer and great pizza and calzones. The wings are good, too! —HilarieLloyd
---
2008-06-25 10:48:53 Acme is a dump, but I think thats what they are going for. They usually have a good beer selection that is very inexpensive. I havent been in years, so perhaps it has cleaned itself up a little. My last visit, I looked in the kichen to see the chef (looked like a homeless person) drop a pizza on the floor, pick it back up, and stick it in the oven. Nice. —MrRochester
---
2008-10-16 09:28:41 It's cheap, close, has good beer, and decent food. The service is iffy at times, but that's usually because the place is packed... even on a monday night. Whatever they're doing, it seems to be working. —HandsomePete
---
2009-02-01 12:20:20 Acme F'N rules. Slices, zones, the cajun taters. Great beer. Jill the bartender is super hot as well —Nikkrey
---
2009-05-13 10:27:06 Guitar Hero is loud and annoying, don't bother playing the jukebox as you won't hear your song. —DarrenKemp
---
2009-05-20 14:06:53 Not a fan of the crowd. I can see how this bar gets a lot of positive feedback, but I'm just done with the overcrowded, hard to get a drink type bars. I don't typically drink beer, and ordering a mixed drink makes me wish I went against the typical. The bartender didn't mix a decent drink, and in combination with the wait and crowd, we left after one drink. —Leisel
---
2009-08-06 13:05:25 acme pizza rockssssssssssssssssss —limeylimer
---
2009-08-31 10:26:42 We ordered two large Acme pizzas last night....and as always they were GREAT! just had to let everyone know :) I honestly think its the best pizza in Rochester....i dont know what it is....maybe its the cheese they use, but Im hooked!!!!!!!!! —limeylimer
---
2009-10-26 19:52:41 good beer selection, which is sometimes hard to find on monroe; pizza, tots, calzones -> A+ —NipsyRussell
---
2010-03-16 14:05:47 Good food and insane drink specials. They even do 2 for 1 on top shelf liquor and there always some decent craft beer on tap along with large selection of bottled beers. I don't think there's a better deal in the ROC than this place. —CreamAleDrinker
---
2010-08-24 14:07:45 great drink specials, great food, I go to this bar fairly regularly and it is one of my favorites. I have never received bad service, except from the bartender with the dark hair and lip piercing. I ordered a slice of pizza and a bottle of beer and was greeted with the rudest, snottiest service i've ever received. I was stone sober and was being completely polite. I myself am a bartender and would NEVER dream of treating a customer that way. Then, we were irritated with the service we received and decided not to tip until we had received our pizza, and she assumed we weren't going to, muttered "thanks" and gave us a dirty look, real professional. —steviejo
---
2010-08-29 22:37:03 Good specials! Good bar food! Service is good, the occational hard time getting a drink does occur. —Welcome2theroc2010
---
2010-10-23 20:33:25 I'm from the tri-state area and I was looking for a good chicken parm sub (like you can get from most pizza places down by the city). Acme was surprisingly good. —JAL
---
2010-11-28 20:09:48 pretty good food... if you want to wait over 45 mins for it. some of the bartenders sit and chat with friends while many wait to be served. then serve you the wrong drink and tell you too bad for you.
havent been there since. could use a good cleaning ps. —HappyResident4

---
2011-05-27 15:54:30 Decent food but the staff is rude, I probably won't go back there unless dragged in. —JoeBernardino
---
2012-02-19 13:27:29 My go-to place for drinks and bar food. Great wings, pizza, and excellent assortment of good beers, all for cheap. Can't beat this place for casualness. —Bammerburn
---
2012-10-22 03:37:36 Keep a close eye on your men ladies. Bartenders are desperate enough to take whatever they can get. —rocity101
---
2013-02-22 00:20:47 I'm my personal opinion as it is I cannot believe understand or fathom why Derek could become a manager at an establishment like this he is a rude self serving drunk who treats people like shit I cannot in the world understand how an owner could advance him in my personal opinion which is what it is any single other employee would do the job infinitely better just saying such a bad decision —Chef.mark.a
---
2013-06-11 16:39:04 This is the best pizza slice in town and a rare spot where you can have a slice WITH A BEER (two for one, natch). Bar staff can tend to run out for a smoke right when you're thirsty, though, and they do seem more interested in stocking the bar sometimes than in selling beer to you. My advice is to come in with enough cash to cover your tab (it won't take much) so you don't have to wait to get your plastic back.
It's a bit of trouble. But the slice is worth it. I wake up craving this pizza sometimes (as I did today). —AaronBPryor