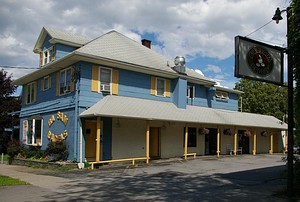 Balsam Bagels exterior 8-2008
Balsam Bagels is a neighborhood bagel shop located in North Winton Village near Blossom Road. They also offer numerous homemade cream cheeses, gourmet soups, salads, wraps, health bread, and bagel sandwiches. They also have phyllo pockets, phyllo dough filled with assorted savory fillings, bagel wraps, assorted meats and cheeses wrapped inside bagel dough, the standard bagel dogs featuring Hebrew National hot dogs, pizza sticks (bagel dough stuffed with a mixture of sauce and mozzarella blend, and many more options. Bagels are produced and baked in an open style bakery were one can view the bagel making process. Parking is available.
Delivery available for orders over $15. Balsam Bagels also does catering.
The bakery at Balsam Bagels is kosher under the supervision of Rabbi Shaya Kilimnick. Products in the store, such as sandwiches, salads, and wraps are not kosher.
Balsam Bagels celebrated its tenth anniversary June 1, 2014.
Awards
Voted "Best Bagel" by City Newspaper's 'Best of Rochester' Awards in 2015.1
Comments:
Note: You must be logged in to add comments
---
2007-04-29 15:51:43 Great bagels! Wonderful freindly service. The scones were fine, although I am a purist and found them to be a little to much like a muffin. Thanks to the coupon that came with membership in The Little, I got 50% off of 2 dozen of these perfect bagels! —ScotFear
---
"2007-07-27" The bagels are awesome and cheap... Local good cream cheese too —MattMulvaney
---
2008-01-15 15:28:31 great bagels and pastries! —MarcusKroll
---
2008-07-12 00:41:03 These really are the best bagels in town. And i like that it is a local owned business. I am a regular and recommend them constantly. Keep up the good bagels. —jennymarch
---
2009-06-19 13:22:46 The french toast bagels are awesome! —SaraChristine
---
2009-08-05 15:43:01 love love love love the bagels and cream cheese here! —limeylimer
---
2010-01-22 21:16:29 Next to Brownsteins, the best bagels in the city. Had a key lime cream cheese that was great.Must say that I had a scone and wasn't to keen on it. Coffee was also very good. —almorinelli
---
2010-08-28 15:04:42 Really great bagels. Had them at Boulder Coffee and went to the store to get some to take back to Boston. Better than what we have: right chewy skin and dense, moist interior. Really liked the spinach and the pesto bagels. —jomiku
---
2010-10-25 21:22:11 I love this place. The bagels and cream cheese varieties stand out. The bagel dogs are a once-in-a-while delight. But I'm sad that they rely on the microwave so much. I mean, a microwaved pastrami sandwich? —BatGuano
---
2011-06-08 20:14:47 Bagels were too dense, not enough cream cheese, lox were cheap tasting and it took sooooo long for them to finish our order. I'm not an impatient person, but it took this lady almost 10 minutes to make a pbj and salad for my wife. wont be back —jberna
---
2011-06-11 18:24:03 jberna...just wanted to apologize for your experience at our place. We actually pride ourselves on both our product and our customer service and certainly would have addressed any problems on the spot! Our bagels are dense, this is true - they are traditional bagels. As far as the cream cheese goes, we use portion control scoops so that all customers get the same amount of cream cheese but are always happy to accomodate someone who might want a bit more. We've never had a complaint about the lox before so sorry you didn't like it but we feel its quite good. As for timing, sometimes things do take a bit longer than other times - hopefully you were not in a hurry that day, we will try and be quicker next time. —rmalek
---
2011-08-28 13:29:23 Been stopping there for the last 2 years. For the most part it has been good till yesterday. Ordered my usual 2 White Chocolate Raspberry scones got home only to find they had given me Cranberry, 1 bite and into the dust bin. Went back today to get the right ones and they wouldn't replace them.because I didn't bring in the wrong ones. Finally the manager agreed to replace 1. For the cost of 1 scone they might have lost a loyal customer that drove in from Webster 1-2 times a week for their products. —FRHolley
---
2013-04-22 16:57:45 Went on a Friday morning around 7:45am to get a dozen bagels and cream cheese. When it got to be my turn, the woman behind the counter decided to wash the knives and utensils instead of taking my order. There was no one else behind me, and she waited at least 5 minutes before acknowledging me to take my order. She then kept the same wet gloves on to bag my bagels. —lilbiscotti