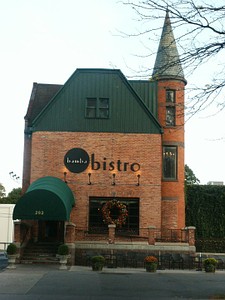 Bamba Bistro, at night (04-28-2008)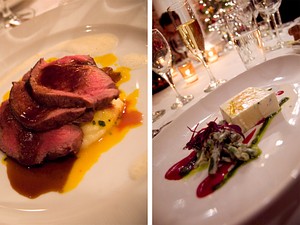 Kobe Beef with Herbed Potatoes; Goat Cheese and Beet Salad (12-31-2007)
Former Location
282 Alexander St, Rochester NY, 14607
Bamba Bistro was a casual re-incarnation of its previously formal atmosphere, when the upscale restaurant was called the "Rio Bamba." The chef and ownership was the same, however, the price-point and menu theme was different. Dinner entree prices were between $12 and $32. Lunch entree prices were between $8 and $20. Starting Fall 2005, they started offering lunch Mon-Fri. They took seasonal ingredients into account in their ever-changing menu that included a raw bar. The location made it easy to have dinner before walking to the bars across the street on Alexander. Valet parking was necessary if you wanted to park in their lot for dinner. Their valet had been working there for 10 years. They had two meeting/banquet rooms for 10-80 people.

One RocWiki community member said:

The food is pretty rockin' - Chef Cohen is a master of presentation, and offers a variety of solid options. A recent visit involved an arugula salad with a very lightly fried block of goat cheese, over cherries, and home made pasta with a shitake mushroom sauce. Both great, but the pasta is atypical - most dishes here are a little heavier, and substantially meatier. I'll update this with some price information soon, but the quick version is that it isn't cheap. Think salads between $5 and $10, entrees around or over $20. Everything is house-made, including their ice cream.
Bamba Bistro closed in April 2014. The location is now Ox and Stone.
Comments:
Note: You must be logged in to add comments
---
See Archive Page for comments prior to 2008.
---
2008-03-31 19:38:30 Who is Chef Cohen? I thought Antinore was still running the kitchen in this place. I have had the pleasure of eating this food for free on many occasions as I know many of the former cooks and the chef was my neighbor. I I just looked at the menu and YOWSA is it expensive, even by my new Californian gourmet standards. Think I'll just ask my friend to make their dishes for me if I ever get a craving. —MayaDriscoll
---
2009-05-20 14:59:12 i loved my experience here. the ambiance was really nice, while the food & drinks were great. there were a number of party tables seated around us (and by that i don't mean loud, but bachelorette & birthday), which hinted that this was a fun special-occasion place for future visits. —Leisel
---
2009-05-24 22:51:01 Went for a corporate dinner event. Loved the atmosphere and the food. The Calamari appetizer was out of this world. The Salmon Entree was delicious. I have had better Caesar salads at places less fancy. —ScottHendler
---
2009-09-07 21:47:04 Had a great appetizers meal here with my wife last weekend. Unfortunately, this place is doomed. It was 8pm on a Saturday night and there were only 3 or 4 tables occupied. It's a shame because it was GREAT! Drove by last Friday night around 7:30pm - prime Rochesterian dinner time - and again, practically empty. Guess it's time to throw a party over there while I still can! —DavidGottfried
---
2009-10-23 10:42:58 Everyone I know (myself included) seems to really enjoy this place....but why is it always empty? It'a great location too - makes no sense to me. —Leisel
---
2009-11-17 11:31:38 Went for dinner on a friday a few months ago. Again, the restaurant was empty, which makes you feel kind of uncomfortable. I felt as if the food was seriously underseasoned. The service seemed a bit hesitant, like he wasn't comfortable in his own skin. I'll probably go back for drinks, but I'll pass on dinner, it's a shame, sorry Bamba. —cbcritic
---
2009-11-24 13:23:59 I've been to Rio Bamba and Bamaba Bistros on few occasions with my boyfriend and corporate events. This is the perfect place for a quiet quality meal around town. I do feel a little disappointed that not more people are going there. I love the arched ceiling. No complaints about the food and the service was always wonderful! —Liren
---
2010-02-26 13:40:52 Went for Valentines Day and despite special menu had no trouble making choices. Had a very good calamari App.For our dinners my wife opted for the Duck breast and I had the Ribeye with Frites. Both the presentation and flavor of both entrees was excellent. As expected the service very good. While not cheap , it is in line with the other upscale restaurants in the city. As we were finishing up, a very loud group of 4 was seated near by. In the 10 minutes we were there at least 2 tables asked to be moved.Our experience was such that not even this could dampen our evening.One of best restaurants in town. —almorinelli
---
2010-03-21 18:58:30 We had a great experience at this restaurant. We had a gift certificate from restaurants.com, which prompted us to give this place a try. I had a pumpkin-filled ravoli dish and my husband a chicken dish, and we both enjoyed our meal. The service was extremely prompt and the servers were very attentive. We were surprised that it wasn't more packed - but it was nice that we didn't have to compete with other conversations in the room. The prices are a little on the pricey side, but with the gift certificate, it was more affordable :) We will definitely return! —Acarp
---
2010-10-19 15:40:15 We used a restaurant.com coupon to try out this location. My husband said the applewood bacon burger was the best burger he has ever tasted. and I agree! i ordered a chicken with risotto and thought it was quite pleasing as well (nothing to particularly rave about). However, loved the atmospher and the service was very attentive & polite. Will be going there again! —kmona
---
2012-06-18 11:19:11 Ate lunch here last week. Service was painfully slow, assume they had more people than usual. However when my party checked on our soup and salads (for those who ordered) fifty minutes after ordering (this was soup and salads, not the lunch items. I know not to expect fast food but come on....) we received a shrug from the waiter. He then proceed to bring out all of our food, slamming down plates, salads and lunch entrees at the same time for some, others still waiting. Steak sandwich was like shoe leather. Others found their food OK but the attitude and rude behavior of the waiter ruined the lunch, we couldn't wait to get out. I used to love Bamba but will not be back, terrible. —sieats
---
2014-04-10 09:57:54 Looks like the Bamba Bistro can be added to the "Gone, But Not Forgotten" page. It's going to be replaced with a Latin-themed restaurant called Ox and Stone. —davidgottfried