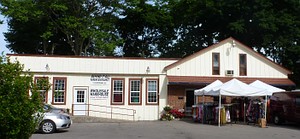 City location on Edmonds Street.
Locations
Phone
14 Edmonds Street, Rochester, NY 14607
585 633 1769
147 Clay Rd, Henrietta, NY 14623
Info Needed
Hours (as of June 2014)
Monday - Saturday: 10:00AM to 6:00PM
Sunday: 11:00AM to 4:00PM
Wheelchair Accessible
Yes
Email
<behinditallfashions111 AT gmail DOT com>
Behind It All Warehouse is a women's clothing and accessories wholesale store in Pearl-Meigs-Monroe, right off Monroe Avenue. They sell pants, dresses, shirts, leggings, scarves, hats, jackets, and more. They can also be found at the Public Market on Saturdays.
As local columnist Mary Chao notes, "Much of the merchandise is reminiscent of the items you'll find from street vendors in big cities."1
Opened January 2014. In April 2016 they opened a second location on Clay Road in Henrietta.
Comments:
Note: You must be logged in to add comments
---
2015-10-12 13:17:04 GR8 Staff, Quality, & the Prices are just amazing for the top knotch cloting you get here!!!!! A must checkout store!!!!! —GeorgieWright