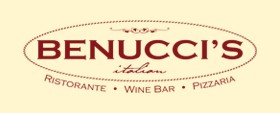 Locations
3349 Monroe Ave, Rochester, NY 14618
Hours (as of August 2011)
Monday-Thursday: 11:30am to 10:00pm
Friday-Saturday: 11:30am to 11:00pm
Sunday: Noon to 9:00pm
Phone
585 264 1300 - Pittsford
Accessible
Yes
Alcohol
Yes
Websites
http://www.benuccis.com
Facebook
Located in Pittsford Plaza, Benucci's is a locally-owned Italian restaurant and wine bar. Benucci's has a wood-fired pizza oven in an open food preparation area that is visible to diners, a mid-size wine list, and entrees in the $8-16 range. They also offer catering.
There was a Greece location which opened in May 2014 but closed in 2019.
Comments:
Note: You must be logged in to add comments
---
ADMIN NOTE: Comments from 2006/2007 are archived in Benucci's/Comments
---
2008-02-18 11:01:46 My wife and I went there last night for the first time. We had a pizza and a panini. The food was good and the atmosphere was very nice. We would definitely recommend it and we are looking forward to going again. —ChampsElysses
---
2008-03-05 11:27:23 Really neat and trendy inside. Very nice place to eat. They have a substantial menu, a full bar, and a wine list. They also have an open brick fire oven to do their pizzas in. I went there determined to order one of the acclaimed pizzas, but other things on the menu seduced me instead. Good food, and fun place. Definitely worth a try! —VinceC
---
2008-05-05 10:30:57 Same owner as Tuscanys and Bocaccinis.
Nice trendy interior.
Food is average, not bad, not great. —MrRochester

---
2008-06-20 16:36:22 crap, crap, crap, crap!!!! The "executive" chef is a fool. He got his goofy ass fired from the Scotch and Sirloin and is/was here now. Service was awful, she was very snotty, and the food was crap!!! —JK44
---
2009-01-03 16:27:10 I noticed no recent reviews, so I thought I would chime in... Pretty good food, decent value. Agree the noise level can be overwhelming. My pizza came to the table almost lukewarm, but tasty. Really nice salads, great bread with garlic/lemon butter, low end wine list but not overpriced. —LeGrandChien
---
2009-01-25 19:39:12 My husband and I have been here on several occasions wanting desperately to like this place, but the service and food have come up short nearly every time. A couple years ago we decided to stop in on a summer evening and sat outside - the food was great, so was the service, and it was a good time - and that was the first and last good visit. Every time we go to Benucci's, the first and most basic and offensive point of service is the hostess. She's never behind the front desk and always acting pissy and annoyed that she has to put her book down to help those pesky customers that keep showing up. It's the same young woman with horn-rimmed glasses - why are you such a SOURPUSS?! Getting past the front door, the menus are always yucky and needing a wipe-down with some sanitizer - this is basic, come on now! The iced tea - I keep forgetting, thus I keep ordering it and being continually disappointed, because it's scummy and old tasting - yet another basic point gone wrong. The bread is stale and chewy and the garlic spread is greasy and cheap tasting, would it kill the kitchen to roast the garlic rather than just serving rancid-garlic-breath inducing oil-based spread? The pizzas, being brick-oven baked have been a little too far on the burnt side. The pesto is greasy and fresh-out of a jar/can. The shrimp tasted like they had taken a nice, long soak in a chlorinated pool. The sandwich was served on disappointingly hard bread with disgusting tomato slices, no mayo, three shreds of basil and chewy bacon. I will say this - the salad was amazingly fresh, well dressed and tasty - just about the only thing I enjoyed. I'm really done with this place, its sub-par and pricey for quality food, nasty hostess and snobby waitresses and lack of attention to basic cleaning procedures - we've given it more than a far shake or five. Spend your money some place else. —StephanieTodd
---
2009-05-10 19:18:51 Went for dinner on a Sunday evening - we just beat the rush, but it didn't matter because our server seemed completely overwhelmed already. She tried to be friendly, but was so harried and gave that "OMG! Not again!" look every time another party was seated at her station. I had the lobster ravioli - delicious! The 3 shrimp in the middle were a little too char-broiled for my liking. I would have rather had more ravioli and no shrimp! Husband had the pasta bolgonese (sp?) - it was very oily. I tried it and found the bell peppers overwhelming but he didn't mind. Had the apple tart with ice cream for dessert - served warm, it was very good. By the end of our meal, the place was packed and I realized my splitting headache was from the unbelievable noise level in the restaurant. Holy cow that place got loud!! WIth so many choices in the Italian category, and the horrific parking situation in Pittsford Plaza, it may be a while before we return. —DGandDJ
---
2009-06-23 13:57:12 For the prices, this food delivers. While I've never had an amazingly memorable meal here, I've never had a negative experience. The servers have always been quite friendly and attentive. I go once in while throughout the year and always leave satisfied. —Leisel
---
2009-07-03 17:43:24 I love this place. It's definately one of my favorite resturants in Rochester. It's great food and great atmosphere with wonderful service for a totally reasonable price. I've never been dissapointed. They have the best pizza in the county. —Sionainn
---
2009-10-25 19:43:04 My family went to Benucci's for a family birthday dinner last night. We have been there four or five times before and enjoyed the food. They have remodeled since we were there and it was pleasant. But I really feel we got worked over last night. Perhaps there is new management? We ordered two bottles of red wine (which was priced 4 times the retail cost- but we were celebrating...so we ordered it anyway) and were given short squat vermouth glasses to drink from! The waitress said that was what they use now! Hard to believe an Italian restaurant does not have the proper glassware for chilled wine! Then we sat for 20 minutes after we ordered and had to ask for bread after the salad was served. There were no bread plates and we had to ask for them. The House Salad which we paid $4.00 extra for, consisted of one cherry tomato cut in half and some limp lettuce with a few thin onion rings. Pathetic. The main entree was good, but I was shocked at the change in serving size! They used to serve their pasta entrees in large bowls and I always had some to take home. Now there was about a cup of pasta on a small plate with scant toppings. My husband was still very hungry after dinner. We will never go back there. We felt totally ripped off. —DarcyPulos
---
2010-02-15 11:40:59 Went last night for Valentines day. Great service at the bar and table...very friendly! The food was affordable and tasty! I loved the way they served the wine, very European! Try the shrimp rossa! —Carlita
---
2010-08-22 22:47:40 The food was subpar, and the service was atrocious. We waited 20 minutes before anyone even came to our table, and waited another 15 for our drinks. We needed to ask for bread, as we never got any, and what's with them giving you lukewarm water and no ice? Seriously I had to ask for ice!! Our dinners took forever to finally come out. The food isn't anything special and the service is simply horrendous. Will not go back. —ashhhley3421
---
2011-06-06 09:54:34 Went there with a group of coworkers, the service was pretty good, but the fod was hit and miss. We shared a appetizer of fried artichokes with lemon aioli and it was amazing! I was craving it for days and I wish I had ordered another one for myself. The majority of us ordered salads, I ordered and steak salad and although there was a decent amount of steak, it was tough. Two of my coworkers ordered a shrip salad which came with 3 or 4 (can't remeber which) pieces of average size cocktail shrimp. For $12 I would think you would get more shrimp than that. I would probably go back for a drink and an appetizer, but not for a meal. —carolturo
---
2011-07-31 21:30:11 nice meal.. server was Jenna and she did a great job.. Food was great- fast service.. served hot, price was reasonable... Would certainly visit again —jimkluth