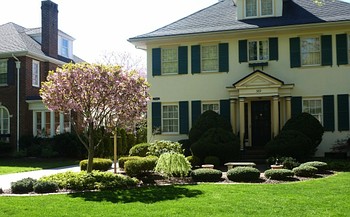 Browncroft is an affluent, suburban-style neighborhood in the city of Rochester. It shares a long western border with the popular North Winton Village. The area is exclusively residential, but is adjacent to North Winton Road's active, walkable commercial district.
Located to the east is Brighton, from which Browncroft was annexed in 1914.
Browncroft is especially famous for its stately homes built in the early twentieth century. Most are part of the Browncroft Historic District and listed in the
National Register of Historic Places. Their grandeur and excellent preservation have made the neighborhood a popular site for Landmark Society house tours.
The neighbors help maintain the Browncroft Rose Garden Park which helps welcome visitors to this neighborhood.
See also: North Winton Village
Links
Comments:
Note: You must be logged in to add comments