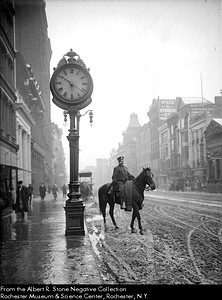 Charles J. Lawrence riding his horse Teddy on State Street. c.1903-1913 Charles J. Lawrence was one of Rochester's first traffic policeman.
He was born in Rochester in 1892. His schooling took place at Andrews School No. 9 and the Rochester Free Academy.
He served as a city traffic policeman from 1904 to 1920. He was unofficially known as "Mayor of Front Street."
After serving on the police force, he started a company, the Lawrence Household Laundry, and ran it for 20 years.