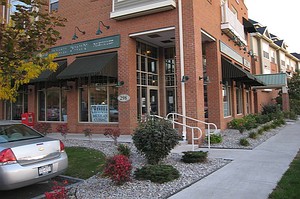 New signs are not even up yet, 10-2008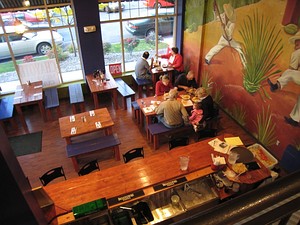 Colorful interior, 10-2008
Former Location
298 Exchange Blvd, Rochester NY, 14608
Status
CLOSED in early 2009
Chayote was a short-lived Mexican restaurant that opened in mid-August 2008 in the former Rich Port Bakery space at the front of Corn Hill Landing. Chayote was closed and replaced with The Corn Hill Grill in 2009. The new restaurant is under the same ownership, but offers a completely different atmosphere and menu. According to an
article in the
Metromix section of the
Democrat & Chronicle, the shift to American-style comfort food was intended to bring in more repeat customers. One of the owners is quoted as saying, "The food is not so spicy, and people can go back to work without worrying about their breath."
In case you're wondering,
here's what a Chayote is.
Comments:
Note: You must be logged in to add comments
---
2008-09-15 20:14:24 We had the most delicious dinner tonight at Chayote in Cornhill Landing. It was our first time there. The parking was pretty bad because there was an event at the Blue Cross Arena, but we were with a handicapped person and there was one handicapped spot left (which actually the nearby Virtu restaurant valet tried to use for a non-handicapped Denali - wth?).
They do not have their liquor license yet and our waiter helpfully suggested that we could run over to the liquor store for wine - which we did, so that was great.
We started off with the very awesome Nachos del Casa. This appetizer is huge - really too much for the three of us. It had a ton of cheese and stuff threaded all the way through it - so it wasn't just the top covered. It was the gift that kept giving — and really tasty.
For my entree I ordered the Pollo Adobado for $15.95. Described in the menu as "Grilled chicken breast stuffed with fresh oregano and goat cheese in adobo sauce. Topped with a mango-jicamo pico de gallo and served with a potato sope." Fabulous. Just the right size, incredible flavors, lovely presentation, perfection.
My dining companions ordered Camarones Borrachos $17.95 - "Grilled shrimp flashed with tequila, in a cilantro lime avocado sauce served with a cheese stuffed Chayote" - and the Alambres Scollops and Chorizo $18.95 - "Scallop and chorizo skewers grilled and paired with jicama and pico de gallo served with chipotle mashed potatoes."
We were all thrilled with our meals - and told the chef so, when he came out to ask how everything was.
The only thing I'd change is the furniture - groan - the front part of the restaurant features picnic table like furniture with horrid benches. Come on - this food is way too good to be sitting on a bench!!!
This restaurant is owned by the same person who owns our favorite restaurant, Veneto (East Ave), and The Social (East Ave), so I am not surprised it is so good. We will be back for sure - but I might try to sit somewhere besides the benches next time! —CindyKin

---
2008-09-22 12:25:18 I also ordered the Pollo Adobado that the poster above ordered. It was really different and good. Its definitely not a "typical" mexican joint. That being said, the salsa, while good, is really watery/soupy, so its really tough to scoop it with a tortilla chip. —TippingPoint
---
2008-09-22 16:43:37 I really liked Chayote. The food was great, but not authentic. I had the quesadillas and they were delicious. The salsa was also great, like the poster above stated, soupy, but really tasty. My only qualm, the tortilla chips tasted like Tostitos, nothing special. Salenas has great homemade tortilla chips! —MrRochester
---
2008-10-11 01:49:47 Definitely a different twist on the usual Mexican food. I don't remember what I had (it was a few weeks ago), but it was pretty good, and everyone else I ate with enjoyed their meal. The one bad thing was the disgustingly salty chips. —McgMatt
---
2008-10-12 14:30:54 As of today, still no liquor license but you can easily buy wine at the store across the parking lot. Tortilla chips are very salty, and yes the salsa is thin and hard to keep on your chip, but it has good flavor and a nice heat to it. Service was friendly and attentive and our dishes were very good. We enjoyed it and will be back again. — Added 10/18 went again with friends, once again the food was great, but the service this time was a bit uneven... they are still pretty new so we'll forgive this time, still would definitely go back —DottieHoffmann
---
2008-10-12 19:17:16 Went back for second meal. (See my previous post 9/15/08.) Slightly less even this time. I agree with everyone about the salsa - and I'd swear it was not the same salsa we had the first time. Water and off color. Ditto on the chips - definitely store bought - again, not the same as first visit. Also the Nachos del Casa were not as good - cold, and less topping.
I ordered the Pork Mulato. It was good, but so rare that anyone else would have sent it back. I think if they are going to serve pork that rare they need to warn customers. I eat anything, but I know most people would not have been happy with that.
A friend ordered the Skirt Steak, which says it is served with "a black bean filled sope" but we could bot find any black beans in there.
We ordered a mussels appetizer which got rave reviews - I didn't eat any though.
We had very friendly service and brought out own wine and beer. They only offered one desert - a cheesecake with peaches - but it was tasty.
I wish she'd get a web site up and running. The Social (another of her restuarants) doesn't have one either but should.
---
2008-11-05 20:13:17 Had dinner here in late October. Service was friendly and attentive. Food was very good, but was disappointed that the tamales verde, although listed on the menu, were no longer offered. Salsa was very tasty, with good flavor and heat, but watery. Tortilla chips were also very good and seemed to us to be homemade. Mussels appetizer was outstanding. Delicious savory broth with a good kick of spice in it. Looking forward to returning, especially when they get their liquor license. Also, please, do something about the seating. The benches are uncomfortable and aren't conducive to a nice, long, lingering meal. —JasonHaremza