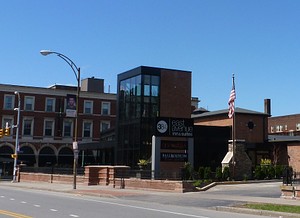 City Grill Rochester is an upscale steakhouse. They describe their menu as "American style food with a modern twist" and offer outdoor seating. They also have a ballroom with catering and event planning services. Private dining also available.
Grand opening was April 25, 2014. Located on the corner of East and Alexander in the Upper East End.
On November 20, 2016 the owners opened a sports bar called City Tavern in Victor.
Comments:
Note: You must be logged in to add comments
---
2016-04-25 16:21:40 the second time that we visited this restaurant was on my last birthday. and what a suck fest the experience was. our first visit was summer, and we had a lovely time. it is a bit pricey, so we waited until my birthday to revisit. i left in tears. i had some minor complaints, so after receiving our meal we asked it to be packaged to go. the manager ca me to our booth, unsolicited, and began a basic tirade against me. he was leaning in on me, and telling me how wrong i was, right to my face, maybe sixteen inches away from it. i tried for over a week to speak to the GM, and after being given the brush off for days, then told me to never call again - "listen ma,am..." so my husband then called and spoke to a friendly woman who offered no real apology but at least would listen to him. we are welcome back, but not really. the food is not bad, but we will not be returning. too bad.
---
2017-11-30 15:50:14 Overpriced for the quality of food and drinks. They have a good happy hour though. Their deals on drinks and bottles of wines are quite good during those hours. Cool outdoor area. Worth a stop for a drink once in a while. —DE