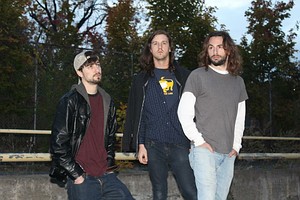 Comedown (L-R) Jacoby, Tharp, and Nitro - October 2015.
Artist
Comedown
Current Members
Phil Tharp
Sean Jacoby
Shane Newhouse
Paul Dewhirst
Steven Goupil
Ben Miller
Mykel Nitro
Dusty West
Genre
Subvert-Rock
Active Since
2007-Present
On hiatus from 2009-2011,
and since 2018.
Website
Band Camp
Comedown is a Subvert-Rock band formed in Penfield in April 2006 by long-time friends Phil Tharp and Shane Newhouse. Comedown was formed as an experimental studio project. The two decided to turn the small idea into a major project after realizing they had something unique and different brewing. Comedown went two years without a drummer, until bass player Paul Dewhirst joined. Shane would become the band's first drummer. Comedown played their first, and last show in July 2008 at the California Brew Haus before going on hiatus.
After the show, things began looking grim for Comedown as Phil Tharp would move to South Carolina for roughly two years forcing the band into a hiatus from 2009 until early 2011. When Phil came home to Rochester in Spring 2010, he instantly joined the local band Anchorage Nebraska. Soon after, Phil -along with Shane Newhouse- decided to bring Comedown back together. In March 2011, they recruited guitarist Ben Miller and bassist Sean Jacoby. This line-up would never play a show nor record any singles together, however. Shane was released from the band in October 2011 and was replaced with Intrinsic drummer/vocalist Mykel "Nitro" Bellanca. 5 weeks later, however, Shane walked back into the band on bass and Ben and Sean were released from the group.
Comedown played their first show in almost four years in February 2012 at Monty's Krown and made their official return to the stage at the California Brew Haus the following month. The band released an EP titled "Minesolation" the night of the show. Comedown continued to play a slew of shows throughout 2012 and 2013 with another new line-up, which includes Dusty West (Anchorage Nebraska) on Rhythm Guitar as well as the return of Sean Jacoby on Bass. Comedown released their first full-length studio album titled "Be" on January 25, 2013 through Eat Here Records. In March 2013, rumors of Nitro leaving the band began, but the group deemed the rumor as just gossip. In May 2013, Dusty was released from the band, which also lead to Comedown leaving Eat Here Records. The band released their follow up album titled "The Birthday Album" on January 4, 2014 via Nitro's XTM Records label.
Over the next two years, Comedown would continue to play shows in both the Rochester and Buffalo area. The band also released two EPs in 2015, Comedown Vol. 2 on the 14th of February, and Comedown Vol. 3 (Also known as The Black EP) on September 18th. After these successful releases, Comedown opened for Dark Nemesis on January 4, 2016. They would go on to head line a show in March. The following month, it was announced that the long awaited third studio album "In Rust, We Trust" will be released on August 26, 2016. It was also announced that Sean Jacoby will be the band's new second guitarist and Shane Newhouse will be taking over his spot on bass (his third time on bass in Comedown).
Just like with everything else in life, all good things come with bad, and in May 2016, Mykel Nitro announced his release from Comedown. Being in the group for nearly five years, he is the longest consistent drummer in Comedown's history to date. Nitro says the reason for his departure is to "focus on [his] and [Phil] Tharp's new band New Riot Act and also to give as much attention as [he] can to Intrinsic's 10 Year Anniversary/Farewell show". He was replaced on drums by Dusty West later that month. Despite his departure, Comedown still released the "In Rust, We Trust" album through Nitro's XTM Records label on August 26, 2016.
Studio Album(s)
Be
January 25, 2013
The Birthday Album
January 4, 2014
In Rust, We Trust
August 26, 2016
LP(s)
Ten Year Winter
February 12, 2008
And Nothing Less
November 25, 2008
Minesolation
March 31, 2012
EP(s)
Comedown (Vol. 1)
August 3, 2008
Comedown (Vol. 2)
February 14, 2015
Comedown (Vol. 3)
September 18, 2015
Current Members
Phil Tharp - Vocals, Guitar (2007-Present)
Sean Jacoby - Guitar (2016-Present) Bass (2011/2012-2016)
Shane Newhouse - Bass (2007-2008/2012/2016-Present), Drums (2008-2011)
Past Members
Paul Dewhirst - Bass (2008)
Steven Goupil - Bass (2009)
Ben Miller - Guitar (2011)
Mykel Nitro - Drums (2011-2016, 2017)
Dusty West - Drums (2016-2018), Guitar (2012-2013)
Anchorage Nebraska
Dead Frets
Diluted
Intrinsic
New Riot Act
Obscured Surroundings
Sirens & Sailors
Comments:
Note: You must be logged in to add comments