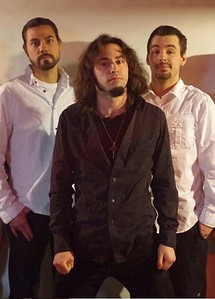 Intrinsic in April 2015. (L-R) Ryan Hurley, Alex Bellanca, and Michael "Nitro" Bellanca.
Artist
Intrinsic
Members
Alex Bellanca
Michael "Nitro" Bellanca
"Spaz" Spaziani
Ryan Hurley
Phil Tharp
Genre
Subvert-Rock
Neo-Grunge
New-Gen Alternative
Active Since
2006-Present
On Hiatus From 2016-2020
Intrinsic is a Subvert-Rock band formed in Greece in July 2006 by brothers Al "X" and Michael "Nitro" Bellanca. The group was originally known as Xanthium from 2006-2008. They released an LP as Xanthium titled "Glass Monkey" on May 20, 2007. They released their first EP as Intrinsic titled "Just A Kick-Ass Demo" on October 31, 2008. Intrinsic would take a break from live shows for one year from June 2010 until June 2011. Intrinsic has released four studio albums, two LPs, four EPs, and one compilation album. The band went on a hiatus from 2016-2020 to focus on individual projects and reformed in May 2020.
Early Years (2006-2010)
Intrinsic began their career as Xanthium in July 2006 after Alex and Nitro's previous band Stratus fell apart. The group started out with Alex on guitar, Kevin Hannon on bass, and Nitro on drums and vocals. Vince Rodeo joined on bass along with Jeremia Shannon on lead vocals that October. With Kevin on second guitar, Xanthium played their first venue show at the Penny Arcade on January 25, 2007 with Nailed Shut (later Reverend Sharpton/Given Strength) and White Washed Comas (later If I Die Tonight). This was all three groups debut show and they packed the venue with over a 170 person crowd.
Intrinsic, then known as Xanthium, released an 8 Track LP titled "Glass Monkey" on May 20, 2007 at a house show for Jeremia and Nitro's 16th/17th Birthday(s). This was the first album released through XTM Records (now known as New Riot Records), Intrinsic's private record label. The following week, Jeremia and Vince were released from the band, which lead to Kevin Hannon's return to bass. That July, the band played a Battle of the Bands where they met Travelator who would greatly influence Intrinsic musically from that point onward.
Over the next year, the group played multiple shows and wrote many songs, most of which would never be released. In July 2008, Xanthium officially changed their name to Intrinsic and announced that Kevin would be leaving the band in September. The following month, they recorded their first EP "Just A Kick Ass Demo" at Blackdog Recordings (which was released that Halloween) in the same room where Metallica recorded their "Kill Em All" record. Kevin Hannon's final show with Intrinsic would be on September 20th at The Montage Music Hall opening for Shelflyfe. Later that week in August, they announced that Kevin's replacement would be Justin Russell.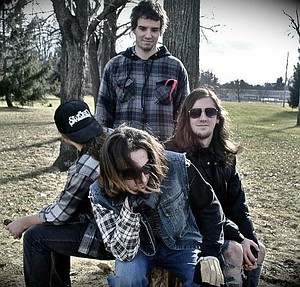 (Clockwise, L-R) Skyler Smith, Al "X" Bellanca, Phil Tharp, and Michael "Nitro" Bellanca in February 2012.
Intrinsic played their debut show under their new name on January 4, 2009 in Canandaigua, NY. The trio began writing new material at this time as well, and continued to play shows around the Western, New York area. On July 22, 2009, they released their debut studio album "Ultraviolence" at the Brew Haus. Intrinsic played the final show ever hosted by the Penny Arcade that September.
In January 2010, Justin left the band, forcing Alex and Nitro to find a replacement. Though only temporary, Andreas Meyris filled in on bass for the group. Intrinsic would partake in a battle of the bands in February 2010 where the winner would open for the Sunstreak. Intrinsic won, but the Sunstreak's manager decided Intrinsic did not have the "proper sound or look" that he wanted. They emailed the band and apologized, informing Intrinsic that the runner-up band would be opening the show instead. Intrinsic played their final show on April 10, 2010 at the California Brew Haus, followed by a fifteen month hiatus.
Mid Era (2011-2015)
In February 2011, Intrinsic welcomed bassist Skyler Smith (Goron, Order of The Dragon, SkinTrap) into the group. The band entered Watchmen Studios that July and recorded four demos with Doug White, the studio's owner and only engineer. The band teamed up with Rob Filardo in an attempt to reboot Garage Pop Records and became the label's anchor and primary focus. Intrinsic released their second EP "Just Another Kick-Ass Demo" on October 31, 2011. Intrinsic added Phil Tharp (Circus Grenade, Comedown, Zero Level) to the group as their drummer in January 2012. On May 20, Skyler Smith was released from the band; it was made official through Intrinsic's Facebook page later that evening. The band said "[Skyler] is heading in a different direction than the rest of us. We have always supported [Skyler] in everything [Skyler] has done and we will continue to do so." Due to financial reasons, Intrinsic parted ways with Garage Pop Records the following month as well.
In July 2012, Intrinsic entered Arrhythmia Recording Studios in Rochester, New York to record their second studio album with Micah Etzel. The entire 12 track album was recorded in ten hours. Alex recorded all guitar and bass tracks and some backing vocals. Nitro recorded all drums, lead vocals and most backing vocals. Later that month, Kevin Spicer (Nailed Shut) became Intrinsic's bassist and Nitro returned to drums and vocals in October. The band officially released "Escape From Instinct" on November 27, 2012 through XTM Records. The album was considered to be a disappointment due to multiple set-backs in the release and the low budget the band had to fund the album after their departure from Garage Pop Records. Following this, Intrinsic released their third EP "Yet Another Kick-Ass Demo" on January 25, 2013.
Kevin Spicer left Intrinsic in February 2013, making Intrinsic a duo with Alex Bellanca on Guitar and Vocals and Michael "Nitro" on Drums and Lead Vocals. They re-entered Arrhythmia Studios to record their third album "Artificial Intelligence" with Micah Etzel in February 2013. The duo released their second LP (first one as Intrinsic) "Songs From The Post-Apocalyptic Generation" on May 21, 2013. Collin Bourne (The Bournes, Grease Creepers, The Crazies) filled in on drums, and Shawn Mostyn (Lupis) on bass from May-July as temporary live members. Intrinsic wrapped up the recording sessions for the new album in August. Spaz Spaziani (Lupis, Tandygrey) became the band's bassist in September. The Artificial Intelligence album was released through XTM Records on October 12, 2013 and was very well received; most consider it to be the band's strongest release.
In February 2014, Ryan Hurley (Bygone Few, Grease Creepers, 1916) joined as the bands second guitarist. Intrinsic spent the majority of the 2014 year playing shows. They recorded drums with Micah Etzel that July at Arrhythmia Studios. As they continued playing shows, the group recorded their fourth studio album between November 2014 and March 2015. Intrinsic played a show with the Ohio based Mind Over Matter Records-signed band Cadaver Dogs that April. Following Spaz's departure from the band, Shane Newhouse (former Comedown bassist), took his spot on bass in May 2015. Intrinsic released their fourth studio album "Spaghetti Queen" on July 15, 2015; they sold out of all 100 copies within three months. The band pressed an extra 100 copies of the album.
On October 30, 2015, Intrinsic opened for Eddie Nebula & The Plague's reunion show. The gig was a huge success and helped Intrinsic sell almost half of the second presses of the Spaghetti Queen album. In the months leading up to the show, Intrinsic claimed to have been "writing some new material" with hopes of turning the "new jams" into "full length songs" and hope to put out a new album in early 2017. In November, Michael Nitro announced that the band will release a live-album and a "best of" compilation album. On December 20, 2015, the band confirmed the "best of" album and dropped it's title: "The Inglorious Sounds of Intrinsic"; it is set to be released in 2017. A live album, however, has yet to be confirmed.
Hiatus (2016-PRESENT)
In March of 2016, Michael Nitro announced his departure from Intrinsic after nearly 10 years in the band. The group announced a Farewell Show will take place on June 25, 2016, Intrinsic's 10 Year Anniversary. Alex Bellanca did not agree with the idea of anyone leaving just as the band was getting hot, but also did not wish to continue the band without Nitro. Intrinsic officially confirmed in late April that this will definitely be Intrinsic's final performance.
On June 25, 2016, Intrinsic played their final show, as promoted, at the California Brew Haus. 20 minutes before their set, Patrick "The Bunny" Bundy (Intrinsic's mascot of 4 years) arrived and (kayfabe) attacked Nitro from behind. Although this was a planned-staged assault, a bouncer who worked next door at the mirage was on his break and was unaware of the plan. Believing it to be a real fight, the outside bouncer, along with a local bystander, broke the two up. The plan was for Alex, Ryan Hurley, and Phil Tharp to pull Patrick off of Nitro to reveal that Nitro's throat had been slit and that he only had one hour left to live.
Since the staged fight was broken up, it became real. The bar fell silent as everyone was trying to figure out what was going on. The other three members of Intrinsic jumped the bouncers, trying to pull them off of Michael Nitro and Patrick Bundy. Shane Newhouse, who played the first 5 songs of the night due to Patrick (kayfabe) murdering Spaz Spaziani on his way to the venue, who was to fill in for Skyler Smith, who was (kayfabe) murdered by Bundy 2 weeks prior to the event, was entering the bar at that moment.
The Police were called to the venue by a random patron, but were informed by Erin Scorse that it was a false alarm and that it was a planned gimmick to build up the bands performance. Michael Nitro informed the crowd that Patrick Bundy was to stay locked up on the side of the stage so that everyone in the band could keep an eye on him. He also mentioned Shane Newhouse was filling in on bass for Spaz Spaziani being (kayfabe) murdered by Bundy earlier that night.
After the fifth song in the set list, Alex Bellanca began tuning his guitar and blew a fuse, shutting off the power in the California Brew Haus. After 5-10 seconds, the lights and power came back on and Patrick was on stage holding Shane's beanie in one hand and a knife in the other. He grabbed the bass and played the last 10 songs with Intrinsic. Immediately after the final song, Intrinsic, along with Patrick, took a bow. During the bow, Patrick pulled out a knife and preceded to (kayfabe) kill off the rest of the band. He then ran out the back door, never to be seen again.
This ended Intrinsic as a band, even though the pre show attack didn't go as planned, it ended up making the entire story seem real. The crowd rushed into the room to watch Intrinsic's final performance, and the band was given a standing ovation. The entire show after the pre show attack was planned three minutes before Intrinsic took the stage. Nitro says "the pre show attack not going as planned is probably what made the show as great for the crowd as it was. It didn't look fake because everything after the first five seconds was real. Instead of me having a bloody neck and only 'one hour to live', we tied the bunny up and he broke out. He killed Shane while the lights were out. Hopped on bass (no pun intended) and jammed with us. I asked him 'is this all you wanted, to play bass for us?' He nodded 'yes' and he played the show. Everyone seemed to enjoy it, then he f*in killed us. We planned it out three minutes before we went on, improved mostly everything, and the crowd really seemed to dig it... probably only because 90% of the crowd was there for us!"
Studio Album(s)
Ultra Violence
July 22, 2009
Escape From Instinct
November 27, 2012
Artificial Intelligence
October 12, 2013
Spaghetti Queen
July 10, 2015
LP(s)
Glass Monkey
May 20, 2007
Songs From The Post-Apocalyptic Generation
May 21, 2013
EP(s)
Just A Kick-Ass Demo
October 31, 2008
Where It Is
May 28, 2010
Just Another Kick-Ass Demo
October 31, 2011
Yet Another Kick-Ass Demo
January 13, 2013
Not Another Kick-Ass Demo
January 13, 2015
Just A Final Kick-Ass Demo
October 31, 2016
Compilation(s)
Just A Kick-Ass Compilation
January 25, 2022
Final Line-Up
Mykel Nitro (2006-2016) Vocals (Drums from 2006-2011, 2013)
Al X. Bellanca (2006-2016) Guitar and Vocals
Phil Tharp (2011-2012, 2013-2016) Drums
Spaz Spaziani (2013-2016) Bass
Ryan Hurley (2014-2016) Guitar
Past Members
Kevin Hannon (2006-2007) Guitar (2008) Bass
Vincent Rodeo (2006-2007) Bass
Jeremia Shannon (2006-2007) Vocals
Justin Russell (2008-2011) Bass
Skyler Smith (2011-2012) Bass
Kevin Spicer (2012-2013) Bass
Bygone Few
Comedown
Lupis
Mykel Nitro
Nailed Shut
SkinTrap
Comments:
Note: You must be logged in to add comments