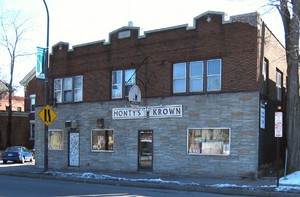 Monty's Krown, Monroe Ave 3-2008
Monty's Krown was a cozy bar featuring live music, pool, pinball, darts, and a large beer selection. It was located on "the other end" of Monroe Avenue, near the 490 East off-ramp, and was the only bar for a few blocks around. The cover charge was rarely more then $3-$5 on nights when bands play. In the summer of 2007, they added a Family Guy pinball machine, which had proven to be quite popular with the regulars. In 2011 this was expanded to two pinball machines.
History
In about 1994 Grana's Restaurant closed at this location and the former manager of The Old Toad, an Englishman named William Taggart, opened the Rose & Crown. "The Crown" made a stab at being an authentic English pub and featured real ales, pub grub (and finer fare), and someone tickling the ivories when a British Invasion soundtrack wasn't playing.
In January 1999, Irishman Alan Hughes (with Will as a partner) opened Monty's Korner, a decidedly more upscale space at the corner of Alexander Street and East — several years prior to the gentrification that is now the East-Alexander district. Alan was surprised to find the Korner become profitable so quickly — he estimated it would take 6 months to break even, but it actually turned a profit in the first month.
Shortly after, Alan added the Rose & Crown to the "Monty" empire as Monty's Krown. His goals were to provide high quality, cheap bar food and make up the difference on drinks. Live music was a staple at the Krown on Thursday and Saturday nights. Alan died on December 24, 2002 and ownership of Monty's Krown and Monty's Korner was hotly debated. Some believed that Alan was a 90% owner and willed the establishments to his family in Ireland while others believed that William Taggart had full ownership. In mid-May 2004, William closed the Korner after depleting the shared bank accounts between the establishments.
Some of the staff members between the establishments kept Monty's Krown open by working without pay. The The Bug Jar held a fund raiser on June 20, 2004 to help keep the Krown afloat.
As of November 2005, Monty's Krown has been repainted and is bringing back more live music. Closed in 2017 but looks like it may come back as the Rose & Crown.
Comments:
Note: You must be logged in to add comments
---
2007-04-15 21:16:37 Has a very "local bar" feeling, as in just the localers go to it. Seems a tad dark for my taste and kind of small. Wasn't a bad place but not the kind of bar I like to go to. —TravisOwens
---
2007-06-01 12:27:26 Sorry, first time visitor / newbie 2 wiki thing, but what's with that "montyskrown" URL, it doesn't look so much like the place? Is that the type of thing we're supposed 2 point out (hope i'm not offending:), cheers!
PS: oh, and year, Krown = great, especially 4 soccer heads during Euro / other cups; cool music 2, etc. —MattShields

---
2007-06-01 14:07:31 Looks like their site expired, I've commented it out for now and if they get it back I'll revert the page. —TravisOwens
---
2008-07-23 13:24:12 I like this bar quite a bit. It's not as loud as the other bars nearby, the bartenders get to know you really fast, they have lots of room to hang out and chat, and the darts are real and free, not some plastic dartboard arcade game. Pretty darn good. This is exactly the kind of bar I like to go to. —IsaacVanDuyn
---
2008-07-31 16:43:40 Possibly my favorite bar in town. They have a decent beer selection, friendly bartenders that play cool music, free darts, a pool table, and a cool pinball machine. The atmosphere is very chill compared to some of the spots further down Monroe that are popular with the younger crowd, although the place can be a little more packed on the weekends when they have bands playing. —JohnHavard
---
2008-09-19 15:12:56 This place is a double edged sword. While they have a good beer selection and the prices are solid, more often than not when I go they want me to pay a cover, which is preposterous - I'm already going to buy your beer, why the hell should I have to pay just to go inside? Oh, there's a band you say? The bands are 100% of the time loud, talentless, and basically just piss me off when I want to be able to carry on a conversation, instead of listen to some trust fund hipster scream about how he's so punk. —MarcusKroll
---
2008-11-03 03:47:05 Monty's Krown is faboo! It's definitely the kind of place you can feel comfortable in! It's easy to get to know the regulars and people who work there, and you never know what will transpire at the pool table. My friends and I come here regularly! —HilarieLloyd
---
2008-11-12 10:49:34 "trust fund hipster...100% talentless"? Hey, Marcus - back to Tilt, or wherever you otherwise enjoy your witty tète-à-tètes. Oh yeah - and the cover is usually all of about $2. —dslap
---
2008-11-22 12:45:18 Great place. I've been going there for about ten years. Good beer. I always run into old friends here. —SavageHenry
---
2009-02-08 20:07:32 The cover has never been more than two bucks when I've gone, and the bands aren't half bad. —JohnHavard
---
2009-03-18 16:41:24 my kind of place; good drinks, good prices, cool people and a pool table. *thumbs up* —ChuckD
---
2011-05-27 15:57:34 Good crowd & most of the bartenders here are great the one who looks like a punky Barbie doll is kind of rude but whatever it's mostly a friendly crowd and nice atmosphere with good beer. —JoeBernardino
---
2012-04-20 11:28:21 The pool table is laid out kind of awkwardly in the room, but great bar! Comfortable atmosphere, not stuck up or clubby, real dart board, great food! Definitely recommend! —cuttothechase