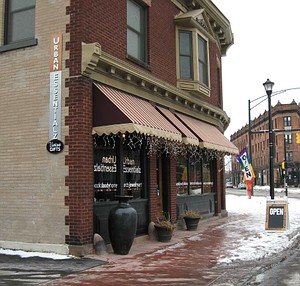 Former location (January 2008)
Connection 2 Spirit was an online gift store that carried items such as cards, books, jewelry, art wear and accessories, classic toys, home decor and home wares, garden accessories, and New Age and wellness products. They also appeared at psychic fairs

Connection 2 Spirit was previously known as Urban Essentialz, located at 664 University Avenue in the Neighborhood of the Arts. They closed their physical location in December 2011. Owner Pamela Merritt Kramer is a Spiritual Explorer who also founded Starry Nites Cafe and saved the Flatiron Building from destruction.
The business still exists but is now located in Florida.
Comments:
Note: You must be logged in to add comments
---
2010-12-25 23:37:44 I went in early Christmas Eve for some last minute holiday shopping and couldn't have been more satisfied with Urban Essentialz. The owner was extremely helpful and informative. She walked around the shop with me and even gave some great gift ideas. I'll most certainly be back soon, but just for myself this time! —Alex
---
2011-11-18 16:50:35 Update Nov. 2011: The owner is retiring and everything in the store is on sale. —EileenF