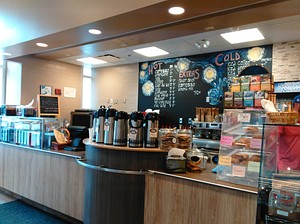 Central Library location (3-2016)
Starry Nites Cafe was a coffee shop, cafe, and wine bar in the Neighborhood of the Arts, located in the tip of the Flatiron Building. As the name implies, they had a Van Gogh theme. They served beer and wine in addition to a full range of coffee beverages. They also offered appetizers and panini sandwiches. There was a wide range of entertainment offerings, including live music Thursday through Saturday, Open Mic, and psychic readings about once a week. Coffeewas from Finger Lakes.

The original owner was Pamela Merritt Kramer, who helped save the Flatiron Building from destruction in 1981. She opened the cafe in the spring of 2003. She expanded the shop to add a full dining room in November of 2005 and began offering free wireless Internet service. In January of 2008, Merritt Kramer sold Starry Nites Cafe to the owners of the Keuka Coffee Company and Cafe. The last owner is Aaron Lefebvre.

Extensive sidewalk seating is available in the warmer months.
Downtown (South Ave) Location
On January 4, 2016 Starry Nites opened a second location in former Tim Hortons space in the Bausch and Lomb Public Library Building, featuring a quicker menu but no alcohol. This location also does not offer live performances.1
Photos - University Ave
Comments:
Note: You must be logged in to add comments
Comments prior to 2010 have been archived here.

---
2010-03-21 12:41:22 Starry Nites Cafe is an excellent place for lunch or dinner. 7$ for a monstrous wrap and 7$ for a turkey BLT was perfect for a sunny afternoon. The service is so friendly, friendlier than any other cafe. They remember what you get and are interested in you as a person and take care of you as a customer. I highly suggest Starry Nites as a place to go on the weekends, they recently changed owners and WOW it made a huge difference. the last owner was interested only in money and now it is all about the people. I suggest their chai or cafe breve or special lattes. I want to go all the time to study and what not. —aurorasmith

---
2011-09-30 20:23:09 A wonderful place to work in the evening when the live performers come to play. Mellow atmosphere, a wonderful chicken salad croissant, and, of course, great coffee. Also, they have a rewards card! —EileenF
---
2012-10-05 09:59:41 When I got to Starry Nites this morning at about 8:35, I ordered an egg-and-cheddar bagel. I was surprised that the barista took my order before that of the woman next to me, whom I thought had already been waited on. It got very busy right after I arrived, and my wife called me from out of town, so I moved away from the counter. After talking to her, I went back and saw that the bagel was still unwrapped. After another few minutes, I told him I couldn't be late for work, but he kept filling drink orders. Finally, I asked for my money back, and I still had to wait a few more minutes for him to get back to the register. So, I left hungry and with just enough time to get to work after waiting fifteen minutes. —KenMaher
---
2015-07-01 15:03:49 Awesome, gluten free, Celiac friendly chicken chili. Yum :) —KailaGallion
---
2020-06-25 11:27:33 Sign in window says something new will be opening in the location this summer. —AdrienneDahler