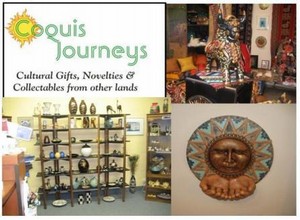 Logo and Interior Views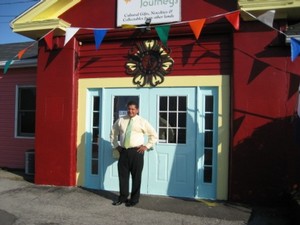 Exterior View
Former Location
975 South Clinton Avenue, Rochester, NY 14620
Status
CLOSED as of February 7, 2009
Cultural Gifts, Novelties and Collectables from other lands
Coqui's Journeys was a Latin American gift shop in Swillburg, at the corner of South Clinton Avenue and South Goodman Street. It was in the location that Animas Traders used to be. "Coqui" is the childhood nickname of the storekeeper, Jorge, who is originally from Peru. A socially conscious business, it sold art from local artisans as well as from villagers in Latin America.
From the
website (checked 11/12/2007):
Coqui's Journeys offers gifts and products that are unique and reminiscent of traveling worldwide or shopping in the world's "El Mercado" (The Marketplace).
Our focus is on product offerings that include ceramics and crafts from South America and various other Latin American countries. The product selection is not limited only to this global region or just ceramics. At Coqui's you will find personal use gifts, home decor goods, tastes that are enticing, and art that brings together the corners of the earth. These are places you might normally wish to travel to, or have done so in the past. Among the fine gift selection you will find, wall hangings, candles, jewelry, hand-carved wooden figures, alpaca products including rugs and sweaters, wool bags, water color paintings, stone figurines and many more brightly colored and uniquely chosen handcrafts.
The gifts will hopefully inspire you to keep on traveling or provide a nostalgic memory of that once unforgettable trip. Who knows, some of these memories and good feelings might even be evoked by a local artist's creation!
Comments:
Note: You must be logged in to add comments
---
2009-02-08 13:38:16 On February 7th, 2009. Coqui's Journeys store front closed indefinitely. Look for products on the web site some time in the future. —JorgeYacila