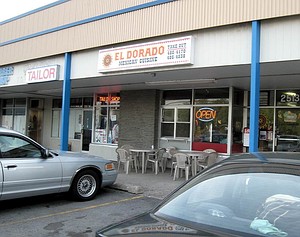 El Dorado Exterior, May 2009
Former Location
2513 E Henrietta Rd, Rochester, NY 14623
Status
CLOSED
Comments:
Note: You must be logged in to add comments
---
See Archive Page for comments from 2009.
---
2010-02-06 13:56:29 I had a coupon for this place and was not disappointed. The food was really delicious-I had a carnita sandwich and a chorizo taco. Very authentic. Very reasonably priced too. We were the only customers and the owner was the only one working-he was attentive and friendly. I will definitely go back there. —MattHenshaw
---
2010-04-03 15:26:50 Unfortunately looks like this place has closed. —Chef
---
2010-04-22 07:51:27 Rest assured everyone, this place is not closed. The owner has closed for about a month to remodel the inside to make the environment much better for dining. I stopped by and took a look a couple of days ago and it looks great! Carmelo should be opening by this weekend (4/24) or early next week with the same great menu plus new options!
I cannot wait to start being a regular customer again to enjoy such great food and support such a great chef and business owner such as Carmelo. —RyanSchneider

---
2010-05-15 21:41:29 I went there for lunch today, and I was so impressed with the quality and tastiness of the food, I went back for takeout for my dinner!!! I had the chicken enchilada special (excellent dark sauce on the enchiladas) and a El Pastor taco (a very unique taste that is addicting once you try it), and both were delicious!!! I got the El Dorado Special Burrito, a Cecina (special steak) taco, and two more El Pastor tacos, all very delicious!!! I have never recommended a mexican place until now (all of the ones around Rochester are too bland, no flavor)! Give this place a try, I did and it is now going to be a semi-weekly stop for my mexican jones!!! —DabeernFooddude
---
2010-05-17 12:59:02 My five friends and I dined here on Saturday evening and will never go back for a sit-down meal, due to the absolutely abhorrent service. Despite only 2 other tables in the restaurant being occupied, it took the American waitress at least 15 minutes to even come greet us and take drink orders. Then it was an additional 15 minutes before she brought our drinks. We had also asked for empty cups for the beer we'd brought, but she forgot those. We placed our food orders and requested chips and salsa, but the waitress said they were out of chips. Another 10 minutes and the empty cups were brought out. The waitress apologized, saying this was her first day, and we tried to be understanding, especially since some of us were former servers ourselves. But we couldn't help noticing that other diners had come and gone during this time period. I thought maybe the waitress and the cook were the only people working, but when I walked through the kitchen to use the restroom (no toilet paper, by the way), I saw 2 other employees. One would think that 4 employees for a restaurant with about 12-15 guests shouldn't be a problem, but alas, no. Finally, our food began arriving. It came out in waves: the last person in our party received their food a full 15 minutes after the first person. And, 5 of the 6 orders were somehow wrong. Sides of beans were missing. Beef instead of pork. One friend ordered 1 taco and 1 flauta, and was instead was served 1 taco with the wrong type of meat, and 3 flautas (which the waitress referred to as "enchiladas"). My friend sent the food back, and another taco was brought out, again with the wrong meat. So she sent it back again, and after receiving the wrong taco for the 3rd time, she finally just ate it. My side salad was brought out with the first wave of food, but my chorizo torta (a Mexican sandwich with spicy sausage) was missing. After reminding the waitress twice, I received it after everyone else was pretty much done eating. The torta wasn't worth the wait. It was mostly just bread and lettuce, with a stingy amount of chorizo and a barely visible thin layer of guacamole. When the waitress brought out the checks, she apologized again, and said "I charged you for the chorizo, but I didn't charge you for the torta." As if they had been two separate entrees? Haha. Anyway, despite what the waitress had written, the math was surprisingly correct: my "Chorizo: $6.95" and "Torta: $0" equaled the menu's price of "Chorizo Torta: $6.95." After we had paid and were getting up to leave, the manager/owner came and asked how the food was. Wanting to make our escape ASAP, we just said "fine, thanks" and left. If you insist on trying this place, only go for take out. And don't order a torta! (If you want a torta, go to Dorado on Park Ave.). —AJH
---
2010-05-20 18:38:14 Ok so I never leave reviews for restaurants but I've got to say that El Dorado is honestly THE best mexican restaurant in town. It may come to a surprise coming from such a little place but it's probablly the closest you will get to real mexican food in Rochester. The owner is so friendly and welcoming it's like having authentic mexican food cooked right in your own home! And I also wanted to comment because I read the last review and was shocked! The torta's are unbelievable! And I've never been a big fan of Chorizo, but The owner here makes everything himself, including the chorizo, and it's simply mouth watering. As for the service I cannot relate because everytime I visit, I get greeted by the same, welcoming, young girl that takes care of all of our needs 100 percent! Trust-if you try out El Dorado, you will not be dissatisfied! —LisaK29
---
2010-05-22 21:53:09 First time here—***PHENOMENAL EXPERIENCE!*** I don't do spice well and had a great Beef Fajita with beans and onions. Wife had same thing but chicken. The owner even came out and played a little guitar for us. We will *definitely* be back. —PeteB
---
2010-06-09 00:03:55 I've lived in Tucson, Arizona for the past year, and have been to mexico more than a few times. This food is unreal. I keep trying different items and the mind blowing flavors continue to taunt my senses. The owners rock, the food is the BEST AROUND, you better try it and I dare you to take down one of these baby sized burritos. —ChildPlease
---
2010-06-09 11:52:34 We tried El Dorado for the first time last night. I understand they just reopened after an extensive remodel. The interior of the restaurant was clean, but far from fancy. The food, however, was surprisingly good. The menu is limited. It's closer to a taqueria than a typical Mexican restaurant. That's fine for me, but my nacho-loving boyfriend was disappointed to see that the menu is devoid of appetizers. He was also sad to see that the tacos, carne asada, carnitas, and pretty much everything except the burritos are served on/with corn tortillas. I decided to try a torta (Mexican sandwich), with chicken, steak and chorizo. I usually don't like chorizo, but this was fantastic. I still can't get over how yummy it was. The salsa is not the chunky style normally found at Mexican restaurants, but was very tasty and apparently made by the chef. For the (slightly) more adventurous, ask for the green "spicy" salsa. It's upstate NY spicy, which is to say, if you find anything hotter than a bell pepper spicy, this salsa is spicy. It added a little kick and tasted great liberally applied to my torta. The server was attentive and even the chef stopped by. I will definitely go again. It's too bad the location is so inconvenient for me. El Dorado should definitely consider adding a food truck with a pared down its menu so it can provide great Mexican throughout the Rochester area. —ChristineH
---
2010-06-13 19:15:03 We tried this place about a year ago, thought it was ok but not great, but given the recent improved reviews decided to give it another shot. The place is cleaned up inside and looks a lot better. The food, however, is the same mediocre food that we had a year ago. We were one of only 2 - 3 tables in the place but it took forever to get served. Nothing we had was bad, but nothing stood out as anything special. We've had great Mexican food in lots of places (including Mexico City), and we don't go to any of the chains. This definitely isn't as special as the above reviews make it out to be. —DottieHoffmann
---
2010-06-19 21:21:15 Maaan. I read some of the reviews and I'm shocked at the "bad ones" because the food and the people there are THE BEST!!! The food is so fresh all the time,authentic with great flavor. I LOVE IT. There are times when I end up there like 3 or 4 times a week because I crave it and the prices are great. God bless them and keep them open because I would be lost without them! ( ;) ) Palomina NP
---
2010-07-06 20:56:35 Probably have eaten here 20+ times in the last year. Always trying something new, always end up loving it. Very authentic food, good prices, and big portions. The owner/chef Carmelo, loves to come out and interact with you. Also much nicer on the eyes since they closed to remodel the place. —MikeC
---
2010-07-24 01:11:44 Based on the reviews here, my wife and I made the trip out to El Dorado tonight. The service was slow (one guy acting as chef and waiter working the entire restaurant!) but the meal was worth the wait. El Dorado immediately jumped into contention for the best Mexican in Rochester tonight. The flavors were outstanding, the food didn't come out of a bag (ie. Sysco) and the atmosphere was international. I forsee multiple visits and multiple recommendations to friends. —BatGuano
---
2010-08-17 21:09:47 If you desire authentic delicious Mexican. If you really want an actually affordable good meal. Then you must eat at El Dorado, the food is consistently excellent and there isn't a dish over $10. Note...do not confuse this with the over priced Dorado on Park Ave! —ChristopherBrandt
---
2010-09-28 22:44:55 El Dorado is best since it opened. The mexican food at El Dorado is awesome i like the qusadilla and chips the most the new salsa is hot but GOOOOOOOOOOOOD :) —jojuanguzman
---
2011-01-03 17:36:35 Come on people, how can you call this place authentic? Beyond the fact that they put cheese and tomatoes on my barbacoa taco, the meat was flavorless and the salsa was not spicy in the slightest. —jberna
---
2011-01-08 21:06:22 I was truly looking forward to lunch at this restaurant. My husband and I lived in Houston, TX for many years and really got used to great Mexican food. Here in Rochester we've been to a few good restaurants, namely Salena's and Sonora's who have delicious, truly authentic Mexican and Tex/Mex flavor. El Dorado is no where near these restuarants in taste. The salsa seemed to be nothing more that tomato sauce with a little cilantro chopped up in it, very tasteless. The chips where also pretty tasteless. Based on this we decided to just order some tacos and go. I had 2 chicken tacos and my husband had 2 "carne asada" tacos. Extremelly bland, salt didn't much help. For us it was a let down. —GloriaMueller
---
2011-02-02 22:04:38 Hi I really wanted to comment on Gloria Mueller's and Jberna's comment actually. I was at El Dorado again yesterday I go quite often and for kicks I ordered what you guys ordered as well as barbacoa tacos and for starters I believe you guys were at the wrong Place. El Dorado(located on E. Henrietta Rd)and Dorado (located at Park Ave) are two very different Restaurants even though the names are simular people get these two confused all the time! I was at Dorados on Park Ave- today and let me tell you the comments you made fit them to a T! Everything was bland! Rice tasted like it was microwaved the salsa was just as you described it and the guacamole was turning brown that's why I had to comment. El Dorado (E. Henrietta Rd) does not put Cilantro in their Salsa at all and the chips are made to order fresh and hot so how can anything be bland? Anyone who has eaten there can testify to that! I am a regular there because its close to my job. If you were at El Dorado the owner would come out to talk to you and really make you feel at home or in Mexico. The Owner is Mexican/from Mexico you can not get anymore authentic than that! You were in Texas that's Tex-Mex not Mexican again there is a difference. If you want real authentic Mexican Food than El Dorado on E. Henrietta Rd is for you! If you want Tex-Mex then the other places you mentioned are the right places. Ok now for jberna- Sorry to tell you but as I mentioned above... The owner is MEXICAN, FROM MEXICO, AND THE CHEF! You Can't get anymore AUTHENTIC than that!! You too must be confused because I also had the barbacoa tacos and he doesn't put cheese or tomatoes on those The red salsa is not supposed to be hot or spicy nor do either of the salsas contain cilantro. the green one is the spicy one and if you request it you will get it! Everybody's tolerance can not do spicy that's why he has two and if you ask you will receive and it is quite awesome! I love it!! You can put that on your barbacoa taco! Everyone is entitled to their opinion but at least if you want to bash this Restaurant get the facts right people! Go Back to El Dorado at 2513 E. Henrietta Rd zip 14623 I believe you will have a different view or experience. I know I will be there for lunch tomorrow!! lol So try it again and Enjoy :-) and Please, let me know what you really think??? —jcg
---
2011-03-03 09:04:31 I went to El Dorado for the first time yesterday and LOVED IT. Fantastic food, and the service was prompt and the place, although not large, is cute and has such a friendly atmosphere. I had a FANTASTIC pork sandwich and can't wait to go back and try other items on the menu. Its a hit in my book! —saraokirk
---
2011-03-10 19:31:15 This place is amazing. The decor has improved but it's not what I would call glamorous. I'm from Chicago, my wife from NYC and it is the best Mexican food we've had here, except maybe Dorado. Disclaimer: we have not been to the place in Spencerport but have been to the poseur in Village Gate. Have been to El Dorado twice, most recently with our niece who is studying at RIT. It does take a while to get your meal, but well worth the wait. The flavors and textures are outstanding. And the prices are sick.
We've tried the tacos, the salads, enchiladas and tostadas. I can recommend them all. This is the real deal. Enjoy!! —wdrazek

---
2011-04-04 19:29:50 @JCG
Yes, we went to this establishment, and they put those ingredients in the food. There are also CHINESE people from CHINA who cook TERRIBLE americanized chinese food. There's no reason we would make stuff up, get over it —jberna

---
2011-04-30 14:37:09 My wife and I had lunch at El Dorado yesterday. Chips and salsa were brought to the table right away. Chips were good, crispy and warm, but the salsa was pitiful. Looked like water with some tomato juice. I like salsa that you can scoop with your chips and if you tried it with this "stuff" it was like dipping the chip in watery tomato juice. You can probably get better salsa at any supermarket. I had one of the combos with an enchilada, taco and tostada. The tostada and taco were good, but the beef enchilada only had a plain ground beef filling. Not bad but lacking in flavor. My wife had the enchilada plate with rice and a watery mess that supposedly was refried beans. The only way to eat the "refried beans would have been with a spoon. We asked for the Salsa verde and that was tasty and hot.
Overall the meal was a disappointment. Guess it we go back to Monte Albans, where at least they put some flavor in their food
Ricardo —Ricardo

---
2011-06-07 22:16:16 The food at this restaurant is amazingly authentic and delicious. If you're going for tex-mex, you'll be disappointed but if you want melt-in-your mouth refried beans and just-cooked, home-style mexican dishes that were crafted by a really cute mexican grandmother, GO HERE y vaya rápido. El dorado has the next best thing to a cute grandma: Carmelo. Carmelo is the awesome guy behind the grill who will accommodate special requests, chat with you in English or Spanish and moonlights as a guitar player after work. To the dude who didn't like the salsa, real salsa IS runny. Because it's made from real tomatoes...that have juice... which makes it a LIQUID. Salsa means sauce in Spanish. If you want chunky "salsa," get the pico de gallo—great cilantro flavor. Overall, we love this place. It's a great casual date, with an undiscovered-restaurant-gem kind of feeling. —Hmburl
---
2011-06-15 16:21:24 This place is pretty damn authentic. Every region of Mexico does things differently, so although not a bit different, very much true Mexican. Barbacoa was good - not quite what I'm used to, but good. Chips and salsa given at the beginning of the meal were great - nice and warm and a great tangy salsa. My only problem was the price! Two platios (dishes) and two drinks came out to $27. Back home this would never be the case. But its NY and things here are pricier. So I may not be used to it, but again, the food was good. —ErikaBlank
---
2011-11-05 00:18:39 Carmelo told me he wasn't sure how much longer he can keep the place open. He's going to do his best. —MikeC
---
2012-01-21 20:53:41 I have never in my life created an account to leave a review for anything. I also have never in my life experienced such unbelievably awful food! I went to El Dorado today, against my better judgement, because my friend has/had heard or read good things about this place. She was definitely misinformed! Her food came out first (about 5 minutes before my own) and her beans were gray.....like mushy gray. When my food arrived, it was wrong (I ordered tostadas and quesadillas- pretty basic)I tried my cheese quesadillas and literally spit my food out. It was absolutely disgusting!! I asked the waitress what kind of cheese they used and she said "American. American white cheddar". Really!? I ordered something else however, once my friend tried her beans and made a face like she has just taken a huge bite of mud, I ended up cancelling my order and not getting anything. Needless to say, I will NEVER EVER EVER eat there or suggest that anyone should go to this "restaurant". Besides the food, the service was slow. It took 45 minutes and I walked out ordering take out from another restaurant around the corner. The kicker- we were the only people in the restaurant for the first 20 minutes so it's not like they were busy. —Nicole1
---
2012-11-09 22:04:12 By far the best Mexican food I've had outside of Mexico. This place is incredible. The food is authentic, and each meal is individually prepared (read: worth the wait). In reference to the above comment, the food we had tonight was without food coloring and preservatives — unfortunately, pinto beans have a genuinely unappealing color in nature (but they make up for their ugliness with great taste). The white cheese is queso fresco (not American Cheddar), which the owner/server kindly advised me is unpasteurized like many soft cheeses (I am pregnant). This place felt like home. Carmelo and his brother (the owners) learned their recipes from their grandmother, who can rest assured she is causing white girls in Rochester (including at least one pregnant lady) to happily gain weight :) If you want awesome food and wonderful hospitality, try El Dorado. You won't be disappointed. —ElizabethH
---
2014-03-16 21:24:24 Drove by this afternoon, appears to have "for lease' signs in windows. Too bad as it was one of the better Mexican restaurants in the area.
---
2014-06-23 09:01:57 Sign gone, storefront empty. Their own facebook page say their last day was January 24, 2014. There are later FB hints of trying to reopen somewhere else someday. But for now GBNF? —jgerek