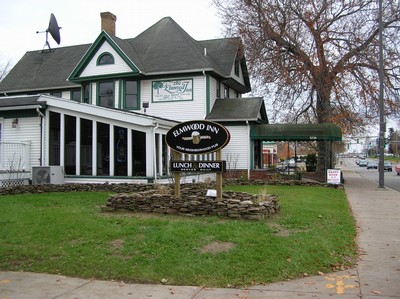 Elmwood Inn!
Elmwood Inn is a little bar/restaurant in the Lilac Neighborhood, near the University of Rochester campus and Mt. Hope Cemetery. It has a college/sports atmosphere, with good, reasonably-priced food, and a good selection (about forty) brews and microbrews on tap1.
An under-appreciated, but supremely bad-ass feature: side-by-side dartboards allowing head-to-head play, with a television display. That is, two people can play each other in a number of timed or untimed games, each with their own board. Ponder this feat of awesomeness.
Comments:
Note: You must be logged in to add comments
---
See Archive Page for comments prior to 2009.
---
2009-04-16 21:38:23 I hadn't been to the Elmwood in a few months, since they fired their best bartender, Ed. I went back last night and the entree portions were smaller and the prices higher. I went to the Elmwood every Thursday with friends for happy hour for over three years, and used to love it. It's a shame the atmosphere is not as fun any more and the offerings are not quite as generous! —OxfordWriter
---
2009-05-20 18:59:26 Wow, some of these recent reviews are sadly correct.
I've not eaten much at the Elmwood, but always thought the place was a charming and affordable place to have some good pub food. Ate there earlier this month, first time in 15 months or so, and first, couldn't believe $8.95 or whatever the price was for a club sandwich. But the real shocker was that the four pieces of the sandwich were about HALF the thickness I'd expect in a club sandwich. It was a tasty sandwich, but priced too high while offering too low.
If the rest of the menu is like that, it'll be longer than 15 months before I return. —bionicsimmons

---
2009-09-03 14:16:41 After three years of regular patronage, I am officially done with the Elmwood. This had long been a favorite watering hole of the UR employed set— all of us were Elmwood Loyalty Card holders— but we have been priced and jostled out of the market. The prices have gone consistently up, skyrocketing really, since I started going there in the Fall of 2006. Then they featured 25 cent wings, a 2 for 1 UR discount, and nice daily drink specials. No longer. Now, as bionic notes above me, the food is priced for fine dining, not pub fare. The service, too, has declined. Where once my crew was on friendly, first name basis with the entire staff, now ownership coaches workers to lean on people. They consistently refuse to run separate checks on tables (therefore allowing people to use the overflow of coupons and promotional offers the restaurant mails out) and the place waters down its pricey well drinks. So long, Elmwood, it was nice while it lasted. —JeffreyL
---
2010-07-08 13:04:46 JefferyL has it right. We used to love Elmwood and would visit it at least once a week, if not more often. Drinks, food and service all made this place worthwhile. Not exactly sure what happened, but about a year ago all three of those things began to go down hill. There seemed to be a large staff turnover which resulted in a slightly less friendly staff who didn't seem to care if you were a regular or not. The price of food went way up, while the quality dipped a bit. So sad to see it happen, because I really used to love this place. Now I avoid it.
PS Forty brews on tap? Maybe 15. —Button

---
2010-07-08 19:41:11 I've eaten here twice in the past and I would not say that it's anything to write home about. Generic food cooked in a generic fashion, beer list isn't anything exciting either. Service wasn't bad but not great either. —DamianKumor
---
2011-04-16 12:16:17 Got drawn in last night because I had a "free birthday dinner" certificate. Brief wait for a table. Decent beer selection. Service was OK. But the food was not worth the "free" meal. My chicken marsala had a thin sauteed chicken breast over a huge pile of pasta, a few mushrooms and artichokes sprinkled over the top and what appeared to be some tasteless beef boullion poured over it. Not the rich tasting sauce anything marsala should have. My wife went light for dinner with a grilled salmon salad. The salad part was OK, but the salmon was incinerated into a solid dry block that was virtually inedible. When the server stopped by to check on our dinners we told him the salmon was way overcooked and the marsala was tasteless. He kind of grinned and walked away at that point, but later brought us "mystery coupons" to return in May. Not going to happen, ever. Not even for a free meal. —JGerek
---
2013-04-15 13:18:18 A large group of us had been going to Elmwood Inn for years on Sunday nights late, when we were often the only people there. last Sunday the bartender was quite rude. One of our group approached the owner the next day, and he blew her off. I posted a negative review on Google Places about the incident. Suddenly the owner wants to talk - but NOT about improving customer relations. Nope- he threatened me with legal action if I did not remove the review. (Like that's ever gonna happen)For any who care, here is the review I posted on Google Places:
"Barbara Warren (You) reviewed in the last week
Food Good Decor Good Service Good
Never again - rude bartender, uncaring owner. Wait staff is friendly and competent, but upper management doesn't care about customer service at all." —dancencounters

---
2013-04-20 13:22:31 Final note:
After much back-and forth with Elmwood I am satisfied with their response. I probably still won't go back, but at least they responded appropriately. —dancencounters

---
2013-08-24 10:26:26 I used to frequent the Elmwood Inn around 2008-2010, when the food was worse and the service was great. Now there appears to be a whole new generation of servers and bartenders (with the exception of Amy, who has been there as long as I've been going). The last few times I've been there, the service has been perfectly acceptable, it's just not the above and beyond I remember from before. The food, however, is more than a little improved. Everything I have tried this summer has been super tasty, when before it was simply "not bad." With the great tap selection at the bar and relaxed atmosphere, this is a place I look forward to stopping at after work again. —LauraShum
---
2013-09-28 21:36:25 Went for a drink with friends, bartender charged us for doubles ($14 per drink) when we didn't ask for them nor were they actually doubles (we watched them being made). We didn't want to make a big deal in front of our friends so we just left after paying the bill. Our bad, I guess. Never again. —shawnalusk
1The standard fare is available, with a few on-tap beers of note: Newcastle Brown Ale, Blue Moon Belgian White, Stella Artois