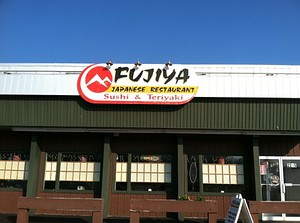 Signage
Comments:
Note: You must be logged in to add comments
---
2006-10-24 20:58:58 Never been there but sister-in-law loves this place!!!! —PeteB
---
2006-11-30 12:38:40 the sushi was very high quality here—the fish was nice & cold. the wasabi shumai will burn your nose out but you'll love it! —DulcineaEsq
---
2007-02-06 12:12:46 Delicious sushi. They're always looking for creative things to do with their top-notch spicy tuna. Try the Miami Beach roll. —ScottVentura
---
2007-02-19 10:51:50 This small sushi place had a slightly campy feel. The specialty rolls are worth the drive out the Webster, but the standard rolls are not. I particularly enjoyed the white dragon roll, while the wasabi shumai was not one I loved. I would recommend trying out Fujiya for their specialty rolls but (mostly due to location) is not a place I will visit often. —EllenKelsey
---
2007-02-21 11:25:52 Best lunch bento box in town!! I'd consider this place a great Japanese resaturant and an okay sushi bar. The bento menu is extensive, offering interesting boxes like tempura eel and ginger squid in addition to the usual teriyaki choices. Yummm. —CharliWilliams
---
2007-03-23 12:47:56 Fujiya has a new roll called the "Volcano". Highly recommend this one. Also, I love the Fujiya roll. —KimBee
---
2007-08-29 18:02:15 ...I have been a regular at Fujiya ever since they opened. People have been confusing Fujiya with the other resturant Taka house that is down the street. Fujiya is absolutly wonderfull!!! I love them and will never go to another Japanese resturant again. The waitresses are well educated about the food, and all the chefs are friendly and fun to have conversations with. My childern love the place, and my husband adores their Miami beach roll and tuna tataki. I hope they are in bussiness forever! Definitly worth a try for new customers. —MicheleGulliver
---
2007-09-23 01:23:25 Stumbled across Fujiya while looking for another restaurant. Stayed for the Beef Negamaki and, as it turned out, the green tea ice cream that was absolutely out of this world! The owner was very friendly, and the chef was delighted to speak with us about the food. All in all, a wonderful experience.
---
2008-04-11 15:20:07 I don't remember how I found this place, but I'm so glad I did! My husband and I have been there several times on weekends and weeknights and never had to wait for a table (good for us but a shame they aren't busier, they deserve it!). We've had the Sushi & Tempura for two on several visits and everything on it was always so tasty. The veggies are always fresh and perfectly fried. Sushi and sashimi is always fresh and perfectly made. I highly recommend the red bean or tempura ice cream - both desserts are an excellent end to a lovely meal. —StephanieTodd
---
2008-05-07 10:04:56 I couldn't find this place. Either it is hidden in the back of some building, their sign has been torn down, or they are closed. —MikeEnder
---
2008-09-30 23:38:49 I have eaten at authentic Japanese restaurants (meaning Japanese owners and traditional Japanese methods of preparing food); there are none in Rochester area, and only two in DC metro area. **BUT** Fujiya Restaurant has the best sushi rolls ever tasted, even though they are not traditional or authentic!!! The assortment and quality of fish available in Rochester is very lacking compared to DC and NYC, so I would NOT recommend the sashimi. MUST TRIES: Fire California Roll, Blossom Roll, Red Dragon, Underground Dragon, Smoke Dragon Rolls.
Very friendly atmosphere. —JenFromDC

---
2008-10-14 23:15:59 By far my favorite place for sushi - I really haven't tried anything here that I didn't like. Great selection of appetizers - I try a different one each time I go and am never disappointed. I have especially enjoyed the kaki fry (which is fried oysters) and the ebi pepper (a jalapeno pepper stuffed with shrimp and tempura battered and fried). The staff here is really friendly also. I love the fact that they are always adding new rolls to the menu - as mentioned by some others already, the volcano roll is delicious, and the smoke dragon is incredible! I also really enjoy the yogi roll, which is a lightly tempura battered roll made without rice. —deanadeana
---
2009-02-07 17:09:44 Best non-traditional sushi in Rochester. The variety of california rollin' with good service and better taste! —dih112
---
2009-03-01 12:20:36 Tried this place for the first time last night. The sushi was unbelievable and the rolls were freshly, creatively and deliciously made. The prices seemed very reasonable considering the size, quantity and the presentation of the rolls. It was probably one of the most satisfying and well-presented meals I have ever had. I cannot comment about service, as this was a take-out only order. Certainly will visit again despite the drive. —YanaLevin
---
2009-07-21 20:08:13 My boyfriend and I go about once a week, at least once every other week. The owners know us by name and it's a great friendly place to eat dinner. I've been other places around the country since trying sushi for the first time, but every place has been slightly disappointing because it doesn't live up to Fujiya!
We've now tried most sections of the menu, from Tempura, Teriyaki, Rolls, etc. And everything we've ordered has been delicious. The prices are amazing when you compare them to other sushi restaurants.
Highly HIGHLY recommended!

---
2009-08-13 00:25:50 I got take out from here recently. It was one of the more casual Japanese restaurants in Rochester. The server taking my order was helpful and polite. The spicy salmon and spicy tuna rolls were excellent but the tempura roll fell flat (I don't think they actually tempura-ed the shrimp..looked like it was just pan fried). The tuna and salmon were fresh so I will be going back to check out the rest of their offerings. —OneLove
---
2009-08-28 01:26:26 deff one of my favorite japanese based restaurants to eat bento box meals at and I work at Arigato haha! [probably due to the fact my only day off is when the restaurant is closed] I highly suggest this for those who like dining based atmosphere but if you like hibachi come to Arigato! I actually used to work with Suki when she worked at Tokyo and im glad to see her finally having her own place and prepares an amazing meal..Alot better than their next door neighbor Emipire hots, but who doesnt enjoy a healthy garbage plate every now and then hah. All in all great food, amazing people. —KevinSirps
---
2009-09-14 15:13:38 This is my go-to Japanese restaurant. It's close to my house, the service is always friendly, and most importantly, the food is great! I love their sushi, and their non-sushi food, and the Sushi Chefs are always very friendly, wish I went there more often. —EmRosario

---
2009-12-02 21:19:15 I was here for dinner recently. The specialty rolls really shined this time. The service was attentive as well. I can't wait to come back! —OneLove
---
2009-12-23 14:48:34 Keeps getting better. I go here at least twice per month and the rolls keep getting fresher and tastier. The appetizers are unique and tasty. The service is great. Wonderful place. —dadioy01
---
2010-06-02 14:43:59 Food is excellent, from sushi to soup, box meals, teriyaki dishes....just great! My step daughter gets a huge kick out of one waitress who calls the female patrons 'Sexy Lady'. LOL! —LisaRuns
---
2011-06-19 00:47:58 Our family's favorite Japanese restaurant. Friendly service and consistently great food. My wife appreciates that the sushi rolls are available with brown rice, and our kids love the Japanese sodas that you open by popping the marble in. —Roddy