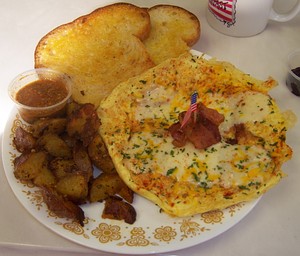 The 3 Egg Pie, with bacon and onion. Side of potatoes and Magic Toast. Don't forget the hot sauce.
Former Location
1308 Buffalo Rd, Gates, NY 14624
General Hoock is at it again. Shawn has finally got a spot. He bought DiCimino's, and it has a menu like many other pizza places.
They have a Friday Fish Fry, with fresh cut red potato french fries.
But MOST importantly, the All American Breakfast has a new home. Shawn is serving breakfast again, and it is as good as it was previously. Best of all, he will be serving breakfast all day. Shawn is one person who is not afraid to use spices when cooking breakfast. Sadly, very limited seating.
Delivery is available, with a $17.00 minimum order.
Comments:
Note: You must be logged in to add comments
---
2009-02-14 17:03:58 We've started getting our pizza's at the new DiCimino's. It's new because it is under new management and he knows his stuff! The last few pizza's we've had from there have fresh veggies and the dough has a great flavor. It's a little our of our way but well worth the trip. —LizZimmerman
---
2010-07-12 17:36:45 Thanks to the blog "Rochester Westside Grub (which I have no affiliation with), I recently checked out lunch at General Hoock's & Sons All American Tailgate U.S.A. (side note: a tad confusing, the building signage for the restaurant states simply "An All American Pizzeria," which I am guessing is from the pizza place that was there prior).
The description above refers to it as a pizzeria, and I look forward to trying their pizza (which looked wonderful), but when I stopped in for lunch I ordered the Curly Bomber Burger based solely on the pix I saw on the blog. I took heed that the portion sizes were super-sized and it was true— the mini was no mini at all, but a full-blown no-holds barred burger.
It was a good 25-30 minute wait for my order, despite being the only one in there (take out orders? attention to quality?) in this eclectic joint with just a few tables (World Cup soccer was on, so plenty to do), yet the wait was well worth it. Out came a hearty, flavorful, great-sized, moist burger (on an exceptional homemade roll), topped with shaved steak (I thought this was overkill when I saw the menu, but I took that sentiment back upon biting in), cheddar cheese, a homemade hot sauce w/ a good kick-to-it, and curly fries stuffed on top of the burger. A truly delicious homemade, non-chain, unique burger!
This joint is not in my neck of the woods, but I will drive out of my way again to have another one, try out the pizza, and I look forward to tasting the breakfast choices, which seems to be what the restaurant is known for among those who are familiar w/ the owner/chef. —LizDee

---
2010-07-13 15:52:32 Their Bleu Cheese dip that comes with the chicken wings is by far, hands down, the best EVER. —JcPop
---
2012-06-17 12:08:34 Drove there this weekend based on glowing reviews from any sources. Closed. The place was stripped. No sign or posting about a move or anything. Seems they went under. Couldn't find any other info. —mattconheady
---
2012-07-09 11:18:03 Seems there is activity at the location. New sign for Shawn has been put up, and I await good news every day. Will update when more solid info is available. —BrianCass
---
2012-08-19 13:35:43 My fingers are crossed that he opens up again —AdamW
---
2012-08-19 13:36:29 does anyone know if Shawn is working as a chef somewhere else for the time being? —AdamW
---
2014-01-10 10:57:42 The General is back! Again. He's serving it up from a small kitchen inside the gas station on the corner of Coldwater and Buffalo Rd in Gates. Still amazing. Wow. —JoeK
---
2014-12-13 20:49:54 Reopened at 3027 Buffalo rd - Shmegs. —JasonRosa