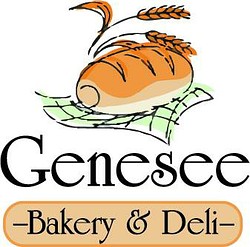 Genesee Bakery & Deli is a family owned and operated bakery and deli located in Mount Hope Plaza. Their baked goods are also sold at all three Finger Lakes Coffee Roasters coffee bars in Strong Memorial Hospital. The shop is small; much of the floor space is occupied by deli cases, the counter and a couple of tables.
They accept cash, Visa and Mastercard (although a minimum purchase price applies to credit purchases). Genesee Bakery products can also be purchased at
Connections Cafe in Rush Rhees Library at the University of Rochester.
Comments:
Note: You must be logged in to add comments
---
2007-03-14 22:30:31 Great croissants, great pastry shop —BenMargolis
---
2007-03-15 12:50:58 Also, great subs! —RichardSarkis
---
2008-03-07 13:36:41 They did our wedding cake in 2005. Awesome and reasonable! I'm a choco-holic, and we got chocolate cake with raspberry filling and chocolate frosting. Yum!!! Our guests loved it! So did I! —LauraKuhn
---
2008-03-19 21:02:06 Really tasty pastries. Their presence in the lobby of Strong via Finger Lakes Coffee Roasters is greatly appreciated. Nice scones and muffins. —YanaLevin