Guida's Pizzeria on Empire Boulevard in Irondequoit.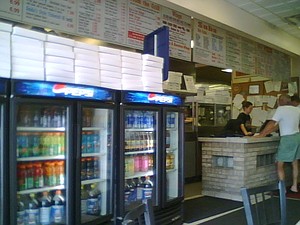 Guida's owners, Mark and Laurene, are nearly always working behind the counter at the Empire Boulevard location.
One slice of pepperoni, one of cheese, with a cup of blue cheese on the side.
Guida's Pizzeria is a local pizzeria chain with multiple locations in the Rochester area. Besides regular pizzas, you can order catering and the Webster location offers breakfast. They first started in 1994.
The Webster location was attached to Hegedorns, but with their closure, they moved to another location at the form Martino's Pizzeria.
The Penfield location closed on April 22, 2019. The Honeoye Falls location closed before that.
Comments:
Note: You must be logged in to add comments
---
2006-12-16 15:27:09 This has become one of my favorite pizza shops lately (the Empire Blvd location). Mostly for their buffalo style wings. —TravisOwens
---
2007-03-31 22:52:11 The webster location has a good presentation with lots of pizzas ready at lunch time. Although it can get a bit busy and chicken wings at lunch are made to order, so they take at least 15mins. —TravisOwens
---
2007-03-31 22:53:23 The Honeoye Falls location was the least impressive for me, the pizza was fine though. —TravisOwens
---
2008-07-20 15:01:12 The Guida's on Empire Boulevard is my favorite pizzeria in Rochester, and quite honestly, the best pizza I've ever had.
The crust cannot be beat. It's not too thick, not too thin, with plenty of chew to it. Beautiful blackened bits from the brick-lined oven dot the bottom. Incredible flavor and attention to detail.
The best time to go - Friday for lunch. There are usually HUGE slices of several different kinds of pizza, the kitchen's choice. Grandmother's is a thick (but light) square-cut Sicilian. A saucy Margherita with fresh basil and mozzarella. The Schwartzkopf, my parents' favorite, has chicken cutlets, ham, caramelized onions, and swiss cheese, with a sweet-and-sour sauce. The buffalo chicken is also superb. A slice of plain cheese pizza is a delight.
Guida's has the biggest menu I've ever seen for a pizzeria, and everything on it is good. Their wings rank up there against anyone else's in town - and any wings in Buffalo too. —ZachSmalt

---
2008-10-28 12:00:06 This is my new favorite place to get pizza. The crust is chewy and the sauce is delicious. They also have a huge menu of stuff, which I haven't tried yet, but look forward to doing so.
I'm sad I have never tried it before recently! —SaraChristine

---
2009-03-10 14:37:46 Guida's Pizzeria is now located in Webster ran by the original owners, Mark and Laurene Guida. Located at 964 Ridge Road, in front of Hegedorns. Phone # is 585-671-9570. PLEASE NOTE: THE RESTAURANT AT 195 NORTH AVENUE IS NOT ASSOCIATED WITH GUIDA'S PIZZERIA'S ANY LONGER; THE WAS WAS CHANGED TO ROCCO'S. PLEASE REMOVE THAT INFORMATION-SHOULD NOT BE LISTED AS A GUIDA'S.
WEBSTER HAS THE REAL GUIDA'S!!!! AND IT IS FANTASTIC!!! —Lisab

---
2009-03-10 14:53:23 A check of the Guida's Pizzaria website no longer shows the Webster location, just the three others listed and they appear to be still operating as Guida's Pizzareria. —BradMandell
---
2009-03-10 19:33:31 Last time I called Guida's (a few weeks ago) they had a message on their hold line that did say they were opening up a new location in Webster... —SaraChristine
---
2009-05-10 19:33:48 We love Guida's Penfield. The regular brick oven pizza is the best around Penfield. We've gotten subs, chicken fingers, breadsticks - all good. The best part is they are friendly - like your continued patronage makes a difference to them (you don't find that at many pizza places). And there's nothing better than the free large pizza you can buy with $10 Guida bucks. —DGandDJ
---
2009-09-07 17:21:05 I'm a BIG fan of Guida's! I've ordered from the Penfield (my favorite), Irondequoit and Webster locations and have always had a good pie. They have good sauce, and are generous with the toppings. One of my top pizza choices in the area. Also, they consistently get your order right - which, sad to say, many pizza joints fail to do. —NoBS
---
2009-11-03 22:49:23 Guida's Honeoye Falls has been our favorite place to order pizza these days. So much pizza so little cost. The people behind the counter may change a lot but it still has a good small town feeling. —Skierarc
---
2011-05-27 16:07:42 It smells like hot garbage in there so I lost my appetite.
---
2019-11-02 21:32:59 The pizza and sandwiches are pretty good. The owner is a trip.. Very demanding of his crew and, judging by the hat on one worker, also President of "Guida University". ??? But whatever.. the food is good. —batguano