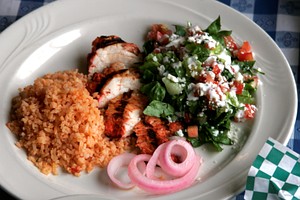 Grilled Pollo in Axiote at Itacate-Penfield
Itacate, also known as El Itacate, is a Mexican restaurant with multiple locations. Locations consists of different level of service. There was a full service restaurant in Penfield.
Itacate Express is a fast-food Mexican restaurant under the same ownership and is located in a gas station in Gates. The one on Jefferson Road closed in the fall of 2019.
A Fast Casual version of "Itacate" is scheduled to open in Chili in Towne Plaza
Itacate originally opened in 2011 as a fast-food establishment within a gas station on Buffalo Road in Chili. This closed in December 2015 but reopened in October 2016 (as "Itacate Express") within another gas station in Gates. A second Express location opened in Henrietta on June 30, 2018.
The full-service Penfield restaurant opened on September 6, 2012 and closed October 9 2018.
Old Photos - Chili
Comments:
Note: You must be logged in to add comments
---
2012-04-24 11:24:52 I highly recommend this place. The owners are truly delightful people. The food is excellent, affordable, and authentic. It reminds me of the "taco truck" experience I've found in other cities which Rochester for some reason lacks. Their vegetarian options are pretty good but not fantastic (chile relleno, rice and beans, burritos, nachos). It's definitely out of the way, but I try to stop whenever I am heading towards buffalo or beyond on 490/90. They accept all kinds of payment. —AnthonyP
---
2012-05-06 13:27:22 The location is quite a trek for us, but the food was worth it. The owners are very friendly and seemed genuinely concerned that customers enjoy their food. The food was prepared fresh for us and was very tasty. We agree that it is very much like street or truck food, and we mean that in a good way. There are only two tables for seating right now, hopefully they can get a few more. —DottieHoffmann
---
2012-07-19 18:54:47 Rumor has it that they are opening a new location in the spot formerly containing.....(gasp)....Los Amigos in Penfield. —alex-c
---
2012-08-30 07:12:25 Hello, just a quick note to confirm Alex C's comment. Itacate will be opening a restaurant in Penfield this September 6th. 1859 Penfield Road. Will be open for lunch and dinner starting at 11:30AM. Phone number is 585 586-8454. —JoseAbarca
---
2012-09-14 18:41:33 Love the new location in Penfield! The service was a bit slow (some of the waitstaff is still in training), but the food was fantastic. They don't appear to have the full menu online yet, but it is more extensive than at the original location. I can see this place being very popular - especially when they get their liquor license and are able to open the bar area downstairs. —20SomethingBudget
---
2012-09-22 20:23:11 From a friend who went to the Penfield location this weekend: I think their food is well-prepared and very fresh-tasting. The lunch menu is somewhat limited, but I don't mean that in a bad way - they have burritos, tacos, salads, soups, and a few other things. A few food notes: their beans and rice have real flavor, they're not just second thoughts; the guacamole is bright-tasting with some crunch from onions; their flan has a nice texture, and the burnt sugar syrup is exactly that, slightly burnt, so the intense and dark flavor is nice with the sweet and creamy custard. The portions will be smaller than people might be used to, but I for one have no issue with that. It's not the same kind of food one might get at more Americanized Mexican restaurants (plus, remember, Mexico is a very large country made up of many regions with varied food styles...), but I think it is tasty, light, and fresh. Their staff is very nice, too, and yesterday the owner was chatting with folks throughout the dining room, and he seems just so happy to be in Penfield. Oh, before I forget, if you like some extra spice like we do, ask for their serrano salsa, which is not only quite spicy but extremely flavorful. —KatieSchmitz
---
2012-10-04 21:04:29 Thank you for your kind comments folks. I just wanted to let you know that the Penfield location is now serving the full menu all day long. We're still working on our liquor license, we anticipate getting it sometime in November or hopefully late October. Will keep you posted. —JoseAbarca
---
2012-10-08 19:40:18 We went to the Penfield location for the first time this past Friday evening. Although the fairly short menu is comprised of Mexican "standards" we found them to be more flavorful than other local Mexican restaurants and nicely presented on the plate. The salsa that came with the chips to start was especially noteworthy - thick, flavorful, and with a moderate spice. The beans that came on the side were also very flavorful and left mostly whole - instead of the "baby food" texture you get most places. I was served a wrong sauce on my dish but upon bringing it to the server's attention it was promptly corrected with many apologies and a comp bowl of tortilla soup to eat while the entree was remade. One pet peeve is that the white tablecloth on our table was not changed between customers, despite several obvious tomato-based spots present when we were seated. Despite the small issues the food quality makes this our new favorite Mex restaurant in Rochester. —jgerek
---
2013-02-06 10:53:15 I just wanted to share with you that we got our liquor license in our penfield location. Thank you all for your support! —JoseAbarca
---
2013-02-09 22:35:44 We love love love this place! We recently discovered the Penfield location and have been back almost weekly. The food is fresh, authentic, delicious, and suprisingly affordable! Not greasy and heavy like so many Mexican restaurants around here can be. My children (3 and 5 yrs) love it too, nothing is too spicy unless you want it to be. Highly recommended. I hope they stay! —JLO27
---
2013-07-19 15:07:45 Since I moved to Rochester in 2010, I have been looking for a restaurant with excellent Mexican food. Today for lunch, impressed by the sparkling comments here about Itacate, I ventured out to Penfield. Thanks, RocWiki. I have found the place I was looking for. This is certainly the finest Mexican food I have had in Rochester. It may be the best I've ever had anywhere. I will be back. —AaronBPryor
---
2015-03-08 00:05:44 thanx paco, from jeanette, carmen, and yvonne
---
2015-03-08 00:06:43 thanx paco, from jeanette, carmen, and yvonne
---
2015-12-18 13:40:35 We live nearby and finally got around to trying this place. We had a great meal, and almost felt guilty when we got the bill - I don't know why the prices are so low for food this good, but I'm not going to complain. —MattDana
---
2017-03-05 13:29:54 We ate here last night at the Penfield location and had a meal to die for. My pescatarian companion and I split the ceviche appetizer (delicious!), the red snapper entree, and a cheese chile relleno. All were excellent, and the salsa that comes with the chips also was delicious, a richly layered and smoky recipe. The chips were good, too, as were the margaritas. Delighted to find this place and really think it's the best Mexican food in Rochester (better than Salena's). —KatieSchmitz