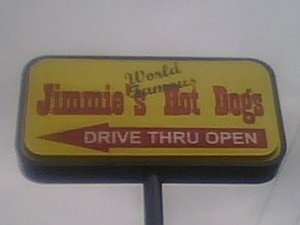 The drive-thru is open at Jimmie's.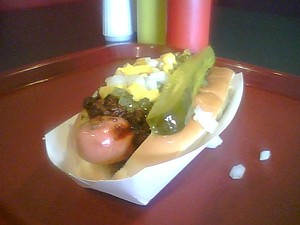 A red hot with hot sauce, onions, relish, mustard, and a dill pickle.
Former Location
2700 W Ridge Rd, Greece NY, 14626
Status
CLOSED (as of 2010)
Jimmie's World Famous Hot Dogs served charcoal-grilled hots on West Ridge Road in Greece. You could get red hots, white hots, foot-longs, chili-cheese dogs, and even a burger dog (a hamburger patty shaped to fill a hot dog bun). Jimmie's also had its version of a garbage plate on the menu.

Replaced by Los Gallos.
Comments:
Note: You must be logged in to add comments
---
2008-08-03 18:00:14 Finally - a place that serves Buffalo-style hot dogs (think
Ted's) in Rochester. Two big differences -
Zweigle's hot dogs instead of
Sahlen's and a meaty, Tahou's style hot sauce instead of Ted's spicy ketchupy concoction. I'm not sure that it's "world famous" (since a Google search turns up nothing), but it's a very good take on the dog perfected by our neighbors down the Thruway. Now I don't have to spend all day in the car to get my fix. —ZachSmalt
---
2010-12-28 14:33:18 i believe this place is gone and is becoming a Mexican place...