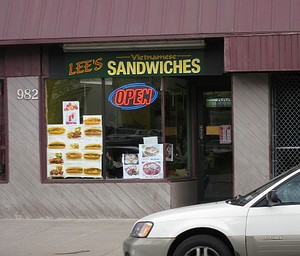 Lee's on Monroe Ave, 5-2011
It opened on February 23, 2011.
**It closed in November 2011 due to the owner needing heart surgery. Store has since been dismantled, and is for rent, as of 1/12/2012**
Comments:
Note: You must be logged in to add comments
---
2011-03-15 21:14:53 I don't have anything to compare with but the Banh Mi we had yesterday was delicious. People were very nice and friendly also. —DottieHoffmann
---
2011-03-18 17:41:09 I also don't have anything to compare with, as I've always shied away from the thought of eating "mystery meat" typically associated with banh mi, no matter how delicious it was. At this place, the Banh Mi sandwiches on the menu clearly state what meat they use, so I gave it a try. Needless to say, I've been back 3 times and consider myself a fan! —TippingPoint
---
2011-03-19 16:41:09 Gave it a try for lunch the other day. Staff was helpful at explaining what was popular. I found the Banh Mi very tasty. The cucumber and cilantro make the sandwich refreshing. They are very inexpensive when compared to American sub places. —ScottHendler
---
2011-03-20 02:08:01 I was here last week and found the grilled beef banh mi delicious. First, they warm up crusty French style bread in the toaster. Then they spread a little mayo and stuff with meat of choice (vegetarian option was listed), cilantro, crunchy Asian style pickled vegetables and hot peppers (by request only.) The price is reasonable (around $3.50) but I think the amount of meat in the sub may be unsatisfying if your usual sub shop is along the lines of DiBella's. Personally, I found the balance of vegetables vs meat perfect. The person taking my order was friendly and helpful. The people making the sandwiches (the owners, I believe) were also amiable. They also have other options like rice/noodle plates with various grilled meats and spring rolls. They have a variety of fruit based milk shakes - their durian milk shake is amazing. The place is primarily meant for take out but there are 2 tables with a few chairs for a quick bite. They only accept cash. I will be back very very soon! —OneLove
---
2011-03-22 23:32:31 Great Banh Mi, and in my neighborhood. I couldn't be more happy. This place rocks. The two I have had so far, #1, and #6 were both very delicious. I asked for extra spicy and they happily obliged. Great spot. —WindyPig
---
2011-03-30 00:42:44 Great sandwich. Vegetarian friendly. Great spring roll. Friendly. —RxScabin
---
2011-03-30 13:06:37 These sandwiches are amazing. We have been to Vietnam and could not find Bahn Mi's like we had over there. The banh mi thit nuong was amazing, great bread, great pork, great veggies and a bargain at only $3.50. I would recommend for anyone looking for a great sandwich. —goldengirl217
---
2011-04-06 10:42:38 Yum. —AdrianMartin
---
2011-04-19 11:07:01 Delicious food and friendly service at incredibly affordable prices = What Rochester needs. Please support this business! Yum!
---
2011-06-07 18:33:57 Not bad, I usually like my bahn mi with more pate, fish sauce and veggies. However, I tried their pho (special of the day) and it wasn't too shabby, nothing too exciting but better than what i've had so far in Rochester. —jberna
---
2011-06-18 13:04:11 Blew my mind. I went with a buddy expecting a quick, no frills lunch. I think the part I enjoyed the most was the irony of it all; subway is next door with it's "recession buster" $5 footlong deal, when for $3.50 you get this amazing, tasty, fresh sandwich. The bread alone is worth a trip out of your way, not even to mention the rest. —DaveMilitello
---
2011-06-19 20:31:27 Dave's comment probably belongs to https://rocwiki.org/Whatta-Banh_Mi_Vietnamese_Sandwich_Cafe because they are next to a subway. Lee's sandwiches are just as tasty, though. —ThomasPawlik

---
2011-07-25 19:00:24 *** Oh man...Lee's will rue the day I walked in because I'm gonna tell it like it is. First I've been all over Asia eating the best stuff and I really do know what I am talking about. Vietnamese, Thai and Cantonese are some of my favorites so I have to make sure I do this review justice. I ordered the following — Specialty Banh Mi, Grilled Beef Banh Mi with Pate, Grilled Beef & Rice and the Grilled Chicken Sticky Rice combo.
First... The Specialty Banh Mi. I don't know whats special about it... the horrible bread to meat ratio, the fact that it's all lunch meat, the fact that instead of Pate they use.... MAYO???
There is no mayo in sandwiches in vietnam people... The Grilled Beef Banh Mi was flavorless lunch meat... and they forgot my Pate..Grilled Beef and Rice looked like steak in the photos but it was again... LUNCH MEAT... the Grilled Chicken and Sticky Rice (and I love Grilled Chicken/Sticky Rice) was actually uncooked rice and shredded boiled chicken breast...
Drive another 1 Minute down Monroe Ave and eat at Whatta-Banh Mi Vietnamese Sandwich Cafe
You'll spend a whole .75 cents more on the sandwich and not end up being very angry. —wahili

---
2011-11-16 19:58:31 I have had mayo in banh mi in other places besides Lee's. —RxScabin
---
2012-01-12 13:06:03 Went by today, and the sign was gone, the equipment was moved out, and a "For Rent" sign was in the window. —Alex-C
---
2012-02-19 13:09:24 Sad to see this place go, it had great, fresh food. —Bammerburn