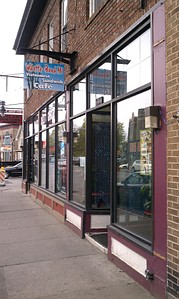 Former Location
673 Monroe Ave, Rochester, NY 14607
Status
Closed
On November 20, 2013 they announced that they were moving to a new location at 309 University. They changed their name to Whatta-Cuisine Vietnamese Restaurant.
Comments:
Note: You must be logged in to add comments
---
2011-04-07 13:05:19 Tried to go here for lunch today. It took 10 minutes to order and they seemed confused by our order even though it was 4 of the same sandwich. After 20 minutes of waiting and barely any food being served, they informed us they were out of the pork we ordered. They wanted to give us beef but we asked for our money back and went down the street to Lee's. They also were out of other items that customers in front of us had asked for. I would recommend Lee's over this place, especially considering we ended up not even being able to eat here! —goldengirl217
---
2011-04-07 13:39:25 The Banh Mi, when we eventually got them, were quite good, but they need to get their act together. The order took too long, and they messed up our order.
They seemed to be trying to get it together, and I hope they figure it out soon, considering they have competition nearby. —EmRosario

---
2011-04-09 14:29:52 Grabbed lunch here today, had a bit of a wait to order, but that was partly my fault for not knowing where to go to order. An "Order Here" sign of some sort definitely would be nice for new customers. They were busy with a large take-out order, but I wasn't waiting for my banh mi for more than a few minutes.
As for the banh mi itself, I got the "Signature Combination" and it was quite delicious. I'm not quite sure what all the meats on it were, but I'll enjoy pretty much anything that's got fresh cilantro and jalapenos on top. I'll definitely be going back to check out some of the other sandwiches, and hopefully they'll get some of the kinks ironed out so it's a smoother experience when I do. —JoshGruenberg

---
2011-04-10 14:00:13 Stopped in here a couple days ago. Service was a little slow and unorganized, but they are brand new so they get a pass on that, they'll improve I am sure. We tried their signature traditional Bahn-Mi sandwiches, and while they were good, we like the ones at Lee's down the street better. Not certain who's are the more accurate to the real thing. —DottieHoffmann
---
2011-04-22 13:05:26 I've been in there twice in the past week. No complaints at all about the service, though the place wasn't busy both times. I found the owner to be friendly and warm. It's clear they're working hard and trying to deliver a great product. As for the banh mi, I had the signature combination twice. I've had banh mi in NYC and San Francisco, and Whatta Banh Mi was as good as anything I've had (I've tried Lee's down the street and found their bread to be weak and the fillings were stingy, though tasty). The flavors, texture, bread, everything was fantastic. I would go there again in a heartbeat (certainly will) and would give the place a heaping recommendation. I guess some other posters found fault with the service, but I think whatever the kinks are, they're well worth putting up with for a delicious $3.75 cultural experience. And next door to a Subway! —jonitkin
---
2011-04-23 12:36:54 Do they have a vegetarian Banh-Mi? —RxScabin
---
2011-05-13 14:04:25 The menu answered my question. —RxScabin
---
2011-05-25 11:27:31 I decided to try them again, and I must say their service has improved a lot. And their products are still delicious and not expensive. Glad to see the place getting more popular too —EmRosario
---
2011-05-25 19:42:39 The sandwiches and spring rolls are absolutely delicious. —ThomasPawlik
---
2011-06-07 18:35:40 Spring rolls were awesome. The sandwiches weren't the best though. It tasted like they put balsamic vinegar on the bread, which wasn't bad but I prefer fish sauce and more pate. —jberna
---
2011-07-24 00:03:15 Great place! My first time here and the sandwich was great, came out fast, and the owner was very friendly. Hope they stay. —VinceC
---
2011-07-25 19:11:06 I've been all over the US and Asia and i love eating whenever I go anywhere especially Asian food so I'm comparing with all over including Seattle which has the highest Banh Mi Cafe saturation in the country.
First of all to all the people in here who are complaining about getting your sandwich in 10 minutes instead of 5 minutes... go eat the garbage next door at Subway. Also some people are saying they are disorganized. Not true the many times I have been there.
To people who actually want a quality Banh Mi Vietnamese Sandwich, definitely eat here and NOT at Lee's Vietnamese Sandwiches down the road because Lee's serve fake cheap versions of everything. Read my review there for details Lee's Vietnamese Sandwiches where I ate once only to compare.
The Banh Mi sandwiches here compares to high quality ones in any major city.
They make their meats fresh and like they are supposed to be with real Pâté. Order Pâté with the Grilled Beef or Grilled Chicken Bahn Mi for a real meaty taste sensation. The pickled parts are pickled just right with just the amount of sweetness, the bread is not too thick, just thick enough, big juicy, nicely seasoned portions of meat and very friendly husband/wife team.
You should support this place because they don't come around in Rochester too often so try to keep them around.
And Yes... Lee's is .75 cheaper and believe me its not worth it to your stomach or your palette... get a 99 cheeseburger then.
ALSO, it's probably the only place to get a decent BUBBLE TEA these days and they are every bit as good as KC & Noodles used to be. —wahili

---
2011-11-21 15:13:08 This is a review I originally posted on Yelp:
I've been back (with Lee's closed, what are my choices?), and I have to admit it's better than it was. They STILL seem to be dead-set against the idea of opening even 1 second before noon, so I guess I'll just have to go without any banh-mi's during the weekdays, and they still take too long preparing the sandwiches.
I tried one of their meatball sandwiches, and it had some sort of sweet almost bbq sauce that I thought was pretty bad. Luckily, other sandwiches are more traditional (chicken and beef I've tried), and their spring rolls are superb (MUCH better than the rolls served at Lee's), so I guess I'm more or less happy. Now, if he could only open up at 11 or 11:30 to get ready for people who are on a schedule, he'll probably do well.

---
2011-11-22 13:01:29 Tried here again after they were out of pork the first time we tried. Sandwiches were very good and so were the shrimp spring rolls and chicken skewer. Service is still very slow. Took us over 20 minutes to get 4 sandwiches even with no one in front of us. Also, the rolls are buttered which I don't love but the rolls were still great and so was the meat and all the toppings. Definitely a great bargain and a great sandwich. —goldengirl217
---
2011-12-07 21:41:50 I would have to concede that this place is still getting the business side figured out: the hours aren't great (what do you do with a Sunday morning hangover?!) and I think they're still learning to work at full-speed. Who's in a hurry with pho anyway? It's interactive slow-food. No rush.
More importantly though, this is easily the best pho and banh mi I've had in Rochester, and maybe anywhere else. The pho: a generous portion of in-house, from-scratch stock without any MSG, far less salt thank elsewhere and much more of the aromatic ginger/cinnamon/clove/anise flavor than anywhere else. The beef toppings are also of much higher quality cuts than elsewhere, and the tendon (essential) is really nice. The banh mi are also made with house-made meats (the excellent pate in particular) and baguettes that are shattering eggshell crisp on the outside and chewy inside with fresh-tasting pickled veggies, not sweetened or overpowered with vinegar.
I've had many many meals at Pho Doung Dong and I love all the hoodie hidden-treasure charm of it. And I've been to SEA enough times to know it'll do in a pinch if abolutely necessary. However, this place has really got the food nailed down. I should also add that it's an open kitchen: any place that is willing to let you watch them make your food is at least guaranteed to be trustworthy and clean, if nothing else. —Bonk

---
2012-04-13 10:08:25 Rocwiki etiquette be damned. I have to put it out here. I love Whatta Banh Mi desperately. As for Lee's supposedly superior sandwiches, THEY'RE GONE!
Love Jimbo and Molly —JamesDean (Note: This comment was edited by the RocWiki team to omit a particularly colorful metaphor. The original version may be found here.)

---
2012-04-20 21:50:58 Went here for the first time today after hearing so many of my friends rave about it. Sandwich was great but the bubble smoothie was to die for! Yes, the service was a bit slow but I think that clearly indicates concern for the quality of their food. If you want fast food, you can get crap from the minimum wage employees at the Subway next door. —EileenF
---
2012-05-12 00:54:50 Went back to give the place another chance and had their Pho and OMG it was amazing! Very fragrant and flavorful, doesn't try to pander to american tastes! Easily the best Pho in Rochester and some of the best i've had in a very, very long time. Trust me, most of my posts about Rochester restaurants are not so nice, and I wasn't crazy about their sandwiches the first time, but man that meal was a game changer! —jberna
---
2012-05-15 23:20:36 had the "classic" (or whatever the name was.) overall quite good- bread was awesome, a just-right amount of chilis and cilantro. it felt a little overly rich though, next time i'll ask for extra pickled veg on it. i like that they have several varieties- i definitely want to try more of them. service was maybe a little slow? or maybe i was just hungry and impatient, hard to tell. the staff is really nice though, they made a little bit of small talk with us from behind the counter (it's a small space) and when they noticed we got our banh mi to eat there and hadn't ordered anything to drink, they brought us cups of ice water without us asking. i'll definitely be back, and if it's chilly out, you can bet i'm testing the pho ;) —portia356
---
2012-09-14 16:27:26 Went there today for one of his famous sandwiches, showed up at noon, and he was closed. At NOON on a FRIDAY. Seriously. Frankly, I hope that somebody more reliable opens up another half-way decent banh mi shop nearby, 'cause this guy just doesn't want to work some days. —alex-c
---
2013-03-09 17:37:12 The Vietnamese coffee is EXCELLENT. —EileenF
---
2013-07-22 21:49:05 Is this place closed? I am driving by there hungry all the time and it is always dark. —thomaspawlik
---
2013-07-23 13:17:54 It's not closed. I was in there 7/20 in the afternoon. But the hours are very irregular and I have been frustrated by that many times. It's a shame because the food blows my mind. —Rufus
---
2013-10-23 14:03:34 I've eaten here twice in the last month during lunch hours. I had the curried beef Bahn-Mi and thought it was so-so. I'll have to try some of their others. Also had their beef special pho and it was good, but again, not phenomenal. The quality/freshness of the incredients matched the other popular soup joints in town and the noodles were actually overcooked, which now that I've experienced this unpleasant mistake, I find myself surprised that it's not more common. My guess is that it's easy to get them right, and that's why you so rarely get them wrong. Big strike against this place for me. —ErikReinert
---
2013-11-14 08:15:40 I've heard they are closing this weekend and moving to 309 University and hope to reopen 12/16. —Rufus