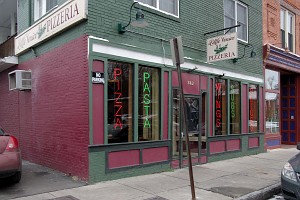 Little Venice on South Ave, 12-2010
Little Venice Pizza is a small pizza shop in the South Wedge. They are one of the few shops that will deliver to the PLEX neighborhood.
At the beginning of June 2006, they moved from 697 South Avenue (where they were located for 21 years) to 742 South Ave., former home to Skippy's Veg-Out. Owners are brothers Jeff and Dave Freedman.
Comments:
Note: You must be logged in to add comments
See Archive Page for comments prior to 2008.
---
2008-06-16 19:39:13 This is by far the very best pizza and wings in all of Rochester!!! —brettstevenson
---
2008-06-26 17:11:14 This is hands down the best pizza I have ever had. Wings are excellent. If you're going someplace else you're making a mistake. —KyleKiser
---
2008-09-10 16:32:40 Tried this last night and it was very good. Sauce didnt have much flavor, but my friend said that may have been an off night, from his prior experiences. Crust was thin but still a little doughy. Good stuff. —MrRochester
---
2008-10-28 10:08:18 Probably one of he best pizza joints in Rochester in my opinion. The chicken and veal parm dinners are also outstanding. However, the wings I had were small without much flavor which was dissapointing. —MetalFrost
---
2009-03-18 20:38:13 They do have by far the best pizza in town and in general their service is quick and good. But...after years of ordering from them we finally got fed up with the owner's crummy customer service attitude and gave up. —RachaelT
---
2009-04-07 19:08:05 I've only had the slices here and they have been average to above-average for my tastes. The food is good but not memorable, just convenient. —BatGuano
---
2009-08-03 14:38:03 This needs to be said. I think that the food is pretty great at this pizza shop. However, Be Aware... moody/angry/rude employee's within! In the last year, every time I have tried to order food I am treated like I shouldn't be bothering them. It does not happen EVERY time I order... but four out of the last five times. I'm done with these people. And its a shame, 'cause they do have good food. —JaneFitzgerald
---
2009-10-26 19:42:57 best calzones in rochester. —NipsyRussell
---
2009-12-04 14:37:25 When I came from Brooklyn to Rochester I was happy to find this place. But lately it seems they have a different crust they use in their pizza. And it is not as good. It almost seems like it's a frozen crust. So sad... —AddieinROC
---
2010-02-09 17:59:39 Solid pizza, from slices to pies. Pretty decent wings/dinner as well. This is my first choice in pizza in rochester. —mbetush
---
2010-02-20 17:29:03 Trash Plate sub is well worth the $7! —RichFlaherty
---
2010-06-15 20:20:30 I love this place! Seriously the best pizza in Rochester. We've always found the employees to be friendly and received great customer service. —BrittV
---
2010-12-27 23:19:25 Consistently excellent pizza, very good hot subs. Convenient hours. Personable owners and workers, once you're there regularly. Definitely an asset to the Wedge and likely a better (the best?) pizza available in the city. —LincolnDeCoursey
---
2011-01-02 21:44:33 pizza is okay, but nothing special. The sauce is the best part, but their cheese is standard tasteless mozzerella and the crust is also average in flavor and texture aka not enough chewiness. People should stop claiming that every pizza place is the "best", it doesn't help anyone make informed decisions. —jberna
---
2011-12-27 10:32:39 Was a student at UR from 95-99. The best sweet and sour wings I ever had! Used to order every weekend! —Farhad
---
2013-09-16 13:23:29 Great pizza, but I live in the PLEX neighborhood and have repeatedly been told that they do NOT deliver here. Depending on who is answering the phone or who is delivering, I can sometimes convince them to do so anyway. —dancencounters
---
2014-03-01 00:52:58 I've been ordering from Little Venice for the last few years now and frequently enough where the voice on the other end of the phone knows me and my regular order from my voice. I've never had a problem until tonight. Keep in mind that as of this moment, it is about five degrees outside.
While on another call, I saw that the delivery guy was calling me after I had ordered a pizza about 45 minutes prior. I got up, went down to my front door, opened it, and no one was there. I go back inside. I get another call about five minutes later. Still on the phone, I go back to my front door and open it. Again, no one is there. I go back inside again. Finally, my call ends so I call the delivery guy back. He says he was in my driveway honking (I didn't hear it), left when I didn't come down, and that he's on another delivery and will stop back. Twenty minutes later, my phone starts ringing. I go down to the front door. No one is there. I call the delivery guy back several times. No one picks up. Annoyed, I call the shop itself and ask for a manager. The manager comes on telling me that the problem is me, that I wasn't opening my door, yelling at me when I corrected him, then hanging up on me.
At this point, I'm no longer paying for my pizza and I'm never ordering from this place again. However, I call the shop back and tell the girl that answered the phone who I am, what I've experienced, that there's no way I'm paying for my pizza, and I'm never ordering from them again so they don't bother delivering it. Her response is "oh, we already ate your pizza. It was good." and she hangs up.
I won't deny that Little Venice's pizza is okay, but this level of service is beyond piss poor. How a company treats its customers is far more important to me than the quality of its product. I recommend both Mr. Shoes or Napa Wood Fired Pizzeria as alternatives. —ChrisOlin

---
2016-10-12 16:14:48 I really really really like their pizza. I agree that their customer service is poor, though. The delivery guy we get always seems angry. —DE