Clinton Avenue Location, August 2011
Deck area on Clinton Ave, August 2011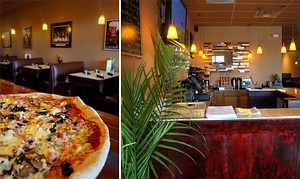 Pizza and the bar area, May 2008
Former Locations
687 Moseley Road, Perinton, NY, 14450
573 Clinton Ave. South, Rochester, NY, 14620
Status (as of August 2022)
Closed
Awards
Voted "Best Pizza" in City Newspaper's 'Best of Rochester' Awards in 2015.1


Voted "Best Specialty Pizza" in City Newspaper 'Best of Rochester' Awards in 2012.
Comments:
Note: You must be logged in to add comments
---
Comments prior to 2010 have been moved to an Archive Page due to new ownership taking over.
---
2009-12-05 21:22:31 FYI as of November 2009 the restaurant was sold and has new management. —PeteB
---
2010-03-21 18:40:26 We went there last night for a later dinner. We were told that there was a 30 minute wait, so we chose to sit at the bar to eat - which turned out not to be necessary since a few tables opened up within minutes after we sat. Food was good - I got the pizza on special which was a Reuben pizza, and my husband got the Southwestern Chicken Wrappini (which was basically a flatted calzone put in a panini press). His meal came with a soup or salad option, and we chose the Tomato Basil soup, which was very good. We both enjoyed our meals. The service was a little slow, and the bar waitress didn't have all the information we wanted (i.e. specials, drinks), but she was quick to get the information. Overall, a good experience and we would go back again! —AngelaCarpenter
---
2010-04-02 16:04:36 The ownership has completely destroyed what Brandon the orginal owner work hard to create. I was in on March 26th for lunch the first and last time under the new ownership. They change both house signature soups that I have enjoyed for the past 5 years. The sweet tomato basil is now tomato basil which tastes like warmed up pizza sauce. The butternut squash apple bisque was not on the menu and I was pissed. The two girls working were so slow struggleing to put out 5 tables it was a sight to see. I remember the days of Brandon working a friday by him self putting up order like nothing. I also noticed they had a cheese plate on their menu and my friend and I laughed and said this is fine dinning and how they probably used processed cheese. Another thing was the wine pairings which are ubserd I didnt see a somlier listed on there menu. The new ownership should realize you are selling pizza's not $80 steaks. To the new ownership you should be ashamed of yourselves and not change things that worked for five years. I encourage people to remember the only similarity is the name not the food —Stevestevenson
---
2010-06-02 12:42:47 We like the food here, but had one bad experience with a waitress in particular. She knew another couple at a different table and was talking to them profusely about her college plans. She was slow getting over for our drink order, and then 30 minutes later finally noticed me glaring at her socializing a few tables down. Two of the waitresses behind the bar were audibly commenting on the situation the entire time, but did not intercede for that 30 minutes. By the time she gave us her attention, I was perturbed. She also neglected to ever return with water refills, still socializing two tables down. I am hoping that young lady went off to college and is no longer there-as I love the food and I would like to try it again. —LisaRuns
---
2010-06-03 13:45:13 Just returned from Napa Restaurant and had an awful experience! I entered the restaurant and was told I could place a to-go order from the "bar". The waitress (only one on staff) took care of 3 other tables before she came back to me. I ordered the "lunch special" which is a pizza and salad (I substituted a caesar for the regular side salad. I then waited 20 minutes before my salad was brought out at which point she left me standing there with my credit card and said the pizza wasn't ready yet. When the entire order was ready (28 minutes later), I was charged 16.20. When I told her there must be an error as I only ordered one lunch special, she said she misunderstood and thought I was ordering a lunch special and a caesar salad. I told her that was a mistake and could she please void the order as I was now 35 invested in the ordeal and it was all wrong and I was charged double. I was told the order could not be voided and left standing there. All around experience was negative from start to finish and I would not only not recommend it, I would strongly suggest against it. I will be going back to address it with the "new owner" when it's not so busy - very poor customer service and food was sub-par! —annsmith
---
2010-06-04 12:52:20 Service was very SLOW.... a snails pace! I asked for parm. cheese for my pizza ( which was very tasty) it arrived about 25 min later, after our waitress was MIA. They were not at all busy, they were chit -chatting and flirting with one another in the bar and kitchen. Pizza was good, but not sure if it warrants a repeat trip. —Greta

---
2010-08-09 14:18:20 Been there once, tried the Alexander pizza and it was fantastic. Probably one of the best gourmet pizza's I've ever had. The decor inside is great and the waiter, although he was the only one working during lunch, was very prompt and likable. We'll definitely be back. —RichFlaherty
---
2010-08-27 21:22:14 Just got back from the Clinton location, first time being there. Not much parking but that's to be expected in that location. The building is nicely done, big outside seating area but needs more tables and chairs, inside is nicely appointed with a very nice bar but they must still be waiting on a liquor license. Other than our waitress neglecting to tell us what they were out of until we ordered it, the service was good. The food was disappointing. Ordered the big gnocchi app. They were very doughy, the accompanying sauce was good (cream based with peas and prosciutto) but there were candied walnuts that didn't make any sense with the dish. The pizzas, ugh, ordered the fresca- white pizza with tomatoes and fresh mozz and the tasty, a red pizza with pepperoni, onions and mushrooms. Both were completely underdone, floppy and without any sign of being fired in a wood oven. I know they were but the temp had to too low. The red sauce was good, the white pizza was flavorless. Oh and the pepperoni were those sad little circles that you remember from school pizzas. There is a charcuterie plate on the menu so i naively hoped that meant they made their own pepperoni but no such luck. I get the sense this place is relatively new, I will likely try one more time in a few months to see if they learned the temps of their oven. —karlos
---
2010-10-09 20:42:39 I have been to the South Wedge location numerous times for lunch. Each time I have tried something different; Pizza, Wrapini, Salad, and Fire Roasted Chicken Wings. I have never been disappointed. The interior is very nicely decorated. Outside seating is nice except when they are getting a wood delivery. —ScottHendler
---
2010-10-18 09:21:48 Pizza I ordered this Sat. was awful - they used a prebaked shell and the toppings were barely warm. We also ordered 'chicken fritters' which tasted heavily salted and processed, like soggy, oily McNuggets. It's a shame because this is a cute restaurant in a good location. The presentation was nice and the staff was great but the food was awful. —Greeney
---
2010-10-25 19:44:02 My sister took my wife and I here a couple of weeks back and my reaction is mixed.
First, upon entering, I was impressed with the interior. Second, upon viewing the menu, I was surprised by the prices being on the higher end of the spectrum for a pizza place.
Still, all the choices sounded great and I wasn't paying the bill so I felt free to indulge a little bit. We started with the meat and cheese plate. What was brought out was meat and cheese, for certain, but it appeared to be straight out of the cold cut section at Weggies. Taste-wise, the meats and cheeses fulfilled my drastically lowered expectations. It's meat. It's cheese. Luckily, I had a beer to wash it all down and we were able to keep our conversation away from the plate.
Next up was my pizza: The Tasty. It's a simple pizza consisting of sausage, pepperoni, mushrooms, onions and cheese. If they could nail this simple pizza, I would forgive the appetizer. The pizza did not completely deliver. The dough came across as undercooked and the way the toppings were arranged left me hunched over the plate as all the toppings and cheese slid off the dough with each bite (requiring me to re-top my pizza frequently). Once I was able to sloppily recreate another bite, I was satisfied with the flavors.
I would go here again but my expectations will be lower. —BatGuano

---
2010-11-27 17:44:52 I've been to the South Wedge location twice and have been very impressed both times. I've tried a total of four pizzas—the Parma, Santa Fe, Sfincione, and Medusa. Ingredients seem really fresh, and the pizzas are very creative and have been consistently delicious. My favorite pizzas so far have included figs (Parma and Medusa), which cut the saltier toppings like cheese and proscuitto with a bit of sweetness. I like the thinner crust and find it pleasantly crunchy, though it's really the topping combinations that make the pizzas really exciting. The atmosphere is very warm and welcoming, and the space feels intimate and cozy. It hasn't been very crowded when I've been there, but both visits were during weekend lunch and it seems like dinner might be busier. I hope the place does well, because it would be a shame to lose a solid restaurant, and a top-notch pizza place (both of which Rochester desperately need more of!). The staff has also been friendly and attentive both times. —AliMcGhee
---
2010-12-04 14:08:41 Went here last week for dinner. Great atmosphere and delicious food. The only concern I have is that of the four people in our party, everyone was universally disgusted by the cucumber-water. But, we all had other beverages (alcoholic) to suppress that. —mbetush
---
2011-02-27 18:31:12 What a disappointment. My husband and I went have a lunch-time only restaurants.com certificate and went there today to try out their Sunday Brunch. We arrived at 12:30 which is well after their supposed 12noon opening time. The place was CLOSED with no explanation for why they were closed or sign of them being on vacation. I will say that the only reason we'll return is because we have that gift certificate... and when we finally decide to try again, we'll make sure we call ahead to see if they are indeed open like their hours state. —Acarp
---
2011-04-06 00:15:04 I was at the S. Clinton location recently with some friends. I was using a TeamPass (similar to Groupon) and had no issues with them accepting it. They were out of a lot of menu items - this may be because we went on a Monday night. We ordered the house salad (greens were a little wilted but I appreciated the light dressing), BBQ Chicken Pizza and Greko Pizza. The pizzas tasted good but the crust was a little too floppy for my taste. The 2 12 inch pizzas were sufficient for 3 people with average appetites. I also had the mango Italian soda - it was refreshing. The server was helpful and efficient. Given the size and layout of the space, I can imagine it will be very loud if crowded. I will go back in the summer to check out the outdoor seating. —OneLove
---
2011-08-03 23:05:01 Really disappointing. I had high hopes, being a bit of a pizza nerd, but both the food and service were sub-par. I went to the South Clinton location on a Wednesday night with three others. We were seated at about 8. I don't think we saw our server until 8:30. No water or drinks that whole time. Our server blamed the delay on the hostess, and then proceeded to be slow and inattentive the rest of the night.
The pizza was ok. I was happy they weren't afraid to get some good char on the crust... but it was still a bit bland and weak, with no crunch or bite to it. For the fanciness level Napa portrays, I really expected better. —BrianBoucheron

---
2011-08-22 06:25:15 Maybe it as because it was a Sunday, but the service was poor. Basically there was no one looking after the front of the house. No one was assigned to greet and seat you. The wait staff there seemed overwhelmed when it was not really crowded. Our wait from ordering to food to check was absurdly long. The food was not all freshly made. Guacamole that topped a salad appeared and tasted commercially made. Even the hard boiled egg seemed something already prepared from a food service. Shrimp as opposed to the usual overdone, rubbery ones, here were too far in the other direction, underdone. The pizza as judged by the crust was OK, but I would avoid the tomato sauced ones. They do better with the white plain base. Again, main thing for me was service. Maybe it was because it was a Sunday, but if you're open, you should be as attentive every day. First time is a last time here. —LikesFood
---
2011-09-02 19:07:56 I have been a fan of Napa since the original opened in Victor a few years back. Was it 2005 or 2006? It was good! I followed to Perinton Hills Mall when the "second" location opened, and it was always good. I was disappointed when ownership changed, but still visited as it was "good" and location was convenient to meet friends. As luck would have it, I visited this week on Wednesday, and again on Thursday (yesterday, 9/1/11). On Wednesday, the pizza was just okay. My daughter thought her pizza was a little "too charred" and the appetizer the server suggested "Napadilla" was OLD! It was dry, cold and obviously left over so she was told to "suggest". It was bad. And I am n ot a complainer. Yesterday, as luck would have it, my friend and I arranged to meet there for a dinner. Her fave for years, the Alexander Pizza was definitely burned, and I ordered a salad.. of greens and chicken and maple dressing. She had to return her pizza as burned, and when I tasted my salad — which I shared with my friend...it tasted..."musty/moldy/mildew-y" if that is a word to describe a salad. If you have ever purchase a bag of "greens" and opened it and smelled the "old smell" of mildew/mold..you know what I'm talking about. Napa was good at one time. After the last two days I am saying loudly, and publicly that the place needs to get its act together! I don't know if I will return, and I have been a long time fan from the original owner to the new changes. Get a handle on what is going on with your business as it is going down hill! —margaret
---
2011-09-24 14:38:22 We ate at the Clinton Ave. location last night (Friday) in a group of 6 and were very impressed by the food. Early service was spotty - we sat on the patio for some time before glasses and such from the previous party were cleared, water arrived a while after, hostess took our drink orders and these never arrived - but fortunately we were in no hurry. Once our regular server showed up service was OK - drink orders (slightly different) and then dinner orders taken and fulfilled in reasonable time, check dealt with efficiently, etc.
Food was very good. I had the Santa Fe pizza and sampled some of another's Greko; both were delicious. Others were happy with their Genovese (no bacon) and Sfincione (shared), and the guy who ordered the Vesuvio made a point of stopping to compliment the oven staff, remarking that this was the best pizza he'd had in Rochester. Overall a very pleasant experience, although the early service issues could have been a real problem if we'd been constrained for time. —MarkJackson

---
2011-11-21 16:01:54 This is a review I originally posted on Yelp, about the city location:
We had a Rustico pizza with 2 glasses of wine and an appetizer tray for dinner here recently. The pizza was good, with nice crust and very tasty red sauce. Service is likewise very good, and appetizer as well. About the only thing I found annoying was the ambient/house/trance music playing on the speakers. This might be good for a cocktail ounge, but doesn't really go with a pizzeria. Just don't resort to playing "O sole mio" every hour.......

---
2011-12-09 22:27:52 Went to the South Wedge location and loved it! All of the taps were Rohrbachs taps, which was nice. Would love to see some Roc Brewing beers in there, but was happy I wasn't stuck with bud and blue. The pizza was fantastic! I'm a vegan, and the waiter not only didn't flinch when i asked for my pizza without cheese, but actually brought it out that way (you'd be surprised how often that gets screwed up). Loved the crust, thin, crisp but not cracker like, and a little chewy. Toppings and sauce were all fresh and fantastic. Highly recommended! —GeorgeBluth
---
2012-08-13 09:03:59 We went to the South Wedge Location this past Friday evening. The Rustica pizza and generous-sized Warm Mushroom Salad were both excellent. The pizza crust is thin, crispy, and tastes a little bit smokey. The wine selection is good, with a generous pour. Service was prompt and professional. The manager stopped by to check on us while cleaning a nearby table. You certainly can get cheaper pizza in Rochester, but probably not of this quality. Our only complaint was the high noise level in the restaurant made conversation with both the server and my dining partner difficult. —jgerek
---
2012-08-14 14:27:51 Went here for the first time this past weekend (S. Clinton location). The environment was great and the food was not bad. My only comlaint, or maybe constructive criticism, is that I think they put too many different ingredients on all of thier pizzas. I think the "less is more" theory works well with pizza and the more ingredients you try to pile on to make it unique, the more the quality ingredients get lost, or maybe even clash with eachother. Take for example their "Tasty" pizza, which I ordered...if they made it as a white pizza instead of red, with just the carmelized onions and sausage, and maybe some fresh basil, it would be perfection! Instead they covered it in red sauce, masking the delicate flavor of the onions and added mushrooms AND pepperoni! How is any one quality ingredient going to stand out with all that going on? I think if they toned it down and went with simpler, quality ingredients, they could have themselves a knockout place! —NYminute
---
2013-03-29 20:04:48 I had been to the perinton location several years ago. Just went back - portion size is down, prices are up, quality is down - all the signs of a failing restaurant —Cretinx