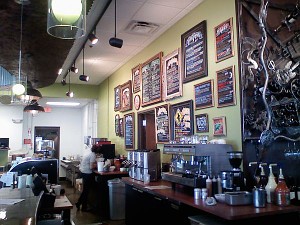 Lovin Cup Bar - photo by darrenKemp
Lovin Cup Wine Rack - photo by darrenKemp
Location
300 Park Point Dr, Suite #101, Rochester, NY 14623
Hours (as of January 2016)
Monday: 11:00AM to 11:00PM
Tuesday/Wednesday: 11:00AM to Midnight
Thursday/Friday/Saturday: 11:00AM to 2:00AM
Sunday: Noon to 10:00PM
Phone
585 292 9940
Wheelchair Accessible
Yes
Alcohol
Yes
Website
http://LovinCup.com
Facebook
Twitter
Reviews
Jessica Spies, Messenger Post
Lovin' Cup is a coffee shop, bar, and music bistro located at Park Point at RIT. It features coffee drinks, soups/salads/sandwiches, beers and wines, and live music many nights.
Lovin' Cup features a constantly changing events schedule. Some recurring events include Tuesday night open mic night, which often features a lot of good local comedians and musicians. Lovin' Cup also is hosting their 5th annual Lovin' Cup Idol competition, which features local Rochester singing talent.
They accept RIT's Tiger Bucks as payment.
Opened in September 2008.
Comments:
Note: You must be logged in to add comments
---
2008-09-28 11:36:17 My Starbucks (like I own it haha) closed for a week for remodeling and we were forced to find a new place to get coffee on the way to work. Enter Lovin' Cup, repeat Lovin' Cup....I like a dark roast and the Canal Town Roaster is very good, they also offer a other blends as well so you're sure to find something to your liking. Now here's the best part, they have all the juices and pastries you find at Starbucks but also offer breakfast as well, and not just any breakfast, but GREAT breakfast. Shawn (sp), the guy who made our breakfast, is so enthusiastic about making breakfast food! Yeah, I know. There are so many choices and lots of alternatives for people with varying palates. There's also an ATM, an area to catch the news, a variety of comfortable seating, WiFi, the Friendliest staff I've come across in ages and all are clearly on board with making it a great experience for the customer. I can't recommend this place enough and I'm sure you'll be hearing more about it in the future. It's nothing short of FANTASTIC! Overall, its a very very positive experience and you will leave there with, as their slogan says, "a beautiful buzz". —DeniseDafoe
---
2009-01-03 17:27:42 I had a much different experience than Denise re: customer service. My husband and I stopped in lovin' cup a few weeks ago. We were the only two customers, although there were three staff members (or perhaps a staff member and two friends) sitting at the bar when we walked in. Not only did the guy behind the counter seem slightly resentful that he had leave his oh-so-engrossing conversation just to make me a latte, he was also very obviously ill, and he coughed right into my drink. Disgusting. I could've asked for another drink... but I didn't want to wait another five minutes for him to make a simple latte. So I walked over to Barnes & Noble, and got a latte there instead.
Maybe I caught the place on an off day; maybe the staff is nicer, faster and healthier in the evenings, when there are more customers around. But I'm not going back in to find out. —LaraC

---
2009-01-04 20:53:30 Ive tried a few sandwiches here for lunch and dinner and really enjoyed them. The place is very funky and eclectic inside. I really like the Paul Knoblauch looking tables. Im guessing he designed them or they are a rip off. They also have a decent beer selection. I dont drink coffee, so I cant comment on that. The mens room has a pic of Frank Zappa on the toilet, lol. —MrRochester
---
2009-02-02 20:59:57 Those tables are conceived and built by the owner's brother. He also did the amazing wine rack visible in the photo that somehow escaped MrRochester's attention. Lovin' Cup's house beer, Rohrbach Kölsch, is my pick for beer of the year 2008. —MarkTichenor
---
2009-05-24 22:47:47 I went there for dinner the other night on advice from a friend so I really wanted to like it. I thought the decor was interesting but the food was not memorable. I had the Turkey Reuben which was OK. My wife had the southwest wrap which was blah. She ordered wine and got a nice large wine glass that was about 1/4 filled. We thought that was a little cheap. As more people started to come in and the band was setting up it became very noisy and we could not hear each other talk. I think we need to go later in the evening for coffee and listen to live music to enjoy what it has to offer. Not a place I plan to return for dinner. The beer towers looked interesting. —ScottHendler
---
2009-10-26 19:56:27 mr. rochester, you're dumb. metal work is no rip off, paul knoblauch is a joke. Good food, Good beer, friendly people. —NipsyRussell
---
2009-11-02 14:15:46 I love going to the Lovin' Cup. I've been there for their monthy wine tastings and beer tastings and always had a great experience. Going this Wednesday again.
I have also been there for some of their live music events and I must say their wine lists and beer lists are nice. Their food is really good, never had anything that I didn't like. My only wish is that they had more food choices... since I go there so often
And no, I am not working for them, I just really like their atmosphere and food, and special events —EmRosario

---
2012-05-26 11:26:13 Lovincup is a great alternative to the many chains in the area. I'm an especially big fan of their salads and beer selection. I also appreciate the staff's knowledge of the products they serve. The live music can be a bit loud for the venue, but it's usually scheduled well after the dinner hour. —TimGuyot
---
2013-01-28 13:31:41 I had a good lunch at LC. I tried to go there for a morning coffee, but despite being a coffee place, they don't open until 11:00. —LawrenceAndrews