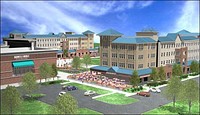 Developer Rendering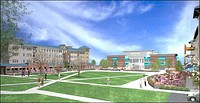 Developer Rendering
Park Point at RIT is a mixed-use apartment and commercial complex built on a 60-acre parcel of land on the northeast corner of the RIT campus at Jefferson Road and John Street.
Developer Wilmorite built a $72.7 million complex consisting of housing and retail space. The 636,000-square-foot development features 300 apartment units (with 918 beds), a 40,000-square-foot Barnes & Noble bookstore and 40,000 square feet of restaurants, pubs and retail shops. The first shops began opening on August 15th, 2008, and the official opening ceremony was held later that year on September 27th.
The complex was a cherished project of past-president RIT President Albert J. Simone. "We're doing this to increase a sense of community on RIT's campus," said Simone. "That way, students can have a place to release their energies after a hard day on campus and still be together with their classmates and see faculty and staff in a social setting."
In the middle of the triangular-shaped project is an area designated as Simone Square in honor of Simone, who retired in June of 2007 after 15 years as president. There will also be a statue erected in his honor.
Commercial space surrounds Simone Square in two four-story buildings. Shopping and retail are on the first floors and housing on the upper levels. Housing at Park Point is not guaranteed to RIT students, but open to the public; this upset some of the student body when it opened. This commercial venture also created some disdain among RIT students, both because of the increase in housing prices and because the Barnes & Noble @ RIT bookstore took the place of the campus bookstore. The campus bookstore previously resided in a central location in the Student Alumni Union, close to the academic side of campus and very convenient.
Current Tenants
Former Tenants
Amenities for Residents
Fitness center


• Sand volleyball courts


• In-ground pool
Notes and References
6/22/2007: Formal groundbreaking. New Name announced as Park Point at RIT
Comments:
Note: You must be logged in to add comments
---
2007-05-02 10:35:05 it's this the same as Rivers Run development? IF so, we should merge the two. I like the images and content on this page. —FarMcKon
---
2007-05-02 10:38:00 I looked at the Rivers Run website, and I'm pretty sure these are two different things (and both very cool!) —RachelBlumenthal
---
2007-05-02 11:30:30 Rivers Run is a separate project, the RIT college town land was sold (not leased) to the builder, so it actually has nothing to do with RIT, despite the name. —TravisOwens
---
2007-05-02 19:16:26 RIT students have to be bored for another 10 years until this is done. Oh well, I guess they're used to it. —RedDress
---
2007-05-02 21:36:32 RIT students can busy themselves with LAN parties, anime, and Vampire LARP until it's finished. —EastSideStephen
---
2007-12-06 18:21:41 Or, I suppose they can just busy themselves by vandalizing this wiki entry :) —NathanHenderson

---
2007-12-07 01:30:59 Hmm, lotsa' vandalism, all along the same lines, from "different" users with different IP addresses. Do you think it was a bunch of different people near each other at different computers (like in a dorm) or one person using proxies? One user even had 2 edits from different IPs even though the edits were 3 minutes apart so I say the latter. —BadFish
---
2009-02-28 21:32:43 a huge eyesore, but then again so is henrietta, sad this development took up so much of RIT's marshland, my friends and I used to wade in it during our time at perkins apartment. O well. —WindyPig
---
2009-04-17 18:01:53 The Barnes and Noble seems to be, from an outsiders perspective, a great choice for this area. I'm sure it will be a nice hangout for the students. I wouldn't visit the restaurants, though.. My guess is that they serve up hyper-cafeteria food for visiting parents and poor college students. But, then again, it's just a guess. Still, any restaurant in close proximity to a college campus probably isn't going to whip up top notch fare. —BatGuano
---
2009-04-17 20:19:37 @BatGuano, the restaurants are just as the name implies— restaurants. They are not part of RIT. Also, who would want to hang out in the Barnes and Noble? Take a look inside, just because it's a big, shiny new building doesn't mean it's a great place for students. —ToniStark
---
2009-08-05 21:30:08 This company is sitting pretty and taking advantage of college students. Read the lease if your thinking about it. Ive had a terrible experience, and it only makes it worse since the land was sold and not leased. They dont have to keep a good rep with the students because it has nothing to do with RIT. its borderline infuriating. —AliviaRuiz
---
2010-03-05 11:43:35 Park Point is a horrible place to live. I agree with AliviaRuiz when she says they are taking advantage of RIT students. They apts are very cheap and things break frequently ie. hot water, lights, heat. They kept an overnight package of mine at the front desk for a week and denied they had it twice. Horrible place DO NOT LIVE HERE! —DudeMeister
---
2010-04-29 11:51:25 Is it just me or is this place a ghost town no matter what time or day it is? —ytbh
---
2010-07-19 14:19:40 Living here now - please don't send your students here. Even if you're not going to RIT, don't live here. It's crazy overpriced - $1550 for a two bedroom - and the amenities are sub-par. You will be unhappy. —heyhowareyou
---
2010-09-30 08:27:55 Last year, the RIT Reporter magazine had a front-page article that talked about how "Park Point failed." It showed how Park Point was, despite the current "green" movement, based around automobile transportation. Everything is designed around accompanying the automobile. In the world of $3-4 gas, is this logical? And with the building materials being that cheap, it's just a disposable housing development, set to be torn down 20-30 years from now?
Also, security at Park Point are seemingly arseholes. One time I was on my way out of Park Point, leaving a friend's apartment. At an intersection, with a stop sign, there was a security truck sitting there. I pulled up behind said truck. Waited... the truck was just sitting there. I tooted my horn, a natural response to this idle activity. Then this woman jumped out of the truck and start YELLING at me for honking at her. I told her I just wanted her to move forward as I had to go. She continued yelling at me, how people should NEVER toot their horns at security personnel. I put an incredulous look on my face and said, "Just... move. Be nice." She then turned around angrily and went back in her truck and took off. Yeah, what? I've heard numerous complaints about them too. —Bammerburn

---
2011-02-15 11:25:07 i know i already commented once about this, but this place in going down fast. It doesn't matter if classes are in session, the weekend, or dinner time, this place is always a ghost town. RIT has failed in Park Pointe. I like Lovin' Cup and Abbott's, but the other restaurants aren't very good and no one is coming. TC Riley's has horrible service, but I think they get somewhat decent business in the evenings. Places like Paradiso Pizza and Wok With You are starving for business. And is it just me or did the architect really screw up the parking lot. It's like a rat maze to get anywhere. Seeing other people's comments about the over-priced apartments tells me that Park Pointe doesn't have much going for it right now other than having Barnes & Nobles there. Perhaps, if they brought in better restaurants such as Chipotle, Five Guys, Starbucks, or Panera this place could do better. I was there at lunchtime last week and was the only person walking around outside. How sad... —ytbh
---
2011-02-25 14:31:58 Horrible management, poor construction of apartments and super expensive —valorfive
---
2012-03-24 19:20:44 I know I commented before, but I didn't want to say anything too risque since I was still living there at the time. But during that time, I had a huge infestation problem. There were flies everywhere, it didn't make any sense. I placed two sticky sheets that were meant to catch flies on the back door, and it caught DOZENS in just a few hours. We found shells, but not their nest. There were also ants! Just everywhere, in the kitchen, in the bedroom. One time, I placed my laptop on the floor of my room before I went to sleep, and the next morning there were ants coming out of my laptop! The carpet felt cheap (so was the furniture) and disgusting, and it's color masked any movements of ants. So I never knew where they were, unless it was the kitchen floor. I definitely saw the ants when they were on the kitchen floor. Lastly, there were mice! Yes, MICE! I didn't actually see them, but there were droppings everywhere! One morning, I left a box of cereal on the counter, I came back just after lunch and the corner of the box had been chewed by them. Gives me the shivers!
Now, in full disclosure, I was a sublet and there was already someone living in the apt when I moved in, so it could very well be caused by former/current tenets and their lack of upkeep...or Park Point is just really that disgusting. This was the summer, and I was on the ground floor, so it may be more isolated for me than for anyone else. Maintenance was really good at responding quickly to the issue. But all he could do was leave me some ant baits and look around for a source. He called in a contractor but they said the droppings were old! Tell that to my cereal box. I ended up having to leave anything of mine in the refrigerator, perishable or not. But the worst part about it was the reaction I was getting from the infestation. I started getting hives all over my face and chest. I cleaned the best I could but it was unbearable. It was a short term stay so I was out soon after, but here is my caution to other folks thinking about living here. —heyhowareyou

---
2016-01-21 12:20:20 Aladdin's, TC Riley's and Abbott's are all no longer open at park point. —abraxas
---
2016-01-21 14:47:37 So is there anything left at this place besides lovin' cup and frozen yogurt? —EileenF