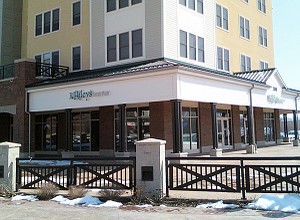 TC Riley's storefront
Former Location
200 Park Point Dr, Rochester, NY 14623
Status
CLOSED (as of 2015)
Comments:
Note: You must be logged in to add comments
---
2008-12-30 18:58:33 Had dinner there last Friday with 7 friends. First off, they had pitchers of Rolling Rock for $4.00.
I had the corned beef sandwich with fries and the sandwich was excellent. Big hunks of beef and very nice rye bread. The fries were the extruded type, so so at best.
Why doesn't anybody server good crinkle cut fries any more? Everybody enjoyed their meals which ranged from soup-of-the-day to salads to a steak but more than one person complained about the fries.
Have you been to Quimbey's on Winton Rd? The fries were like that.
Sorry to dwell on one item. I would strongly recommend TC Rileys. Big selection of beers and good food for reasonable prices. —HenriettaRob

---
2009-01-19 10:56:15 Most Fridays I have gone here the place has been pretty empty, but Friday it was PACKED. One complaint: it was unbearably loud. I was there for an hour and a half, and left with a headache, ringing ears, and a sore throat from having to SHOUT to talk to friends that were standing right next to me. They HAVE to turn the volume down. —ChristopherPiggott
---
2009-01-19 11:05:01 Food was great. I had a cheeseburger slider special, my friends tried the Shepherd's Pie and a burger respectively. We shared an order of hot buffalo wings. Everything was very well prepared for pub fare. Only downside is the beer prices. $6.50 for a pint of Guinness? —NathanHenderson
---
2009-02-08 12:18:26 Went there to have a drink and eat before the RIT hockey game last night. It started off well, with quick, friendly service, a cold beer and hot food delivered promptly. However, my entire experience was ruined due to horrible management and lousy customer service. I ordered a single order of boneless wings, but the bill showed a double order (which is twice the price.) I know I only ordered a single, and the bartender investigated. She said they made a double order and it was her mistake. She then said she talked to her manager and they would do nothing about it. I talked to the manager myself and he said he wouldn't do anything about it, basically it was my tough luck. They admitted their mistake yet I still had to pay an extra $7. Will never go there again. —Petey
---
2009-04-05 10:21:24 Went to TC Riley's for dinner and I have to say that I was not impressed. It was a Friday night and there was a wait, which was fine. We went to wait in the bar area which was so unbearably loud, I almost left. We were told the wait would be 30 minutes. After waiting for over an hour, we were finally seated. And we sat...and sat...and sat...waiting for a server. After 20 minutes of being ignored by everyone that walked by, I finally went and inquired at the hostess station as to why we didn't have a server. The issue was taken care of immediately and our server was very nice and attentive. Food was so-so. I had a chicken wrap which I didn't care for at all, my friend had a pot roast sandwich which he loved. Management comped one of the meals due to waiting 20 minutes with no service. Overall, everyone was very nice, but there seemed to be some kinks that need to be worked out. Food was decent, but nothing to rave about. —dmarie
---
2009-04-26 01:09:58 This place is terrible, they are biased. I went there with my family and they disregarded us the entire time. Steal your money! Not worth any trip. Food was over priced and terrible, not worth the money. Waited a long time for any service, for what? I can get a better deal ANYWHERE ELSE! Ridiculous. Will never go there again, unsatisfied. Poor service. Don't bother. —jaemesh
---
2009-05-03 19:21:59 Substandard service and food. Went for dinner with a friend and both of our dishes were incorrect. Her buffalo chicken wrap had no buffalo sauce and when she pointed it out the waitress said the cook put it in but she could bring out a side of sauce, which was agreed to- and then we were charged for it! My burger was completely wrong (ordered cajun bleu- got bbq sauce and cheddar) and the waitress looked at me like I was crazy when I asked her for the correct burger- and told me that that was what I had ordered and went as far as to pull out the menu to prove it to me (much to her surprise it was, in fact, NOT what I had ordered) It's a shame because it's a nice environment, but I will not be back and neither will my dinner companion. Too many other good places for a burger and a beer. —ShawnaLusk
---
2009-05-20 14:45:38 food and drinks were both really good. didn't wait too long to play pool or darts eventhough there was a more than decent crowd. drinks and prices were great. the mixed clientele was surprising, considering it's at RIT. —Leisel
---
2009-06-23 01:37:11 Terrible food. Got the fish and chips and my friend got the beef stew and both were sub-par. Fish is just frozen fillets dropped in a fryer. You would think an Irish Pub would have decent fish on a Friday. Fries are terrible and overcooked. Friend said the stew was no better than Dinty Moore. Soda does not have free refills (we were in the dining section too, not the bar) and we were not informed of this. Refills were brought out unasked by our waitress. If I knew I would have just gotten water. —MelonPunch
---
2009-08-01 22:32:40 The "Philly Steak" is made from Steak-Ums and their "fish fry" is fish sticks. This place is overpriced for the cheap food that they serve. The waitress tried to tell me that the Irish make things differently, so apparently that's an excuse as to why their food sucks —mel
---
2009-08-01 22:33:31 I forgot to mention that I will definitely not going back there to eat. You couldn't get me drunk enough to eat that "bar food" —mel
---
2009-08-09 19:50:26 Despite peoples comments about the food - you also have to keep in mind it's at an establishment thats primary focus is the 'beverage side of the spectrum.' I have had an overall very positive experience at TC's - the bartenders are the nicest bunch and it's apparent they've all had formal training. My mixed drinks were properly prepared/garnished. There is also an excellent selection of beers on tap. Management is very professional as well.
It's one of those places that as a girl, I totally feel comfortable hanging out with my friends without feeling crushed by drunken idiots, and yes, I'm referring to Soho's and the like. Not bad places, just not enjoyable when you can't move an inch. There are pool tables, darts, and even an arcade here. Even when it's crowded, the bar is huge so there's always a place to sit comfortably. It is an Irish Pub that has something for everyone. I highly recommend it. :-) —dpettrone

---
2009-10-09 14:32:32 TC Riley's tries way too hard, in my opinion. I went with some friends and paid too much for an unremarkable burger, then nearly teared up when I looked at the pathetic beer menu. It boggles my mind to imagine people going there when MacGregor's is practically just across the street, where you could get a better meal (amazing wings) and sample the amazing beer selection (plus, who doesn't love $3 pints of high-quality beer?).
Skip it. It's another Park Point location, which means it's overpriced, tries too hard, and doesn't live up to the hype. They'd have been better off trying to get a place like Tap and Mallet in. —JohnFloren

---
2009-10-20 05:53:02 not worth it they let people get really drunk and drive with no thought on overserving. There are people drinking in the bar well past 2 somtimes 3:30am and ive seen underagers there a plenty.... so if your underage looking to drink well past last call and then drive and get in an accident rileys is the place to be. johnmeachum
---
2010-03-10 14:19:24 Went there this past week right after the lunch hour. The place was nearly empty. We only saw the waitress in the beginning when she took our order. She never came back so we had to find another worker to give us the check after we got tired of waiting. Like the other comments say, I agree that the food is way overpriced and is not nearly good. I got the Riley House Cheeseburger. It wasn't bad, but it was served on cold untasty bread. The food is decent for bar food, but just too expensive. Don't go here if you can avoid it. This place is always empty and probably won't last much longer. —ytbh
---
2010-07-27 16:53:50 Is this place closed? (ytbh, your prediction may be true.) I tried calling their number (424-7180) but received a message that "this number has been disconnected and is no longer in service." —AJH
---
2010-07-27 16:56:48 Not closed - phone number changed. 272-9777 is their new number. —AJH
---
2011-01-21 12:25:54 My experiences at TC Riley's has been mixed. Some days its great, the food good, and the srvice promt. Other days, not so much. I agree about a lot of the comments about the fries. I'd really like if they at least had the option of the chip style versus the regular we are used to. Other than Friday nights when its crowded and loud, which I don't like, it can be a fun time. For a decent meal, a beer, and a round or two of darts, its not too shabby. —saraokirk
---
2011-01-21 12:33:27 As an RIT alumni I've only been to TC Riley's when there's an alumni event and twice after hockey games. I think they charge too much for beer and food, you'd do better to go to McGregors down the street. It would be cool if you could watch RIT hockey while there but they get satellite and not cable so they can't get the RIT games; how lame is that? —DamianKumor
---
2011-01-29 21:11:53 As a manager of TC Riley's I would like to respond to some of the comments posted. There is no cost effective way to have Time Warner. There is no cable ran to the entire plaza, therefore we would have to pay per foot of cable used. As a bar we have to choose either every NFL game (256 games) or 16 RIT games. As much as we would love to offer both, it was and is simply not feasible.
I am completly suprised by the posts about beer prices we have $5 dollar pitcher specials nightly and there is a $6 pitcher available all the time. $4.00 for a pint of guinness not the $6.50 as suggested in an earlier post. Our happy hour is $2 well drinks and $2.50 pints of domestics from 11-7 pm every week day. We offer 26 draught beers and 15 + bottles of all varieties and price ranges.
Concerning the noise level, we try very hard to offer proper ambience for the time and varying clientel in the restaurant. We have live entertainment every Friday night, and once a month on Saturdays. Fridays offer all of the acoustic variety and Saturdays offer multiple piece live bands. There are dj's twice a week. Wednesdays and Thursdays starting at 10 pm. Also we have Karoake on Tuesday nights. These nights turn into a dance like atmosphere late night, we feel that is what are clientel calls for at that particular time.
---
2011-06-14 14:57:01 Great burgers! You really can't go wrong with any burger here. Add in a pitcher special and you got yourself a great meal with friends. —LetsGoROC
---
2012-03-18 15:51:25 Went here on Friday evening; hadn't been in a few years. Plusses: excellent draft beer selection – including many craft brews – at a reasonable price ($4 a pint). Friendly, prompt service. Also, a talented musician was playing at the large bar area while we were there. I could not understand why the place wasn't more crowded … which brings me to the minuses – namely, the food selection and food prices. The waitress informed my husband that they "no longer served" the first item that he tried to order (although it was still listed on the menu). My order initially seemed to go through alright, but 5 minutes later the waitress returned to tell me they were "all out" of one of the essential ingredients, so I had to change my selection, too. And for a pub in Henrietta, the food prices are on the high side – for instance, $10 for a reuben, that only comes with chips and a pickle? (It's $12 if you want it with fries!) Or, $15 for meatloaf and mashed potatoes, which doesn't even come with a side salad? I'll probably be returning to Riley's for the beer – but not for dinner. —AJH
---
2016-01-21 12:15:22 This place closed at some point in early 2015. —abraxas